Divine Election Explained
This is what happens when a gentleman with a sincere question about election approaches Paul Washer (unannounced) and someone else has a video camera standing by ready to record.
In spite of the sound quality issues (thankfully the entire conversation is readable in subtitles on the screen), I am sure the explanation given here can be helpful for many people. - JS
ESV Greek Tools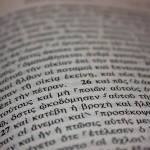 This online resource is an excellent way to interact with the Greek text of the New Testament with advanced searches, intuitive design, parsing, interlinears, etc. It's only $10 for lifetime access, and can do most of the things that you'd pay hundreds of dollars for elsewhere. (The price goes up to $14.99 on May 1).
You can try it for free at ESV Online, under the Content tab. Or you can purchase it at crossway.org/GRKTLS.
You can see a video introduction and some explanation below:
ESV GreekTools from Crossway on Vimeo.

ESV GreekTools puts the original language of the New Testament into the hands of beginning and advanced students, as well as seasoned pastors, scholars, and laymen looking for an affordable and accessible Greek reference tool. Intuitive, easy-to-use, and fully customizable, ESV GreekTools is an online application available through the ESVBible.org platform. Now you can do serious work with the Greek text, at home or on the go, no matter your level of proficiency.
Features:
•Complete NA27 Greek text
•ESV interlinear and reverse-interlinear renderings of the text
•Complete data set for each word, including lexical data, contextual and morphological information (including parsings), and Strong's number.
•Powerful search tool that lets users search by Greek word, transliterated Greek word, Strong's number, English word, or any combination of those values
•Complete English and Greek concordances
•Customizable interface that works seamlessly with other ESVBible.org features, including study resources and notes.
Helpful documentation and instructions can be found here.
HT: JT
I Got You Covered!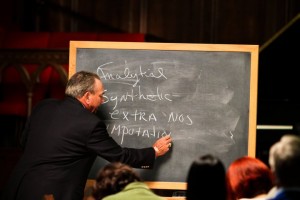 Four quotes from Martin Luther: "Justification by faith alone is the article of the standing or falling Church."
"This doctrine [justification by faith alone] is the head and the cornerstone. It alone begets, nourishes, builds, preserves, and defends the church of God; and without it the church of God cannot exist for one hour. For no one who does not hold this article or, to use Paul's expression, this 'sound doctrine' (Titus 2:1) is able to teach aright in the church or successfully to resist any adversary . . . this is the heel of the Seed that opposes the old serpent and crushes its head. That is why Satan, in turn, cannot but persecute it."
"Whoever departs from the article of justification does not know God and is an idolater . . . For when this article has been taken away, nothing remains but error, hypocrisy, godlessness, and idolatry, although it may seem to be the height of truth, worship of God, holiness, etc. . . If the article of justification is lost, all Christian doctrine is lost at the same time."
"When the article of justification has fallen, everything has fallen. Therefore it is necessary constantly to inculcate and impress it, as Moses says of his Law (Deut. 6:7); for it cannot be inculcated and urged enough or too much. Indeed, even though we learn it well and hold to it, yet there is no one who apprehends it perfectly or believes it with a full affection and heart. So very trickish is our flesh, fighting as it does against the obedience of the spirit."
Justification by faith alone is the article upon which the church stands or falls, the main hinge on which religion turns. Yet as important as justification is, many Christians remain confused about it, and others actively blur its features. This is the case not merely with Christians in general but so called evangelical leaders also.
Over the last few months I have had private correspondence with a number of Christian leaders and ministers, both here in the USA and oversees, as I have challenged them to be clear on this issue, and sadly, I have not been successful at all. In many churches and ministries, the Gospel is often assumed but not proclaimed. That is a great scandal as well as a great tragedy.

You have an "A"
Steve Brown tells a story about a time his daughter Robin found herself in a very difficult English Literature course that she desperately wanted to get out of.
She sat there on her first day and thought, "If I don't transfer out of this class, I'm going to fail. The other people in this class are much smarter than me. I can't do this." She came home and with tears in her eyes begged her dad to help her get out of the class so she could take a regular English course. Steve said, "Of course."
So the next day he took her down to the school and went to the head of the English department, who was a Jewish woman and a great teacher. Steve remembers the event in these words:
She (the head of the English department) looked up and saw me standing there by my daughter and could tell that Robin was about to cry. There were some students standing around and, because the teacher didn't want Robin to be embarrassed, she dismissed the students saying, "I want to talk to these people alone." As soon as the students left and the door was closed, Robin began to cry. I said, "I'm here to get my daughter out of that English class. It's too difficult for her. The problem with my daughter is that she's too conscientious. So, can you put her into a regular English class?" The teacher said, "Mr. Brown, I understand." Then she looked at Robin and said, "Can I talk to Robin for a minute?" I said, "Sure." She said, "Robin, I know how you feel. What if I promised you and A no matter what you did in the class? If I gave you an A before you even started, would you be willing to take the class?" My daughter is not dumb! She started sniffling and said, "Well, I think I could do that." The teacher said, "I'm going to give you and A in the class. You already have an A, so you can go to class."
Later the teacher explained to Steve what she had done. She explained how she took away the threat of a bad grade so that Robin could learn English. Robin ended up making straight A's on her own in that class.
That's how God deals with us. Because we are, right now, under the completely sufficient imputed righteousness of Christ, Christians already have an A. The threat of failure, judgment, and condemnation has been removed. We're in–forever! Nothing we do will make our grade better and nothing we do will make our grade worse. We've been set free.
Knowing that God's love for you and approval of you will never be determined by your performance for Jesus but Jesus' performance for you will actually make you perform more and better, not less and worse. In other words, grace mobilizes performance; performance does not mobilize grace.
If you don't believe me, ask Robin!
HT: Tullian Tchividjian

What is the Nature of Saving Grace?
The fact that fallen man needs grace does away with free will altogether. Even classic Arminians readily acknowledge that apart from some kind of prevenient grace man's will is in bondage and cannot believe (and therefore not free). So the debate is not whether man has a free will or not. This has already been determined. The debate really centers around what the nature of God's grace is... whether sufficient and effectual in Christ alone who provides everything we need (including a new heart to believe) or insufficient and ineffectual apart from man's unregenerate will.
Quick Definition of the Worst Kind of Legalism
Legalism is a distortion of the gospel which denies that Jesus Christ is completely sufficient for salvation. That some additional element of self-effort, merit or faithfulness on our part is necessary to either attain or maintain a just standing before God. (Gal.3:3) - John Hendryx
Finally available on audio
Finally, after much hard work behind the scenes by a man named JJ, eight audio sermons are now available to hear by clicking here. I am very thankful to God and to JJ, and pray that many may indeed by edified as they hear them.
Titles include:
"The Five Solas of the Gospel"
"The Meaning of Life, the Universe and Everything"
"Rightly Handling the Word of Truth"
"The Golden Chain of Redemption"
"The Baptism and Temptation of Jesus"
"The Truth of the Gospel"
"Who Is This Jesus?"
"Rest and Fight"
There is no charge to hear these messages, wherever you are in the world – be blessed! - JS
This Good Friday in Kerala, India
I would really value and covet your prayers for this Gospel outreach this Good Friday in Kerala, India. - JS
Contemporary Reformation Theology Page
Welcome to the Contemporary Reformation Theology Page.
Essays in the Historic Christian Faith From a Classic Reformed/Evangelical Perspective
Major Update!!!
5 Years of German
JS - TRUE STORY: One Sunday morning, a distinguished looking couple from Germany came to our Church. In greeting and chatting with them after the service I made a very big mistake. I told them that I studied German for five years in High School.
In their lovely thick German accents they said, "oh how nice. Please tell us something in our German language."
I said, "oh no, its been so many years since I studied German and I have forgotten most of what I have learnt. All I can remember now are little phrases that are quite useless."
"No, please, Pastor John," the lady said with an eager smile, "we have been away from Germany for 3 weeks and have not heard any German at all – please, Pastor John, tell us – please tell us something in German."
I was more than a little suprised with their insistence. They seemed very determined for me to say something in their language.
"O.K., here's something I remember" I said, "but I do warn you, it is not a very useful phrase."
"We don't mind," the husband said, "just tell us something in German."
O.K., I said, "Ich kannst nicht ins kino gehen aber ich bin nur dreizein jahre alt."
The German couple looked completely stunned for a brief moment. Then they looked at each other. One started smiling, the other started laughing, and then they both started laughing in unison, to such an extent that their laughter became loud.
Others in the room stopped their own conversations and began turning around to find out where the big noise was coming from.. and as they looked, they saw this visiting German couple holding each other up as they were almost falling down because their laughter was so pronounced.
Amidst their gasping for air, the husband said, "You are right, that is totally .. ridiculous.." as he tried to breathe through the laugher again… "We thought you would quote a Scripture or have at least something profound to say, but that was one of the funniest things I've ever heard…"
Why would they be laughing so much?
Well, in their imagination, they could see me in Germany, perhaps in one of the big cities.. perhaps I was driving a car and it broke down and I needed help.. finding someone on the sidewalk I rush up to them and say:
"I CANNOT GO TO THE MOVIES BECAUSE I AM ONLY THIRTEEN YEARS OLD!"
Romans from 30,000 Feet by Michael Horton
"The problem that all of humanity faces is the wrath of God, which is entirely justified because the Gentiles know God according to general revelation and the Jews know God according to special revelation. Yet both have failed to truly acknowledge God since they have violated His law. Since everyone is under sin and God's wrath the only way out is the Gospel, the announcement that in Christ God has provided a righteousness that satisfies his holy requirements. Christ has absorbed God's wrath in His death and justifies the wicked in his resurrection. All of this is received by faith alone apart from works as the examples of Abraham and David demonstrate Yet God has not only secured our life from the condemnation of the law, but also from the dominion of sin and death. Baptized into Christ's death and resurrection we are made new creatures and yet we continue to struggle throughout our lives with indwelling sin and the only hope we have is to look outside of ourselves to Christ, with the indwelling Spirit testifying in our hearts to our free adoption and keeping alive within us the hope that not only we but the whole creation will share in the final redemption.
"In the light of all this, nothing can separate us from God's love. But how then can we trust this gospel if God has been unfaithful to his early promises to Israel? Well, God has always maintained his prerogative of Election, even among the physical descendents of Abraham. So salvation isn't a matter of physical decent or of human decision or effort, but of God's mercy alone. God has been faithful to His promises, because even now an elect remnant is being saved from among Jews and Gentiles and after God adds alien Gentile branches to the tree of Israel he will finally bring in the fullness of the Jews as well. In view of all these mercies that stagger our imagination, we can now offer, not the dead sacrifices of animals for atonement, but our own bodies as living sacrifices of praise and thanksgiving. In that light, stop judging each other about things indifferent and get on with the business of loving and serving each other." --Michael Horton, from an Overview of the Book of Romans, WHI 2006
Explicit Sexual Imagery and the Christian Walk
Some time back I wrote an article called "Run for your life", where I warned of a very troubling concept found in a book by Ann Voskamp, namely to think of our union with God in sexual terms. For many days afterwards I was bombarded with hostile personal attacks in the comments, many of which I had to delete, and yet, no one was able to say that I had misunderstood the author's words or taken them out of context in any way at all. Anyway, regarding this, here's a question I received today (edited slightly):
Pastor Samson, I am in absolutely disagreement with Ann Voskamp's book; but now I have a question, that I am not finding "easy" to answer. Ann has posted a sort of a response to criticisms she has received, in which she quotes men like John Piper, C.H. Spurgeon and Jonathan Edwards, using the "same kind" of metaphor that she used. I find this very dangerous because many Reformed women now are feeling "safe" about following her lead. That is why I want to be ready to give them an answer. What are your thoughts? Would you consider writing a post explaining what Edwards and Spurgeon meant when they used these words? Thank you.
My response can be found here. - JS
Question on Limited Atonement
Question: I am studying the Atonement and am struggling with the concept of a limited atonement, and was wondering if you could assist me thru this:
what do we do with all the scriptures that speak of Christ dying for the sins of all men; for the sins of the world, etc....

Last night I read out of Berkhof's Summary of Christian doctrine, under the heading --Extent of the Atonement. That started to turn on a light...Then I started in on Grudem's sys theo under the same heading.

At issue is the Truth--there must be one.....God's not the author of confusion!! It's us; even His children):
Thanks and most sincerely-
Because Soli Deo Gloria!
Response:
Thank you for your email and your excellent inquiry. You are quite right in saying that God is not the author of confusion and, as such, the Trinity works in harmony in our salvation. The Father elects us in Christ, The Son redeems those the Father elects and the Holy Spirit applies the redemptive work of Christ to the same. To say that the Father elects a particular people and the Son dies for everyone and the the Spirit regenerates a particular people is confusion.
Let me ask you. The work of the Holy Spirit in effectual grace ... do you believe it? If so, is this grace from Jesus Christ or from elsewhere? i.e. some generic grace (apart from Christ)? No, regeneration is only possible because of the work of Christ. Therefore, Christ died for the elect in a way (a redemptive way) that he did not for the non-elect. That is to purchase their regeneration, which is a grace never given to the non-elect. This particular grace given only to the elect, proves beyond any doubt that Jesus had the intent of dying for his bride, the church, and not for everyone without distinction.
As for the verse in 1 John which says that Christ not only died for our sins but for the sins of the whole world ... remember this was a time of transition from exclusively Jewish to now also include Gentiles, so this passage is referring not to Christ dying for all people without exception but all people without distinction.. that is both for Jews and Gentiles. To give more evidence that this is clearly what it means, the same author John, in the bok of Revelation 5:9 says that with his blood Christ purchase men FROM every tribe, nation, tongue..." Jesus' blood purchased men OUT OF every tribe ... it does not say he purchased every person in every tribe. Likewise Caiaphas, who was high priest the year Jesus was Crucified, said to the Pharisees, "You know nothing at all,nor do you take into account that it is expedient for you that one man die for the people, and that the whole nation not perish." 51Now he did not say this on his own initiative, but being high priest that year, he prophesied that Jesus was going to die for the nation, and not for the nation only, but in order that He might also gather together into one the children of God who are scattered abroad.
Here the same author John quotes this Pharisee's prophesy which speaks of Jesus dying not only for Israel but for the children of God scattered abroad.... clearly a reference to all of God's people in the world .. not referring to every single person in the world ... which would be complete nonsense... for if Jesus died for all people without exception then why aren't they all saved.??? Because of unbelief one might say?
So in other words, then, Jesus died for all sins except the sin of unbelief? That is ludicrous. Grace is not a reward for faith but faith is the result of grace. Jesus says no one can have faith in me unless God grants it (John 6:65) So even faith is the gift of God, something Jesus purchased as part of our redemption. Also read the high Priestly prayer in John 17. This was given just before he went to the cross, just as a high priest goes to the temple prior to sacrifice. Jesus said, "I pray for them, I pray not for the world, but for those you have given me." Later in the the prayer he also describes those who believe in the apostles words as "those you have given me". In John 6:37 he says "All that the Father gives to me WILL come to me." ... so again the order is clear about God's grace in Christ preceding faith -- a grace given because of Christ's perfect life and sacrificial atonement on behalf of his people. Jesus lays does his life for the sheep.
Hope this helps
John Hendryx
Monergism.com
The Complaining Christian
"Do you have a father?" Genesis 44:19
Standing at my window one day, while the cholera was raging in London, I saw two corpses carried by, followed by one little child, walking alone next to the coffins, with a few neighbors behind. That child was now an orphan. Both parents had been carried off by the pestilence. The sight of that child produced deep emotions, and awakened painful sympathy in my heart.
I was led to think of the sorrows and privations of orphanhood, and then of the happiness of the Lord's people to whom Jesus has said, "I will not leave you as orphans." A believer can never be an orphan! He has an ever-living, ever-loving, ever-present Father! But many of the Lord's people do not realize this, therefore they do not live and act under its influence.
There are believers who are always complaining of their circumstances:
They are worked too hard. They are tried more than others.They have such a vexing family. They have such a demanding job. They have such financial losses. They have no end of things to vex, harass, and distress them!
Complaining Christian, "Do you have a father?"
If so, had your Father anything to do with fixing your lot? Did He place you where you are? Is He wise? Is He good?
Has He ever told you, that all things shall work together for your good? Does He know what is best for you?
Has He left things to 'chance'—or has He arranged all in His own infinite mind, and does He work all by His unerring providence? If He does—then are you justified in complaining?
Have you any real cause to complain?
Will it better your circumstances?
Will it please your Father?
Will it any way help you?
If not, leave off complaining, and "having food and clothing, let us be content with these!"
Seek grace from God, that you may . . .
do all that is required,
bear all that is sent, and
endure all that is to be suffered—to His glory!
by James Smith
I would really value your prayers
A few weeks ago, I mentioned the possibility of a short Gospel tract I had written being printed and put into 10,000 newspapers in Kerala, India later this month on Good Friday. Here's an update. - JS
The Earliest Manuscript Evidence of the New Testament
The earliest manuscript fragment we have of the New Testament comes from John chapter 18 and can be dated as early 2nd century AD. It is known as P52. I wrote a short article on it here which is followed by a very helpful video by Dr Dirk Jongkind, a Research Fellow at Tyndale House. - JS
"Planting, Watering, Growing: Planting Confessionally Reformed Churches in the 21st Century" Is Now Available!

"Planting, Watering, Growing: Planting Confessionally Reformed Churches in the 21st Century" Is Now Available!
Product Description
As a response to the unique challenges facing the twenty-first-century American church, church planting has become a popular topic. But at a time when churches that spread the seed of the Word through preaching, the sacraments, and prayer are greatly needed, much of the focus has been on planting churches that adapt pop culture to meet "consumer demand." In Planting, Watering,Growing, the authors of this collection of essays weave together theological wisdom, personal experiences, and practical suggestions, guiding readers through the foundations and methods of planting confessional churches that uphold the Word of God

Continue reading ""Planting, Watering, Growing: Planting Confessionally Reformed Churches in the 21st Century" Is Now Available!" »
The Resolutions Poster
I praise the Lord for the prominence given to the following text at the beginning of Edward's resolutions, for it is certain that we need God's power and grace if we have hope of carrying out any of these holy duties.
"Being sensible that I am unable to do anything without God's help, I do humbly entreat him by his grace to enable me to keep these Resolutions, so far as they are agreeable to his will, for Christ's sake." ~ Jonathan Edwards
Can be purchased in various sizes here.
A Poster with Purpose
In addition to spurring you on to good works by displaying the timeless tenets of one of America's most famous preachers, Jonathan Edwards, it will also help other Christians pursue a more godly life, as all proceeds will be used to pay for tuition, books and other education-related expenses for fellow believers wishing to attend the prestigious Ligonier Academy.