« India Gospel Outreach (Update) | Main | The Parable of the Wedding Feast »
The Intention and Result of Christ's Sacrifice
Hebrews 9:24 - 10:14 in the New American Standard Bible (Updated) reads:
24 For Christ did not enter a holy place made with hands, a mere copy of the true one, but into heaven itself, now to appear in the presence of God for us; 25 nor was it that He would offer Himself often, as the high priest enters the holy place year by year with blood that is not his own. 26 Otherwise, He would have needed to suffer often since the foundation of the world; but now once at the consummation of the ages He has been manifested to put away sin by the sacrifice of Himself. 27 And inasmuch as it is appointed for men to die once and after this comes judgment, 28 so Christ also, having been offered once to bear the sins of many, will appear a second time for salvation without reference to sin, to those who eagerly await Him.
1 For the Law, since it has only a shadow of the good things to come and not the very form of things, can never, by the same sacrifices which they offer continually year by year, make perfect those who draw near. 2 Otherwise, would they not have ceased to be offered, because the worshipers, having once been cleansed, would no longer have had consciousness of sins? 3 But in those sacrifices there is a reminder of sins year by year. 4 For it is impossible for the blood of bulls and goats to take away sins. 5 Therefore, when He comes into the world, He says,
"SACRIFICE AND OFFERING YOU HAVE NOT DESIRED, BUT A BODY YOU HAVE PREPARED FOR ME;
6 IN WHOLE BURNT OFFERINGS AND sacrifices FOR SIN YOU HAVE TAKEN NO PLEASURE.
7 "THEN I SAID, 'BEHOLD, I HAVE COME (IN THE SCROLL OF THE BOOK IT IS WRITTEN OF ME) TO DO YOUR WILL, O GOD.'"
8 After saying above, "SACRIFICES AND OFFERINGS AND WHOLE BURNT OFFERINGS AND sacrifices FOR SIN YOU HAVE NOT DESIRED, NOR HAVE YOU TAKEN PLEASURE in them" (which are offered according to the Law), 9 then He said, "BEHOLD, I HAVE COME TO DO YOUR WILL." He takes away the first in order to establish the second. 10 By this will we have been sanctified through the offering of the body of Jesus Christ once for all.
11 Every priest stands daily ministering and offering time after time the same sacrifices, which can never take away sins; 12 but He, having offered one sacrifice for sins for all time, SAT DOWN AT THE RIGHT HAND OF GOD, 13 waiting from that time onward UNTIL HIS ENEMIES BE MADE A FOOTSTOOL FOR HIS FEET. 14 For by one offering He has perfected for all time those who are sanctified.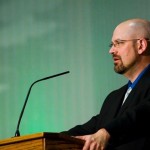 Over the last two weeks, my friend, Dr. James White has preached four sermons on this tremendous passage of Scripture (above). They contain extremely rich and powerful insights into what the cross of Christ actually accomplished for the people of God. Knowing these things is the necessary antidote to so much false religion that masquerades under the banner and guise of Christianity in our day.
These sermons are now available to hear at the sermon audio site at the following links (below) and are VERY HIGHLY recommended. - JS
(1) Heb 9:26-28
(2) Heb 10:1-4
(3) Heb 10:5-10
(4) Heb 10:10-14