« No one Can Believe in Jesus Unless God Grants It | Main | The Gospel According to the Church Fathers »
The Gospel According to Paul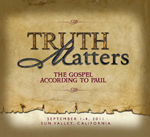 The kind folks at Grace To You have made the recent "Truth Matters 2011 Conference" available for free listening and download at their site. I watched the conference through their online live streaming of the event earlier this month, and now the teaching is being made available to a wider audience who can listen in at their own convenience.
The series of messages by Dr. John Macarthur were particularly outstanding. They enriched my soul.
This teaching will form the basis of an up-coming book by Dr. Macarthur, the final installment in his trilogy on the Gospel. The first was "The Gospel According to Jesus"; the second, "The Gospel According to the Apostles"; and this third one will be "The Gospel According to Paul."
Here are the session titles by Dr. Macarthur:
(1) The Glorious Gospel
(2) The Gospel Satisfies the Sinner's Need
(3) The Gospel Satisfies God's Demands
(4) The Reconciling Gospel
(5) An Introduction to the Sovereign Gospel
(6) An Explanation of the Sovereign Gospel
(7) The Humbling Gospel
Then a final session:
(8) Practical Concerns in the Local Church: An Interview with John MacArthur
Here's the link to either hear, download or purchase the Conference messages. Having heard each session one time through, I now aim to go through them again, this time taking extensive notes. - JS