« Dealing with Disappointment | Main | Munus Triplex - The Triple Cure - Christ as Prophet, Priest and King »
What He does for us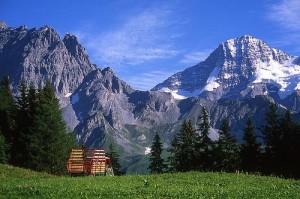 One can stand in a Swiss Alpine valley and be mesmerized by looking upwards at the rugged majesty of a single mountain peak on display.
One can also take a plane ride over the entire Alpine range and from the plane's window see that what was intriguing and totally captivating from the ground, is but one stunning enchantment amongst a thousand others of equal splendor. To gaze upwards from the ground as well as downwards from above, is to see the Alps as they should be seen. I have had the joy of doing both.
I love the Alpine mountains of Switzerland. I also love Romans chapter eight.
It is easy to run out of superlatives when describing the amazing insights contained in the passage. Sometimes though, perhaps even because each word and each sentence is so poignant and pregnant with meaning, we can fail to see the grandeur of the larger picture. As we scrutinize each word, we see intricate and stunning beauty; but when we take a step back, so to speak, and view the passage as a whole, a breath taking truth emerges.
The big picture from verses 26 to 38 is the unfolding revelation of God's love for His people. These are the ones He chose to draw to Himself even before the world was ever made. God's plan would never be thwarted, despite all the opposition hell could fashion against it. Though these same elect ones endure famine, nakedness or sword; and though they face everything life, death and all that satanic principalties might throw their way, these loved ones remain super conquerors through the One who loved them. Nothing can separate them from the love of God.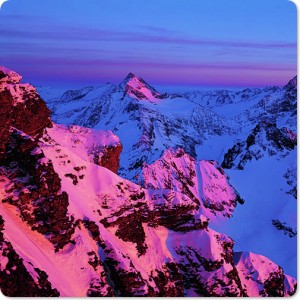 As the text is outlined before us now, allow me just to highlight in bold capitals the phrases that show just what God is doing for His elect:
26 Likewise the Spirit helps US in our weakness. For WE do not know what to pray for as we ought, but the Spirit himself intercedes for US with groanings too deep for words. 27 And he who searches hearts knows what is the mind of the Spirit, because THE SPIRIT INTERCEDES FOR THE SAINTS according to the will of God. 28 And WE know that FOR THOSE WHO LOVE GOD all things work together for good for THOSE WHO ARE CALLED ACCORDING TO HIS PURPOSE. 29 For THOSE WHOM HE FOREKNEW he also predestined to be conformed to the image of his Son, in order that he might be the firstborn among MANY BROTHERS. 30 And THOSE WHOM HE PREDESTINED he also called, and THOSE WHOM HE CALLED he also justified, and THOSE WHOM HE JUSTIFIED HE ALSO GLORIFIED.
31 What then shall we say to these things? If God is for US, who can be against US?
32 He who did not spare his own Son but GAVE HIM UP FOR US ALL, how will he not also with him GRACIOUSLY GIVE US ALL THINGS? 33 WHO SHALL BRING ANY CHARGE AGAINST GOD'S ELECT? It is God who justifies.
34 Who is to condemn? Christ Jesus is the one who died—more than that, who was raised— who is at the right hand of God, WHO INDEED IS INTERCEDING FOR US. 35 Who shall separate US from the love of Christ? Shall tribulation, or distress, or persecution, or famine, or nakedness, or danger, or sword? 36 As it is written, "For your sake WE are being killed all the day long; WE are regarded as sheep to be slaughtered."
37 No, in all these things WE are more than conquerors through him who loved US. 38 For I am sure that neither death nor life, nor angels nor rulers, nor things present nor things to come, nor powers, 39 nor height nor depth, nor anything else in all creation, will be able to separate US from the love of God in Christ Jesus our Lord.