By Faith
by Keith & Kristyn Getty
By faith we see the hand of God
In the light of creation's grand design
In the lives of those who prove His faithfulness
Who walk by faith and not by sight
By faith our fathers roamed the earth
With the power of His promise in their hearts
Of a holy city built by God's own hand
A place where peace and justice reign
We will stand as children of the promise
We will fix our eyes on Him our soul's reward
Till the race is finished and the work is done
We'll walk by faith and not by sight
By faith the prophets saw a day
When the longed-for Messiah would appear
With the power to break the chains of sin and death
And rise triumphant from the grave
By faith the church was called to go
In the power of the Spirit to the lost
To deliver captives and to preach good news
In every corner of the earth
We will stand as children of the promise
We will fix our eyes on Him our soul's reward
Till the race is finished and the work is done
We'll walk by faith and not by sight
By faith this mountain shall be moved
And the power of the gospel shall prevail
For we know in Christ all things are possible
For all who call upon His name
We will stand as children of the promise
We will fix our eyes on Him our soul's reward
Till the race is finished and the work is done
We'll walk by faith and not by sight
Psalm 22

Psalm 22 is what theologians refer to as a Messianic Psalm. Though written by David it refers to events that transcend his own life and were fulfilled in the life, and especially the death (crucifixion) of Messiah. This is possible because as 2 Peter 1:21 tells us, "men spoke from God as they were carried along by the Holy Spirit."
When Jesus cried out "My God, My God, why have you forsaken Me" two things were taking place, neither of which was contradictory. Firstly Jesus was feeling the full force of being forsaken by His Father, as sin was placed upon Him and He bore the Father's just wrath for it in our place.
Secondly, just as in our culture, if someone were to say "Amazing Grace how sweet the sound" we know that these words are not being said at random, but we are being reminded of a familiar hymn. The Book of Psalms was the inspired song book of the Jews and for Jesus to quote the first line of Psalm 22 it was a thunderously loud message to all who heard it that He Himself was fulfilling the words of the entire Psalm as he hung there in agony on the cross.
Speaking of the Gentiles, David wrote in verse 16, "For dogs encompass me; a company of evildoers encircles me; they have pierced my hands and feet." There is nothing to suggest any of this happened in the life of David, but were fulfilled around a thousand years later by Christ at the crucifixion. What is more than interesting is that when David penned these words, crucifixion was not even invented as a form of torture and death. Sceptics grope for an answer as to why David could write of such things but the believer's confidence is that only God could have been the source of these words, which is itself a wonderful testimony to the Divine inspiration of Scripture. David was "carried along by the Holy Spirit."
The same can be said about verse 18, when David wrote, "they divide my garments among them, and for my clothing they cast lots." There's nothing to suggest this happened to David, but it did happen to Messiah and Jesus is once again alerting us to that by quoting the opening words of the Psalm. The crucifixion of Christ was not an accidental, haphazard occurence. As the early Church prayed to God in Acts 4, "for truly in this city there were gathered together against your holy servant Jesus, whom you anointed, both Herod and Pontius Pilate, along with the Gentiles and the peoples of Israel, to do whatever your hand and your plan had predestined to take place."
Jesus was never more in the will of God than when He hung on the cross as our sinless sin bearing Substitute. By raising Him from the dead God testified that He was indeed His Son and validified all His claims as to what His death had accomplished. Paul tells us, He "was declared to be the Son of God in power according to the Spirit of holiness by his resurrection from the dead, Jesus Christ our Lord.." (Romans 1:3, 4)
Watch now as Ryan Ferguson delivers a memorized dramatic recitation of Psalm 22 from the ESV Bible. - JS
Without Excuse
"His Eternal Power and Divine Nature have been clearly seen, being understood through what has been made, so that they are without excuse (ἀναπολογήτους, without a rational defense, an answer, an apologetic)." - Romans 1:20
HT: JW
Understanding John 5:39,40
Pastor John, I have a friend (who is a Christian) who warns me about studying the Bible too much. He says the Pharisees spent all their time studying the Bible and Jesus had very strong words of condemnation for them. My friend says, "Look at John 5:39,40. The Pharisees loved the Bible but were not even saved. Don't become like them." I still believe I should study the Bible but his words ring in my ears as a constant dampener on the joy I feel when I look into God's word. Is he right?
"You search the Scriptures because you think that in them you have eternal life; and it is they that bear witness about me, yet you refuse to come to me that you may have life." - John 5:39, 40
I seek to provide an answer here. - JS
So You Fell? So What? Run Christian, Run!
Phil 3:12 Not that I have already obtained this or am already perfect, but I press on to make it my own, because Christ Jesus has made me his own. 13 Brothers, I do not consider that I have made it my own. But one thing I do: forgetting what lies behind and straining forward to what lies ahead, 14 I press on toward the goal for the prize of the upward call of God in Christ Jesus.
Heb 12:1 Therefore, since we are surrounded by so great a cloud of witnesses, let us also lay aside every weight, and sin which clings so closely, and let us run with endurance the race that is set before us, 2 looking to Jesus, the founder and perfecter of our faith...
After training for this event for months and months, Heather Dorniden faced the unexpected when another racer cut her off - she fell very hard. But when you see what happens next, you'll be amazed and inspired. - JS
Does it Make God a Moral Monster if He Ordains All that Comes to Pass?
A short response to Roger Olson by John Hendryx
One of the major premises of Roger Olson's new book "Against Calvinism" is his declaration that classic Reformed doctrine of meticulous providence makes God into a moral monster, or worse, indistinguishable from the devil. He asserts that the Calvinist cannot consistently affirm that God ordains all that comes to pass, including the wicked acts of men, without also making God the author of sin.
Does it follow? Not in the least. The charge that it makes God a moral monster if the God of Scripture ordains all things, even the wicked acts of men, rests ultimately on the assumption that unless we can explain his actions then we may sit in judgment upon Him. In other words, the charge rests purely upon rationalism and extra-biblical logic. We acknowledge that we cannot explain all of God's secret acts since God has chosen not to reveal many things about Himself. But one very prominent feature of the Bible is that it frequently declares that God meticulously ordains all that comes to pass (Eph 1:11) AND that men are responsible for their actions. One major example sticks out: the greatest sin ever committed by men in history -- the crucifixion of Jesus ---when the Apostle Peter, preaching at Pentecost declares:
"...this Jesus, delivered up according to the definite plan and foreknowledge of God, you crucified and killed by the hands of lawless men." (Acts 2:23)
and two chapters later in Acts it again says:
"...both Herod, and Pontius Pilate, with the Gentiles, and the people of Israel, were gathered together, For to do whatsoever thy hand and thy counsel determined before to be done." (Acts 4:27-28)
Isaiah 53 also says

"...it was the will of the LORD to crush [bruise] him"
The Bible itself testifies, in plain language, that God ordained evil men to crucify Jesus. Yet "lawless men" are 100% responsible for carrying it out. So those who embrace the Bible as authoritative need to be able to develop a theology which fits that into their view. While you may not understand it, you must yield to what the Scripture teaches regarding God's meticulous hand of providence in all things, and His blamelessness in doing them. And just as the crucifixion of Jesus was was not done without purpose, but for a greater good, so God tell us that all things (including evil events) work for good of those who love God (Rom 8:28-30). So these things are not thoughtlessly ordained without any purpose. It would perhaps only make God a moral monster if He allowed the evil, but that its existence was ultimately meaningless or done for the sake of cruelty itself. But we know God, in His perfect wisdom, sees beyond this fleeting world to the ultimate conclusion to these matters.
There are countless examples like this in the Bible. For instance, when disaster struck Job and his family at the behest of Satan, Job did not look to second causes but acknowledged that "the Lord gives and the Lord takes away." And the text says that "in all this Job did not sin or charge God with wrong." ( Job 1:22).
The fatal flaw in Olson's argument flows mostly from his insistence that Calvinists must somehow explain this philosophically or else we are being inconsistent, or worse, make God into a monster. But I would argue to the contrary: since the Bible holds forth our highest presuppositions, the most consistent position possible is to yield to the Bible's teaching that both God's sovereignty and human responsibility are true. God does not tell us much about HOW he can ordain evil acts while not being guilty of evil, only shows many examples where He does so for a greater purpose, often to remind people of the human condition and need for God. Ultimately it may be a mystery for human beings to understand at the time, yet crystal clear as regards to its established truth in the Bible.
Likewise, nowhere in the Bible did God call us to work out the details of this doctrine by philosophical means, or pry into the secret things of God. Rather He calls us to be faithful to the Text that says God ordains all things, even evil, and that, at the same time, God is blameless in doing so. That He ordains sin sinlessly. I do not have to hold these truths together rationally (according to human knowledge) or philosophically but because they are axiomatic in the Bible. My understanding the intricacies of how this comes about is secondary. God is God. DO our finite minds have to understand HOW He does this in order for it to be true?
It appears that, ultimately, Olson's objections to this are moral and philosophical rather than exegetical. He is, therefore, basing his considerations and thus his theological foundations on sand. The conclusions we reach, I would contend, must be based on what the Scripture says. For the alternative is to draw our highest presuppositions from something other than an authoritative source, such as unaided human reason. It is of utmost importance that he come up with exegetical grounds for his position, rather than base his theology on an emotional reaction.
I honestly cringe for Olson when he says that if God ordains evil events then God is indistinguishable from the devil, because the Bible declares that God does ordain all events, and also declares that he does so blamelessly, i.e. without sin. And if our theology is biblical, (and I believe it is) then Dr. Olson ends up calling God a monster or worse, the devil.
Note: It should be a given for Christians, that due to the fall, all human beings are not safe from temporal and eternal punishment. Why should it, therefore, so surprise Olson that God justly exercises this authority during our lives? Judgement has already begun east of Eden and we all are subject to death. So nothing (no suffering) should surprise us here except for the great mercy He has shown us in Jesus Christ. Regarding the Tower of Siloam (Luke 13:4), Jesus declared that it did not fall on people for their particular sin(s) because they were somehow worse that others, but as a sign in this fallen world that we are all ill-deserving sinners, under a curse who need to repent and receive the mercy of Jesus Christ. Don't be surprised that the tower fell on those people - let it be a sober reminder that you deserve the same.
Related Resources
The Secret Providence of God by John Calvin
Letter from Visitor on Calvinism, Evil and God's Holiness by John Hendryx
Does God Elect Persons Based on Their Foreseen Faith? By John Hendryx
The Inconsistency of Synergists on Election & Foreknowledge edited article by WithChrist.org (shows how Arminians cannot believe in God's exhaustive forknowledge and be consistent)
Testing Roger Olson's Depth of Exegesis: 1 Timothy 2:4 by James White
Seven Things the Bible Says About Evil by Johnathon Bowers
Does Calvinism Make God a "Moral Monster"? by Michael Horton

Now available at Monergism Books
"For Calvinism" by Michael Horton and "Against Calvinism" by Roger Olson. (Book)

Signs You Haven't Experienced Gospel Wakefulness
From Jared Wilson's new book, Gospel Wakefulness, here are 11 signs (pgs 72-73) you haven't experienced gospel wakefulness...
1. The gospel doesn't interest you--or it does, but not as much as other religious subjects.
2. You take nearly everything personally.
3. You frequently worry about what other people think.
4. You treat inconveniences like minor (or major) tragedies.
5. You are impatient with people.
6. In general, you have trouble seeing the fruit of the Spirit in your life (Gal 5:22-23).
7. The Word of God holds little interest.
8. You have great difficulty forgiving.
9. You are told frequently by a spouse, close friend, or other family members that you are too "clingy" or too controlling.
10. You think someone besides yourself is the worst sinner you know.
11. The idea of gospel centrality makes no sense to you.
HT: Steve McCoy
I would value your prayers
I would very much appreciate your prayers. I am in the final stages of writing a book which, God willing, will be published in an e-book format. I hope to be finished by the end of the month. - JS
Here's the first working cover art work (thanks J):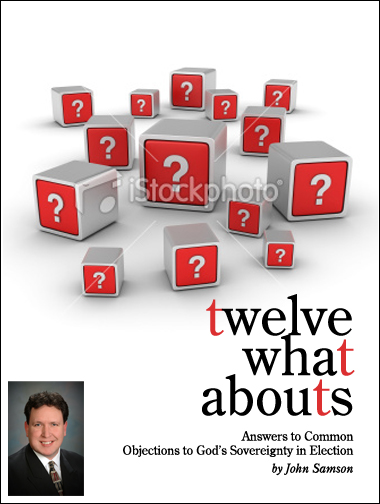 Book Review: Robert Letham, Union with Christ: In Scripture, History, and Theology
Robert Letham, Union with Christ: In Scripture, History, and Theology. Phillipsburg, N.J.: P&R Publishing, 2011. 208 pages. $17.99 Retail -$12.13 at Monergism Books
Union with Christ is a terrifically significant theme in the Bible and in the theological expression of the reformational, evangelical tradition—John Calvin, for example, accorded union with Christ "the highest degree of importance." It is no small wonder then that contemporary, accessible treatments on union with Christ are difficult to locate (although very fine scholarly treatments are becoming available: see esp. W.B. Evans, Imputation and Impartation: Union with Christ in American Reformed Theology; Mark Garcia, Life in Christ: Union with Christ and Twofold Grace in Calvin's Theology). We now have Robert Letham to thank for beginning to address this theological lacuna. His most recent work, Union with Christ: In Scripture, History, and Theology, although relatively succinct (141 pages of text), is still quite vast in scope and depth. Letham's intention for this book is basically twofold: (i) to demonstrate the significance of union with Christ across the spectrum of God's redemptive purposes, and (ii) to describe what it actually means to be united to Christ.
To accomplish the first task, Letham opens with chapters on creation, incarnation, and Pentecost. Each of these epochal events, he argues, show us that God's ultimate redemptive purposes are bound up with, and achieved, as he unites us to himself in Christ. Thus, God's creative purpose in designing us for himself in his image has the goal of uniting us to Jesus Christ, the true image of the invisible God. In the incarnation, the eternal Word of God assumed our human nature into personal union so that we might be joined to him. At Pentecost, the Spirit comes to realize God's purposes by indwelling us and bringing us into union with Christ.
In the final three chapters Letham accomplishes the second, more daunting, task of articulating the meaning of union with Christ, which he does in terms of representation, transformation, and death and resurrection. The chapter on representation allows Letham to discuss union with Christ by way of covenant headship and substitution, highlighting the doctrines of atonement, election and especially justification, all of which are founded on our representative union with Christ. The chapter on transformation, the longest in the book, expounds union with Christ in terms of sanctification and theosis, or what it means to say that we are growing into conformity to Christ. The final chapter describes the eschatological nature of our union with Christ in his death and resurrection and its present effects in the lives of Christians.
Among the number of important insights found in this study, the following represent those that are, in my view, the most significant for the contemporary evangelical church. The first insight is Letham's able demonstration that union with Christ lies at the heart of Christian salvation—indeed, that union with Christ is central to biblical soteriology. Whether we speak of election, atonement, justification, or sanctification (or any other aspect of salvation), all are grounded in the determinative reality of being joined to the Savior. This is a needed reminder for the church, lest it lose sight of the fact that Jesus Christ is himself our salvation and that his benefits cannot be abstracted from his person.
The second insight is Letham's much-appreciated stress on the soteriological import of the incarnation of the Word of God, reminding us that the very theo-logic of salvation is wrapped up in the mystery of the incarnate God-man. The incarnation shows us in the clearest possible way that God's redemptive intention is to join us to himself through the life-giving humanity of Jesus Christ. The incarnation, in Letham's words, "is the indispensable basis for our union with Christ. Since Christ has united himself to us in the incarnation, we can be united to him by the Holy Spirit" (40). When evangelical theology loses sight of the saving significance of the incarnation, it is bound to myopically stress forensic, substitutionary understandings of salvation at the expense of the personal, participatory reality that undergirds them.
The third insight is Letham's unfolding of the meaning of union with Christ. By focusing on the doctrine of theosis as it has been variously understood in the history of the church, Letham shows that there is a thoroughly Reformed and evangelical (not to mention patristic) pedigree for the assertion that the union believers have with Christ exceeds merely legal or symbolic notions—it is a union with the very person of Jesus Christ. This does not mean, he rightly insists, that we participate in God's essence, that we become "deified" or something other than human. But it does mean that—through faith, by the power of the Holy Spirit, and through the preached and sacramental Word —we become authentically human by participating in the present Jesus Christ himself. I cannot help but wonder of the benefits that might accrue to our churches if we were to re-appropriate this crucial aspect of our evangelical heritage.
This book in an important contribution in a number of senses. Letham has provided us an affordable and generally accessible text—not merely introductory, though also not pedantic—on a highly significant theological topic that has been strangely neglected and misunderstood. As we have come to expect from Letham, this book is clearly written, profound without being obtuse, and rich with historical insight. His writing is suffused with a pastoral and doxological tone, a mark to which all theological works should aspire (and which honors the very purpose of theology). In my view, this present work does not attain the heights of his earlier and similarly titled work on the Trinity (The Holy Trinity: In Scripture, History, and Theology), but it most certainly serves the purpose of awakening us to the fundamental importance of union with Christ for a properly biblical, historical, and theological understanding of salvation. It is to be hoped that the reformational, evangelical church will reflect deeply on what Letham has written here.
When the church loses sight of the essential saving reality of being truly joined to Jesus Christ, it runs the risk of an (unintentional) subtle dichotomizing of the person and work of Christ in which salvation is portrayed in rather abstract, extrinsic, and impersonal terms. The effect is that salvation begins to be "objectified," viewed as the reception of various benefits or gifts of Christ's work that can be received apart from a reception of the living, crucified, resurrected Christ—Christ for us apart from Christ in us. Without the proper emphasis on our union with Christ, our understanding of salvation can devolve into a gift that Christ gives rather than the gift that Christ is. My hope is that Letham's book is a blessing to the church and that it calls us to a retrieval of a theme so deeply imbedded in our Christian heritage, to the "glorious riches of this mystery, which is Christ in you, the hope of glory" (Col.1:27).
Marcus Johnson (Ph.D. St. Michaels College, University of Toronto) is assistant professor of theology at Moody Bible Institute, Chicago, IL.
Union with Christ: In Scripture, History, and Theology. Phillipsburg, N.J.: P&R Publishing, 2011. 208 pages. $17.99 Retail -$12.13 at Monergism Books
Have you heard?
With so many surface level and man centered portrayals of the Gospel at large, how refreshing it is to hear the Good News presented the way the Bible proclaims it - starting with God and His holiness, and man's desperate condition, then Christ's effectual atonement, His triumphant resurrection and ascension, as Lord and King on His throne, at the right hand of His Father. Then to hear biblical repentance and faith properly outlined, the result of a true work of God in the soul which leads to an on-going trust and reliance on Christ and a desire for holiness.
I thought Paul Washer did a fabulous job in a short amount of time in this video, and my hope and prayer is not merely that God will use it to reach multitudes of lost people, but also re-evangelise the professing Church. - JS
Behold, the power of words!
This is a powerful video showing the power of words. The lady did not give the blind man money. She gave him far more. She changed the entire outcome of his day by giving him a new set of words.
As Christians we have been given the most amazing and thrilling news to share with people, the good news of the Gospel. God has done something startling, in the Person and work of His Son - His life, death and resurrection. It is the Holy Spirit who opens the heart and gives sight to the blind so that people might see the beauty of Christ, yet He uses means to do so - the preaching of the gospel. It is a sin to make this dazzling news boring by the words we use. A boring sermon is a great sin!
There might be a thousand other applications for each of us.
Think about it, and make your own. - JS
The Essence of Reformed Theology
James White's review of Roger Olson's book "Against Calvinism" (Parts 1 and 2)
Parts 1 and 2
Note: A few days ago, I posted the first half of Dr. James White's review. He has now completed the second half so in this new post I thought it would be good to put the two videos together in one place so they might be easier to find reference wise at one link. - JS
Roger Olson doesn't like to debate, and he doesn't like to defend his assertions either, but that did not stop Dr. James White from reviewing his book "Against Calvinism." A very troubling aspect of Olson's book is that he admits that even if God revealed Himself to be and to act, as Calvinists say He does, Olson would refuse to worship Him. That's an amazing thing for a professed Christian to say.
Here is the first half of Dr. White's review:
Here now is the second half (below):

Continue reading "James White's review of Roger Olson's book "Against Calvinism" (Parts 1 and 2)" »
The Fear of Public Speaking
I put some thoughts together concerning how to overcome the fear of public speaking in an article found here entitled "Get over yourself!" - JS
Dr. Roger Olson's book "Against Calvinism" – A Review by Dr. James White
Dr. Roger Olson doesn't like to debate, and he doesn't like to defend his assertions, either, but that did not stop Dr. James White from reviewing his book "Against Calvinism."
A very troubling aspect of Olson's book is that he admits that even if God revealed Himself to be and to act, as Calvinists say He does, Olson would refuse to worship Him. That's an amazing thing for a professed Christian to say.
Here (below) is Dr. White's review.

Continue reading "Dr. Roger Olson's book "Against Calvinism" – A Review by Dr. James White" »
The worst thing???
What is the worst false teaching confronting and infiltrating the body of Christ in our day?
Television preacher Andrew Wommack believes it is..
wait for it...
...the doctrine that God is in control of all things (or meticulous providence).

Islam A to Z
Here are two outstanding presentations on the subject of Islam, made by my friend Dr. James White. As you watch them, I am sure you will note both the respect in which the topic is handled as well as the sincere desire to be accurate in what is said. This is important information for both the Christian and the Muslim in our day. - JS
(1) Historical Background of Islam (with questions and answers)
Islam A to Z: Session 1 and Q&A from Lakeview Christian Center on Vimeo.
(2) Theology and Beliefs of Islam (with questions and answers)
Islam A to Z: Session 2 and Q&A from Lakeview Christian Center on Vimeo.
Reminding God
Just as the covenant sign of the rainbow "reminds" God to never flood the whole earth to destroy all flesh (Gen 9:13-17), so the new covenant in Christ's blood "reminds" God not to treat our sins as they justly deserve. I would encourage you to reflect on this the next time you partake of the Lord's supper.
God's grace works in us sovereignly to produce a godly will - Augustine
"Some might interpret 'It is not of him who wills, nor of him who runs, but of God Who shows mercy' (Rom.9:16), in this sense — that salvation comes from both, that is, both from the human will and from the mercy of God. In that case, we must understand the saying, 'It is not of him who wills, nor of him who runs, but of God Who shows mercy,' as if it meant that the human will alone is not sufficient, unless the mercy of God goes with it. But then it would follow that the mercy of God alone is not sufficient, unless the human will goes with it! Therefore, if we may rightly say, 'it is not of man who wills, but of God Who shows mercy,' because the human will by itself is not enough, why may we not also rightly put it the other way round: 'It is not of God Who shows mercy, but of man who wills,' because the mercy of God by itself is not sufficient? Surely, no Christian will dare to say this, 'It is not of God Who shows mercy, but of man who wills,' in case he openly contradicts the apostle!
So it follows that the true interpretation of the saying, 'It is not of him who wills, nor of him who runs, but of God Who shows mercy,' is that the entire work belongs to God, Who both makes the human will righteous, and prepares it in this way for His assistance, and then assists it when it is prepared. For human righteousness of will precedes many of God's gifts, but not all of them; and it must itself be included among those gifts which it does not precede. We read in Holy Scripture, both that God's mercy 'shall meet me' (Ps.59:10), and that His mercy 'shall follow me' (Ps.23:6). Mercy goes before the unwilling person to make him willing; it follows the willing person to make his will effective. Why are we taught to pray for our enemies, who are plainly unwilling to lead a holy life, unless that God may produce willingness in them? And why are we ourselves taught to ask in order that may receive, unless that He who has created in us the wish, may Himself satisfy the wish? We pray, then, for our enemies, that the mercy of God may go before them, as it has gone before us; and we pray for ourselves that His mercy may follow us.
Augustine, Enchiridion, 32