Dr. James White's Continued Examination of James McCarthy's Sermon on Radio Free Geneva
A detailed examination of Ephesians 1 and 2 Thessalonians 2:13
Dr. James White Responds to James McCarthy's Sermon on Calvinism
In this youtube video, Dr. White responds to a message given by James McCarthy and in the course of doing so, provides a rebuttal to the impersonal "class" concept of election. He also gives a detailed exegesis of Ephesians 1:4, "He chose us in Him before the foundation of the world that we should be holy and blameless before Him."
A Word to the Reader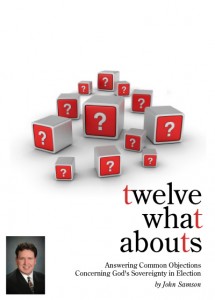 With my new book "Twelve What Abouts - Answering Common Objections Concerning God's Sovereignty in Election" due to be published in early January, 2012, I thought it would be helpful to provide something of a window as to my purpose in writing it. Here's an introductory chapter entitled "A Word to the Reader" - JS:
Question: WHY THIS BOOK?
Answer: For the glory of God
Question: WHO IS THIS BOOK WRITTEN FOR?
Answer: Christians who believe the Bible is the word of God and who wish to gain a biblical understanding of God's electing grace in Christ.
Question: WHO WILL GAIN MOST FROM THE BOOK?
Answer: Those who are willing to test and examine their traditions and hold them up to the light of Scripture, the sole infallible rule of faith for the people of God.
This is not an easy process at times, more for emotional rather than intellectual reasons. Many of us have been told things by highly respected people in our lives (such as the person who led us to Christ, or a revered pastor or Bible teacher, or a father or mother in the faith) which, upon analysis, may not in fact be true. Sometimes, to actually test such statements can feel like an act of betrayal on our part. Yet, it is vital for all who desire to be led by the Spirit of truth to yield to His leading rather than maintain an emotional allegiance to what many call "theological love lines."
A WORD ABOUT BIBLE INTERPRETATION
Hermeneutics is the science of biblical interpretation. One amongst many sound principles of interpretation is that we should build all doctrine on necessary rather than possible inferences.
A necessary inference is something that is definitely taught by the text. The conclusion is unavoidable. It is necessary.
A possible inference is something that could or might be true, but not something actually stated by the text. Some refer to this as the distinction between the implicit and the explicit.
An implication may be drawn from the text of scripture, but we then have to ask if the implicit interpretation is a NECESSARY ONE rather than a POSSIBLE one. We all have our theories, but a sound principle we should employ is to not believe or teach as doctrine something that is only a possible interpretation. We should build doctrine ONLY on necessary interpretation.
In practical terms, making these distinctions can sometimes be a difficult process because it means we have to take a step back and thoroughly analyze exactly why we think a verse teaches something. In other words, it means testing our traditions and doing a lot of thinking. Yet this is something we should do constantly.

If Monergism is True, Why Oppose Immorality Since Men Can't Help it?
Visitor: If monergistic regeneration is true, why oppose others views on homosexual marriage and other controversial issues? "No man can come to Me unless the Father who send Me draw him"
Response: Thank you for your excellent question. Actually we really don't even need a controversial issue. All human beings, apart from grace, are in bondage to sin and cannot do otherwise. You were born with the inability to perfectly obey the 10 commandments, correct?. And are you now saying now that a person can come to faith, apart from grace, and apart from the work of the Holy Spirit? Being "born this way" does not alleviate us or responsibility. If you can obey all of God's commands by yourself, with your own boasted free will, then you frankly don't need Christ, and could save yourself. But Christ came precisely because we cannot help ourselves. It is a matter of mercy, not obligation because we meet some condition. Consider this example: if you borrowed $100 million from the bank to start a new company and instead you squandered it all in a week of wild living in Las Vegas, does your inability to repay the bank alleviate you of the responsibility to do so? No, of course not. Likewise we all fell in Adam and are responsible for all of our subsequent sins and failure to live up to God's righteous demands. Our inability to lift a finger toward our own salvation, after the fall, does not alleviate us from the responsibility to obey. Otherwise, using your logic, God would be obligated to forgive us all because the fall rendered us morally impotent. But, as I have demonstrated, inability does not alleviate responsibility.
In other words, the church is to command all men everywhere (even the unregenerate) to yield to the Lordship of Jesus Christ. That is, obey Him who has authority over all things. At the same time the commands are too much for us to bear ... we all owe a debt we cannot repay. When God enables men to see in the commands their woeful inadequacy and how far they fall short of God, they will turn to their only hope, Jesus Christ. When God shows ill-deserving sinners that, from our own natural resources we cannot obey His commands (Rom 3:19, 20; 1 Cor 2:14), we then, by grace, turn to God alone for mercy. And yet God is not obligated to save anyone. He would be just to send us all to the lake of fire. But he has mercy on many in Jesus Christ, in spite of our rebellion.
‎You rightly quote, "No man can come to Me unless the Father who send Me draw him" - John 6:44 .... Take a look just before this verse to verse 37 which is in the same immediate context .... it says "ALL THAT THE FATHER GIVES TO BE WILL COME TO ME." Not some but ALL. This means that ALL persons that the Father draws will believe. Come to me means "believe in me". This create a syllogism which makes the non-Reformed understanding of the verse, frankly, untenable.
Book Review: Family Shepherds: Calling and Equipping Men to Lead Their Homes
Voddie T. Baucham Jr. Family Shepherds: Calling and Equipping Men to Lead Their Homes. Wheaton: Crossway, 2011. 192 pp.
Until a few years ago, Voddie T. Baucham Jr. was known primarily as a cultural apologist and popular speaker at youth events. Much of that shifted in 2007 with the publication of Family Driven Faith: Doing What It Takes to Raise Sons and Daughters Who Walk with God. With Family Driven Faith, Baucham's name became associated with a growing family ministry movement. Most of this attention was positive, recognizing his strong call for intentional family discipleship. Other responses were more critical, choosing to focus almost exclusively on the viability of family-integrated ministry—despite the fact that only one chapter in the book even raised the issue of family-integrated churches, and Baucham explicitly stated that he didn't intend this model to serve as a blueprint for every church (Family Driven Faith, 213).
In Family Shepherds: Calling and Equipping Men to Lead Their Homes, Baucham brings together his passion for family discipleship with his earlier emphasis on developing a gospel-centered worldview. He presents family as a primary context for worldview formation ("family is the cornerstone of society," 11) and then identifies the father as primarily responsible for cultivating gospel-centeredness in his family. Baucham does not propose in this book to promote any particular paradigm for family ministry. He briefly mentions family-integrated ministry in the book's opening pages, sets the issue aside, and plows forward without looking back (12-13). He aims to present "transcendent truths that govern Christian fatherhood" with the goal of preparing Christian men for their God-ordained responsibility to lead families (11, 13).
Foundations Old and New
Particularly in the first chapter, Baucham draws heavily from Old Testament precepts as he develops biblical foundations for family discipleship. He brushes aside any concerns related to this approach by attributing such concerns to a "dispensational" bent or to an overemphasis on "discontinuity between Old and New Covenants" (20). To be fair, Baucham has done the necessary exegetical work to develop a hermeneutically sound framework for his use of the Old Testament in almost every instance. Still, in a work that includes so many references to the Old Testament, it might have been helpful to include a paragraph or two to help laypeople to understand how and why his applications of Old Covenant texts to New Covenant realities are warranted.
The second chapter of Family Shepherds develops a "three-pronged" approach to family discipleship through exegesis of Paul's letter to Titus, while chapter three compares the biblical expectations with the lifestyle of a fictitious "typical churchgoing" family (39).
Chapter four, "Heralding the Gospel at Home," is Baucham at his best. This chapter serves as a launching pad for the remainder of the book and grounds the husband's priestly and prophetic roles in the gospel. (The chapter also includes a true story from a family trip that involves a bidet. Any time you can include a bidet in a book for the church market, you know it's been a good writing day.) Baucham explains what the gospel is not before proceeding to define what the gospel is (55), then explains what the gospel requires and produces (59). His understanding of the gospel as eschatological becomes the foundation for seeing the family as a God-ordained means (rather than an end in itself) and for showing patience and grace toward one's wife and children. The next two chapters demonstrate that catechesis (63) and family worship (73) are effective means for the communication of the gospel in families.
To Have and to Hold
Baucham emphasizes the "primacy" of marriage among human relationships (91). According to Baucham, the husband's career relationships exist to serve his family, not the other way around. Children are the fruit of the marriage relationship, not the foundation. Baucham's point of prioritizing marriage (97) strengthens his previous assertion that the goal is not merely to develop a healthy family but to rehearse the gospel together as a family (13). As a living picture of Christ's relationship with the church, marriage must take precedence over careers and children (98). When children see a husband love his wife as Christ loved the church, they see the gospel lived out in flesh and blood. Baucham's final words on male headship in the home are brief and straightforward (101), providing a substantive primer on navigating secular and Christian feminism.
It did seem that one additional question might have been addressed in this section: How specifically should husbands disciple their wives? Baucham rightly declares that a husband must prioritize his wife. Yet beyond leading in catechesis and family worship (which seem to focus more on the man's children than on his wife), how does a husband lead his wife spiritually? I suspect that most men have no idea how to answer that question. A handful of practical suggestions might have strengthened this section.
Raising Pelagians
Baucham draws a clear contrast between a biblical perspective on parenting and behaviorist approaches. To illustrate this contrast, he broadens the definition of Pelagianism to include a range of contemporary perspectives that treat children's nature as neutral rather than corrupted (115-117). To exemplify parental Pelagianism in action, Baucham appeals to a self-published book by Michael and Debi Pearl, To Train Up a Child. Baucham seems to assume that his readers will immediately recognize this book (117-118), though neither of us is aware of the Pearls' materials being used outside a few family-integrated congregations. Perhaps it would have been helpful to address a better-known book on Christian parenting—and there are many from which to choose!—that exemplifies a Pelagian approach. That said, Baucham's central point regarding contemporary Pelagianism is presented clearly and memorably.
Baucham helpfully distinguishes between formative discipline and corrective discipline. The chapter on formative discipline summarizes and paraphrases Cotton Mather's A Family Well Ordered for contemporary audiences—this summation, in itself, provides a welcome tool for pastors and parents. The chapter on corrective discipline presents corporal punishment as "necessary," appealing to texts from Proverbs as if they are prescriptive commands rather than inspired observations regarding typical patterns of wise living (140-141). Spanking certainly stands within the range of appropriate responses for Christian parents; however, it seems that presenting corporal punishment as necessary may be pressing the proverbial texts too far. For some children—particularly if they have been adopted from abusive backgrounds—corporal punishment can be counterproductive.
Conclusion
The last section of Family Shepherds urges men to re-evaluate their lifestyles and includes clear recommendations regarding church membership, time use, and culture shaping. Less effective is the final word on "fatherless families" (173). Ministering to single-parent families is a struggle in almost every church, especially when those single parents are mothers. Yet the recommendations for how family shepherds can serve these single-parent families seem vague compared with the rest of the book. And what about children who come to church with no parents at all? How should family shepherds minister to them?
All such questions aside, Family Shepherds is highly recommended for use in men's groups, one-on-one mentoring, and premarital counseling. Equipping and mobilizing men is a necessary foundation for cultivating gospel-centered families. Far too many men's ministry resources have relied on surface-level solutions instead of showing men what it looks like to guide their wives and children as Christ-imitating servant-leaders. This text centers equipping in the gospel and demonstrates how this functions in the home and church.
_____
W. Ryan Steenburg (PhD, The Southern Baptist Theological Seminary) is the founder and director of Daddy Discipleship and serves as the associate pastor of the Christian home at First Baptist Church in Prospect, Kentucky. Ryan lives in Louisville with his wife, Kristen; son, Wes; and daughters, Caitlyn, Anabelle, and Mikayla.
Timothy Paul Jones (PhD, The Southern Baptist Theological Seminary) is associate professor of leadership and family ministry at The Southern Baptist Theological Seminary. He is the author of more than a dozen books and serves in the SojournKids ministry at Sojourn Community Church. He lives in St. Matthews, Kentucky, with his wife, Rayann, and daughters, Hannah and Skylar. For more information about Timothy, visit http://www.timothypauljones.com.

A Few Thoughts on Hyper-Calvinism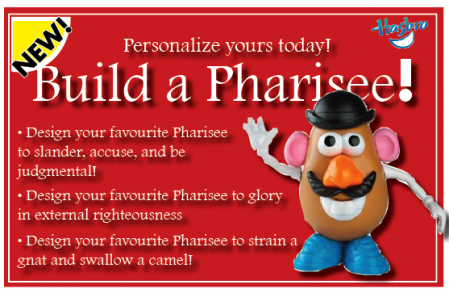 "Remember… while some Arminians are Armenians and some Armenians are Arminians, Armenians and Arminians are two very different groups. Second, while it's true that some Calvinists can be a bit hyper, that doesn't make them Hyper-Calvinists." – Justin Taylor
Amongst the archives at www.aomin.org here I found this, written by my friend Dr. James White; a response to a man named Marc Carpenter.
It is rather lengthy but I think you will find it worthwhile. To allow for easy reading I will make James White's words appear in bold type. - JS
James writes:
The following exchange took place around the year 2000. If I am recalling correctly, an unsolicited e-mail arrived with a large "cc" list of people. As you will see, my initial response was very brief, because I learned long ago that these kinds of impromptu e-mail lists will suck the life right out of you if you let them. False teachers have, seemingly, unlimited time resources. In any case, when the reply came, I did invest a few moments to type out a few thoughts I have had on the subject of the demands of hyper-Calvinists. I hope they are useful to others as well.

Paul's Reason for Enduring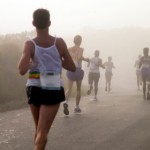 The following is a short meditation by Dr. James White.
For this reason I endure all things for the sake of the elect, so that they also might experience the salvation which is in Christ Jesus, and with it, eternal glory. (2 Timothy 2:10 - translation by Dr. James White)
The context is important. 2 Timothy is Paul's farewell letter to Timothy. You don't waste words when writing your farewell to a dearly beloved son in the faith. He is encouraging Timothy to be strong. He calls Timothy to "share in suffering" with him (2:3), to compete, work hard, and remember Jesus Christ. Then, in verse 9, he mentions his own suffering as a criminal for the gospel. This is the context lying behind Paul's statement that he "endures."
Endures what?
Everything. All the opposition and attacks and beatings and imprisonment and long days of toil and labor--he endured it all for what reason?
Oh, surely, we could say "the glory of God," but that isn't Paul's answer here. Instead, he says he endures all of this "for the sake of the elect."
Many may wish this term did not appear in Scripture, but it is right there - "the elect," "the chosen ones." Paul uses the same term in Romans 8:33 "Who will bring a charge against God's elect?", and significantly in Colossians 3:12: "So, as those who have been chosen of God, holy and beloved, put on a heart of compassion, kindness, humility, gentleness and patience."
Notice that Paul refers to the professing believers in Colossae as "those who have been chosen of God." Not those who chose God (they did that, but they did so as a result of being chosen by Him: the Christian gospel is God-centered, not man-centered!). It is important to see the source of the "choosing" in election here: "chosen of God." God chooses. God disposes. God is sovereign in this matter.
And so back in 2 Timothy 2:10, Paul endures the sufferings of his apostleship "for the sake of the elect," but the reason he does so should not be missed, "so that they also might experience the salvation which is in Christ Jesus, and with it, eternal glory." Paul sees his sufferings, his ministry, his tireless work, as means God has used to bring His elect to salvation. As I have said many times, God ordains the ends as well as the means. Preaching, teaching, ministering, defending the faith--all are means used by God to bring His elect to salvation. Just a few more quick notes:
1) Why preach if the identity and number of elect was fixed in eternity? Arminians ask this all the time. Because it is our glorious privilege to be used of God in His service as the means by which He brings His elect unto Himself! We who have heard the Master's call and been raised from spiritual death should long to be used of God to bring others into His kingdom, just as He used those in the faith before us to bring us the life-giving message of the gospel.
2) The interface of the divine decree ("the elect" here clearly refers to a specific people, chosen by God, not merely "foreseen down the corridors of time") with its outworking in time (seen in Paul's activity and suffering) is seen. Is God dependent upon Paul? Surely not in the eternal perspective of His decree. But we cannot "see" that decree. We have God's prescriptive will plainly revealed to us: preach the gospel to every person! Fight the good fight! Endure persecution as a slave of Jesus Christ! We know God will save His elect, and we know those who truly respond to our message do so only by grace. This gives us boldness to proclaim God's command to repent to all men everywhere.
3) The elect come to Christ. Almost every passage that speaks of the gospel's specificity in the New Testament likewise denies the concept of inclusivism or pluralism. The salvation the elect obtain is "in Christ Jesus" and in Him alone. It is simply ridiculous to think that Paul includes in this the idea of some kind of "secret, ignorant disciple who clings to falsehood but is really in Christ anyway." Such is purely wishful thinking on the part of modern neo-evangelicals who are ashamed of the exclusivity of the claims of Christ.

The Need for Perfect Obedience
from Derek Thomas
There are only two ways of salvation: by the law or by grace. If salvation is to happen by the law, perfect obedience is necessary. There can be no blemishes or shortcomings, for the law will never show mercy. It knows nothing of grace or forgiveness. It demands perfection, because whoever transgresses in one tiny detail transgresses the whole of God's law: "For whoever keeps the whole law but fails in one point has become accountable for all of it" (James 2:10). Getting to heaven through obedience to the law requires perfection. Merely doing your best will prove insufficient; good intentions are not enough. It is vitally important to grasp exactly how much the law demands if we think we are going to be in a right relationship with God through law-keeping. Simply put, "By works of the law no one will be justified" (Gal. 2:16).
*****
Excerpt from How the Gospel Brings Us All the Way Home (Reformation Trust, 2011)
Related Resources
An Introduction to the Gospel: A Covenant Theology Primer by John Hendryx
The Covenant of Works @Monergism.com

A Long Line of Godly Men
Dr. Steven Lawson is a wonderful brother and serves as senior pastor at Christ Fellowship Baptist Church in Mobile, Alabama. He has currently written two books in what, God willing, will be a three volume series called "A long Line of Godly Men." The first two books are fabulous and I eagerly await the third. The first book is available here, and the second here. - JS
The following four short videos are very helpful.
Here Dr. Lawson explains the concept behind each of the books in the series mentioned above:
In this second video, Dr. Lawson answers the question, "why are the Doctrines of Grace good for the Church?"
In this third video, Pastor Lawson articulates what the doctrines of grace are:
In this fourth video, Dr. Lawson tells us why these doctrines are often offensive and divisive.
FamilyLife Today Interviews Brian Borgman, Author of "Feelings and Faith"
Brian Borgman, author of Feelings and Faith: Cultivating Godly Emotions in the Christian Life recently spoke with Dennis Rainey and Bob Lepine on FamilyLife Today.You can tune into their three-part conversation or read the transcript here.
Part one of the interview focuses on sanctifying your emotions. Dennis Rainey says,
I think every single person who is listening to our broadcast can benefit from a better biblical understanding of how they were made—their emotions. This will help husbands and wives as they relate to each other. Parents are shaping their children to better understand their emotions as well. I think what Brian Borgman has done here is going to be very helpful.
Part two addresses controlling your emotions and combating sin with Scripture. Borgman, Rainey, and Lepine also reflect on Martin Lloyd-Jones' words:
I regard it as a great part of my calling in the ministry to emphasize the priority of the mind and the intellect in connection with the faith. I am equally ready to assert that the feelings, the emotions, the sensibilities, obviously, are of very vital importance. We have been made in such a way that they play a dominant part of our makeup. I suppose that one of the greatest problems in this world, not only for Christians but for all people, is the right handling of our feelings and emotions.
In part three, Borgman discusses faith-led feelings. He says:
We cannot determine the will of God by how we feel about something. We cannot determine what's true by how we feel about something. It's actually very dangerous to rely on your feelings and then translate that into, 'This is what God wants me to do. This is what God wants me to believe, and this is how God wants me to obey.' We know the will of God through the Word of God. It's the Word of God that's infallible, not our feelings.
Transcripts to part I; part II; part III
About Brian Borgman: Brian Borgman is the founding pastor of Grace Community Church in Minden, NV serving as a youth pastor, a volunteer prison chaplain, and a singles pastor. He is a devout Calvinist, and has a B.A. in biblical studies from Biola University, a Master of Divinity from Western Baptist Seminary in Portland, and a Doctor of Ministry degree from Westminster Seminary in California. Brian has authored Feelings and Faith and My Heart for Thy Cause: Albert N. Martin's Theology of Preaching. Brian has a wonderful wife, Ariel, and three beautiful children, Ashley, Zachary and Alex.
Immanuel is God with us
"Behold, the virgin shall conceive and bear a son, and they shall call his name Immanuel"—Matthew 1:23
Immanuel is God with us. We here ascend infinitely above the human. It is not merely an angel that is with us- a man that is with us; it is Deity who is with us, none less than Jehovah Himself, Israel's covenant God and Keeper. We cannot do with anything short of Deity. If Deity does not come to our aid, if Deity does not stoop to our low estate, if Deity does not save us, we are lost to all eternity. When we fell in the first Adam, our humanity lost all its original righteousness and strength. If Deity did not interpose on our behalf, if God did not Himself embark in our rescue, the inevitable consequence must have been the shades of endless death. But a plan of deliverance had been conceived from everlasting. God, in the infinite counsels of His own mind, resolved upon the salvation of His eternally chosen and loved people. He saw that there was no eye to pity them, and no arm to save them. He resolved upon our salvation, embarked in it, accomplished it; and eternity, as it rolls upon its axis, will magnify His name, and show forth His praise.
And, O beloved! what an assuring and comforting truth is this- God with us! Now we feel equal to every service, prepared for every trial, armed for every assault. Deity is our shield, Deity is our arm, Deity is our Father and our Friend. We deal with the Divine. Deity has died for us, has atoned for us, has saved us, and will bring us safely to the realms of bliss. "This God is our God, forever and ever, and will be our Father even unto death." Oh, see, my reader, that your hope is built upon nothing more and upon nothing less than Christ. The "Rock of Ages" must be your only foundation if saved. If you stand not in the "righteousness of God" when you appear in His presence, He will say to you, "How did you get in here, not having on the wedding garment?" Speechless will then be the tongue now so fluent and ingenious in its many and vain excuses, or so loud and earnest in its heartless responses in religious worship. I solemnly repeat that, if you have no better righteousness to appear before God in than your religious duties, or rites, or doings, when summoned to His dread tribunal, it had been better for you never to have been born. Oh, cast from you the leprous garment you so long and so fondly have clutched, as though it were a white and beautiful robe fit to appear in the presence of the holy, holy, holy Lord God; and accept in penitence and faith the "righteousness of God, which is by faith of Jesus Christ unto all, and upon all those who believe." Deadly doings are deadly things, sinking you as a nether millstone down to the shades of the bottomless pit. But one believing look at the crucified Savior is life and immortality, raising you above the curse, above your sins, out of the horrible pit and the miry clay of your present condemnation, into the sun-lit regions of forgiveness, peace, and hope.
Octavius Winslow, Emmanuel, or The TItles of Christ, as published in The Works of Octavius Winslow (Monergism Books, Kindle Edition)