« Election Ensures the Concept of Salvation by Grace | Main | Wordsmithy Douglas Wilson | Review by: John Starke »
Not the full story...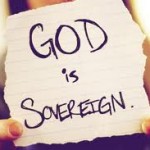 Question: If God is Sovereign, why pray? Answer: It is BECAUSE God is Sovereign that we do pray. He is Lord of all and can change things, even putting it on our hearts to pray that He would do so.
John Wesley said, "God does nothing except in response to believing prayer." There is some truth there but its not the full story. Creation took place before there ever was a prayer meeting. God made His plans long before anything else ever existed. God gave a people to His Son in eternity past who in time will come to Him (John 6:37) and He did so when no one asked Him to. God is not merely a responder, He is a master planner. He is found even by those who never sought Him (Romans 10:20). Lets always be people of prayer but let us be forever thankful that God is not limited to our prayer life before He can act in this world; otherwise we would be Sovereign and not Him. - JS