Organized Religion?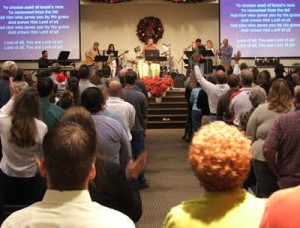 When someone tells me, "I am not into organized religion" I usually respond by asking, "Oh, that's interesting. So you prefer the disorganized kind?"
The conversation normally goes somewhat quiet when I ask that question. Usually most people have not thought about the matter to any great degree.
Yet, if we were to understand that WE and our feelings and opinions are not what matters on this issue - that we are not the center of the universe and in fact, that God has the right to orchestrate worship as He sees fit.. I know, what a concept!!... but yes, were we brave enough to stop and ask God's opinion, seeking to find out what pleases Him, we would not read far in our Bibles before finding out that worship is to be carried out His way on His terms.
Remember Cain and Abel? Remember how one sacrifice was accepted by God (Abel's) and the other was not (Cain's). Remember the Tabernacle? Remember that His instructions had to be followed precisely and meticulously? Talk about organization... Entire books of the Bible were dedicated to revealing His precise instructions. God is holy and is to be treated as such by those seeking to approach Him in worship. Failure to do so had severe consequences. Nadab and Abihu were struck dead by God for seeking to design their own methods of worship. After their deaths, no one in Israel (including Aaron their own father) was allowed to even mourn their loss (Leviticus Chapter 10). Remember that?
Leviticus 10 reads: 1 Now Nadab and Abihu, the sons of Aaron, each took his censer and put fire in it and laid incense on it and offered unauthorized fire before the Lord, which he had not commanded them. 2 And fire came out from before the Lord and consumed them, and they died before the Lord. 3 Then Moses said to Aaron, "This is what the Lord has said: 'Among those who are near me I will be sanctified, and before all the people I will be glorified.'" And Aaron held his peace.
4 And Moses called Mishael and Elzaphan, the sons of Uzziel the uncle of Aaron, and said to them, "Come near; carry your brothers away from the front of the sanctuary and out of the camp." 5 So they came near and carried them in their coats out of the camp, as Moses had said. 6 And Moses said to Aaron and to Eleazar and Ithamar his sons, "Do not let the hair of your heads hang loose, and do not tear your clothes, lest you die, and wrath come upon all the congregation; but let your brothers, the whole house of Israel, bewail the burning that the Lord has kindled. 7 And do not go outside the entrance of the tent of meeting, lest you die, for the anointing oil of the Lord is upon you." And they did according to the word of Moses.
8 And the Lord spoke to Aaron, saying, 9 "Drink no wine or strong drink, you or your sons with you, when you go into the tent of meeting, lest you die. It shall be a statute forever throughout your generations. 10 You are to distinguish between the holy and the common, and between the unclean and the clean, 11 and you are to teach the people of Israel all the statutes that the Lord has spoken to them by Moses."
Frightening stuff, yes? Actually, its meant to be. It is a fearful thing to come before God in worship. All of us will be consumed if we do not come His way, on His terms, and by means of the sacrifice He has authorized. (see Hebrews 10:19-22)
So back to our discussion - were we to seek God's thoughts on the matter, one of the many things we would find is that He loves the corporate worship gathering of His people, greatly preferring it to all of our private spiritual devotions combined.
"The Lord loves the gates of Zion more than all the dwellings of Jacob. Glorious things are spoken of you, O city of God." (Ps. 87:2-3)
"And let us consider how to stir up one another to love and good works, not neglecting to meet together, as is the habit of some, but encouraging one another, and all the more as you see the Day drawing near." (Hebrews 10:25, 26)
This is just the starting point of course, but rather than taking a poll of the community to ask for people's personal preferences, its time we come on our knees humbly before God and with open Bibles ask Him, "What pleases You God? What is a true Church in Your eyes? What is Your view of worship? What isn't?"
I hope that each of us are prepared to obey Him when He tells us the answers.
- JS
The Narcissism Epidemic

Many churches in our day offer entertaining music, fluffy sermons, and demand nothing. In short, they give people what they want. But what if "what they want" is informed by a culture of narcissism? On this edition of White Horse Inn, Michael Horton talks with psychology writer Jean Twenge, author of Generation Me and coauthor of The Narcissism Epidemic: Living in the Age of Entitlement (originally aired Aug 2, 2009).
God's Sovereignty in Election
I was interviewed by Pastor Kevin Boling on the "Knowing the Truth" Broadcast about my book "Twelve What Abouts" early this morning on a radio station covering all of South Carolina and parts of neighboring states. Here's the link if you want to listen to the show. - John Samson
Give us this day our daily bread
When we read this plea in the prayer our Lord has given us, it reminds us of our utter dependence on Him for everything we have, including our spiritual gifts and the grace to persevere to the end. When we were unregenerate and without God in the world, our conversion only took place when God opened our eyes to despair of any help from ourselves that we might look to Christ for His mercy. So also as Christians we live by the same principle since only by losing of all confidence in ourselves do we grow in grace; Christians do not become more mature in such a way as to gain more confidence in our spiritual abilities. On the contrary, the mature Christian, becomes even more conscious of his own frailty, and will turn unto the Lord for all his/her daily graces. It is only when we are weak, that we are strong (2Co 12:10). In other words, if we are to be effective at all, there must first be a consciousness of our weakness and innate spiritual bankruptcy.
In the Lord's marketplace, He only does trade with the poor, the sick and the blind. If you attempt to trade with Him with the meat you have earned, your merit or your gifts( that He has given you), He will not trade with you. The straight way is entirely too narrow to bring your goods through the door. You must leave them outside and come with empty hands if you would fit through that low and narrow space. Then you are ready and the Lord will fill you with abundance. The Lord says He did not come to call the righteous but sinners; and likewise affirms that those who are blind will not be guilty of sin, but those who claim to see, their sin remains. A man naturally wishes to establish his self-sufficiency. But if a person does recognize his inadequacy and need of help it is apparent that the Lord has done a work of grace in his heart, for where we end is where His grace begins.
Christian, you are dependent on God for the continuance of your strength and comfort to get through the day. You cannot rely on the blessings and good cheer you had yesterday. No, today we must approach the Lord anew in a posture of dependence, for self-sufficiency will never do for a Christian. You can no more rely on past blessings than you can rely on yesterday's meal for today. It is well beyond your own ability, and skill to maintain the Spirits' joy and comfort ... God's favor is necessary to your success. The farmer can sow his seed and labor hard, but without God's blessing of rain, his labor will be in vain. Only Christ can provide this and our labor is in vain if not in the Lord. If you would like to see spiritual fruit, depend on God each day for spiritual sustenance as Israel depended each day on Manna. We cannot simply get a supply of joy or blessing from what we have stored away somewhere in ourselves. God does what He will with His supply and He wishes that His children would call His blessings down daily. The Text affirms that God gave manna to humble the Israelites (Deut 8). The humbling comes because it is the Lord who dispensed the food, just as he dispenses our daily grace (bread). He keeps the key to our heavenly blessings that we might pray in His will and be instruments of advancing His kingdom here below. 'Lord, give us this day our daily bread.'
The "Free Will" Song
The "Joy Quartet" at Pensacola Christian College teach us about the Arminian doctrine of free will. Actually, it may even be the Pelagian doctrine. I must say, my "free will" did not get me past the first 90 seconds!
Here is a short article I wrote on the subject of the will which is followed by a lively discussion in the comment section. - JS
HT: Justin Edwards
You do not choose this...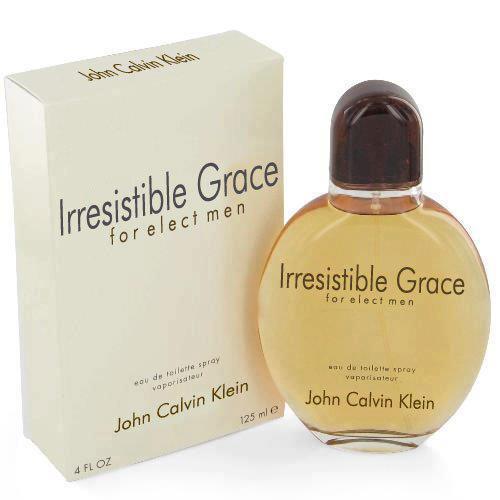 You do not choose this fragrance. It chooses you!
Encouraging Feedback
JS - I continue to receive very encouraging feedback on the new book. Here's an e-mail I received today from Don Double, one of England's most prominent Christian Evangelists: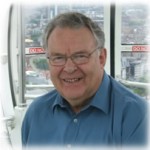 Dear John,

I want to thank you so very much for your book "Twelve What Abouts". I am reading it in depth right now and enjoying it tremedously and finding it really helpful too. I'd like to say that I very much like your style which what I is would term 'readable' (for one with my limited academic background). You may be aware that when [my wife] Heather died, the big issue for me was me clearly seeing that 'God is Sovereign', thus helping me deal effectively with grief amongst many other things.

Trust you are doing well.
Don
Praise the Lord!
What was at Stake in the Third Temptation by Satan
What was at stake in the third temptation was the gospel. Think about the implications of this offer. If Jesus had accepted it, Satan would have surrendered his reign of terror. Jesus could have directed the kingdoms of the world however he wanted. No more babies would be miscarried. No more women would die in childbirth. Ended immediately would be all human slavery, all genocide, all disease, all poverty, all torture, and all ecological catastrophes. The rows and rows of crosses across the highway of the Roman Empire would suddenly be gone. There would never be a Nero or a Napoleon or a Hitler or a Stalin, or at least you would never hear the infamy of those names. There would be no world of divorce courts and abortion clinics and electric chairs and pornographic images. Whatever is troubling you right now would be gone, centuries before you were ever conceived. This sounds like paradise. Satan was willing to give all of this up because he doesn't fear Christianity. He certainly doesn't fear "Christian values." Satan fears Christ. Remember that Satan holds power only through accusation and condemnation. As long as there is no atoning sacrifice for sin, Satan is quite willing to allow conformity to the external law, even to the law of Christ ruling visibly over the nations from Jerusalem. The accuser simply wants his opportunity to indict his human would-be supplanting powers before the judgment seat, with no shed blood to redeem them back. This is what Jesus' followers couldn't understand as he moved down the Roman roads toward the place of the skull. It was there, and only there, as Jesus carried on himself the sins of the world, that he could say, "Now is the judgment of this world; now will the ruler of this world be cast out" (John 12:31). It is only in his triumphant resurrection from the demonic grip of death that Jesus could have "angels, authorities, and powers" subjected to his rule (1 Pet. 3:21–22). A crossless Christianity isn't just a deficient Christianity; it's the same old satanism of human striving.

In every generation the church faces cross-evading liberation theologies of both the Left and the Right. The liberation theology of the Left wants a Barabbas to fight off the oppressors, as though the ultimate problem is the reign of Rome and not the reign of death. The liberation theology of the Right wants a golden calf to represent religion and "traditional values" in the public square and to remind us of all the economic security we could have in Egypt. Both want a Caesar or a Pharaoh, not a Messiah. We will always be tempted to bypass the problem behind the problems—captivity to sin, bondage to the accusations of the demonic powers, the sentence of death. Where there is no gospel, something else will fill the void—therapy, consumerism, racial resentment, utopian politics, crazy conspiracy theories of the Left, crazy conspiracy theories of the Right; anything will do. Where there is something other than Christ preached, there is no freedom. There may be shouts of affirmation or silently nodding heads. There may be left-wing politics or right-wing politics. There may be culturally liberal psychotherapy or culturally conservative psychotherapy. There may be almost anything people think they want, but there's nothing but judgment in the air. The Devil doesn't mind "family values" as long as what you ultimately value is the family. Satan doesn't mind "social justice" as long as you see justice as most impotantly social. Satan does not tremble at a "Christian worldview" as long as your ultimate goal is to view the world. Satan doesn't even mind born-again Christianity as long as the new birth is preached apart from the blood of the cross and the life of the resurrection. Pastor, Satan doesn't mind if you preach on the decrees of God with fervor and passion, reconciling all the tensions between sovereignty and freedom, as long as you don't preach the gospel. Homeschooling mom, Satan doesn't mind if your children can recite the catechism and translate the "Battle Hymn of the Republic" from English to Latin, as long as they don't hear the gospel. Churches, Satan doesn't care if your people vote for pro-life candidates, stay married, have sex with whom they're supposed to, and tear up at all the praise choruses, as long as they don't see the only power that cancels condemnation—the gospel of Christ crucified. Satan so fears that gospel, he was willing to surrender his entire empire just to stave it off. He still is.
The first step of any kind of Christian engagement with the outside world then is to focus on the primary arena of Christ's reign—his church. We threaten the rulers and authorities in the heavenly places by our life together, by being the kind of alternative community that demonstrates that the blood of Christ has triumphed, making those who were at odds into one new reality in Christ ...
Excerpt: Tempted and Tried: Temptation and the Triumph of Christ by Russell D. Moore
Spurgeon on 1 John 5:1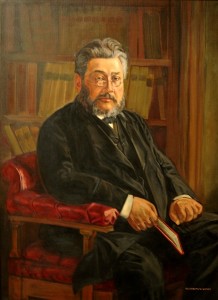 Charles Spurgeon preaching on 1 John 5:1 makes the point that men believe, not of their own power, but as a result of the work of regeneration in the hearts of men:
We must now pass on to show that wherever it exists it is the proof of regeneration. There never was a grain of such faith as this in the world, except in a regenerate soul, and there never will be while the world standeth. It is so according to the text, and if we had no other testimony this one passage would be quite enough to prove it. "Whosoever believeth that Jesus is the Christ is born of God."
"Ah!" I hear thee say, poor soul, "the new birth is a great mystery; I do not understand it; I am afraid I am not a partaker in it."
You are born again if you believe that Jesus is the Christ, if you are relying upon a crucified Saviour you are assuredly begotten again unto a lively hope. Mystery or no mystery, the new birth is yours if you are a believer. Have you never noticed that the greatest mysteries in the world reveal themselves by the simplest indications.
The simplicity and apparent easiness of faith is no reason why I should not regard its existence as an infallible indication of the new birth within. How know we that the new-born child lives except by its cry? Yet a child's cry—what a simple sound it is! how readily could it be imitated! a clever workman could with pipes and strings easily deceive us; yet was there never a child's cry in the world but what it indicated the mysteries of breathing, heart-beating, blood-flowing, and all the other wonders which come with life itself.
Do you see yonder person just drawn out of the river? Does she live? Yes, life is there.
Why?
Because the lungs still heave.
But does it not seem an easy thing to make lungs heave? A pair of billows blown into them, might not that produce the motion?
Ah, yes, the thing is easily imitated after a sort; but no lungs heave except where life is. Take another illustration.
Go into a telegraph office at any time, and you will see certain needles moving right and left with unceasing click. Electricity is a great mystery, and you cannot see or feel it; but the operator tells you that the electric current is moving along the wire.
How does he know?
"I know it by the needle."
How is that?
I could move your needles easily.
"Yes; but do not you see the needle has made two motions to the right, one to the left, and two to the right again? I am reading a message."
"But," say you, "I can see nothing in it; I could imitate the clicking and moving very easily."
Yet he who is taught the art sees before him in those needles, not only electric action, but a deeper mystery still; he perceives that a mind is directing an invisible force, and speaking by means of it.
Not to all, but to the initiated is it given to see the mystery hidden within the simplicity. The believer sees in the faith, which is simple as the movements of the needle, an indication that God is operating on the human mind, and the spiritual man discerns that there is an inner secret intimated thereby, which the carnal eye cannot decipher.
To believe in Jesus is a better indicator of regeneration than anything else, and in no case did it ever mislead. Faith in the living God and his Son Jesus Christ is always the result of the new birth, and can never exist except in the regenerate. Whoever has faith is a saved man.
HT: Mike Porter

Judgment According to Works
When all has been said and done, the peoples will all be judged according to their works (Rom 2:6). That's you and me and everyone. With winnowing fork in hand God will separate the wheat and the chaff, which will go into unquenchable fire. Only perfect obedience to the law will measure up and be declared just ... so it is certain that wrath and fury awaits those who trust in themselves. But to you who have been mercifully united to Jesus Christ, your works will be judged to have been perfect (Rom 8:14; Heb 5:7-9) and there will be no more shame forever on that Day, but when we see His face, only eternal felicity.
Eternal Security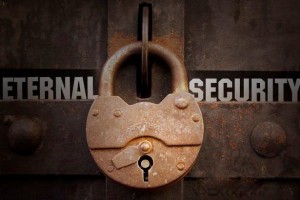 I don't really like the phrase "eternal security" or its popular counterpart "once saved always saved" because both tend to come with a huge amount of unscriptural theological baggage. For many people, "eternal security" means that if a person makes some sort of profession of faith and then lives a lifestyle totally at odds with that profession, even renouncing Christianity altogether, they are still "saved" because "once saved, always saved." I don't believe that to be a scriptural concept in any way at all.
While it is true that a genuinely regenerated Christian can be secure in their salvation for all eternity, this is not because of a one time profession of faith so much as the possession of faith. All those who possess true faith will of course profess it, but a mere claim to faith is not enough. As James chapter 2 makes clear, faith without works is dead and a dead faith never saves anyone.
The Bible makes it clear that there is a false faith that is in no way the genuine article. Faith of the real kind will produce fruit - evidence of the Holy Spirit's abiding presence in the person's life. That is why we are told to examine ourselves to see whether we are in the faith (2 Cor 13:5). Rather than simply being told to recall a time in our past when we made a profession we are exhorted instead to examine ourselves to see if there is present day evidence that we are truly His. As J. C. Ryle once remarked, "A tree will always be known by its fruit, and a true Christian will always be discovered by their habits, tastes and affections."
While I certainly do believe in the eternal security of the believer, I tend to avoid the two phrases mentioned above, preferring the theological term "perseverance of the saints" or even better "the preservation of the saints." Those who are justified will be glorified (Romans 8:30). True believers will continue in the faith because their faith is a supernatural gift from God and by its very nature, is something that endures. The Apostle John recognized this when he wrote: "They went out from us, but they were not of us; for if they had been of us, they would have continued with us. But they went out, that it might become plain that they all are not of us." (1 John 2:19). The true saint perseveres because God preserves him! The One who started the work will bring it to completion until the day of Jesus Christ (Phil. 1:6).
Yet there is a big picture concept that we need to see involving the work of the Trinity in salvation. From the archives at www.aomin.org, in an article entitled "Eternal Security: Based on the Tri-Unity of God" Dr. James White writes: