« The Duty of Man is to Repent and Believe the Gospel | Main | A Contrast of Missionary Strategies »
The Trial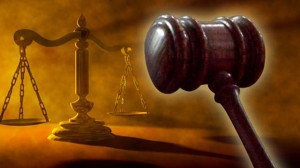 THE CASE OF GOD THE FATHER AGAINST ______________________________ (fill in your own name)
PROSECUTING ATTORNEY: SATAN (THE ACCUSER OF THE BRETHREN)
DEFENSE ATTORNEY: THE LORD JESUS CHRIST
JUDGE PRESIDING: GOD THE RIGHTEOUS JUDGE
IN ATTENDANCE: The angelic hosts (righteous and fallen)
" it is appointed for man to die once, and after that comes judgment" – Heb. 9:27
You now stand in the dock, faced with the charge of great and terrible acts of high treason against the Most High God.
Gabriel, the high ranking angel addresses the court saying, "All rise! The Righteous Judge is coming into His chamber!"
The Judge declares His court to now be in session and asks for all to be seated.
Without any delay, Satan stands up and addresses the court. He states that the record will show that you have broken all 10 of the Ten Commandments, on multiple occasions. He will prove your guilt on all counts for He has the indisputable video evidence as well as reliable witnesses to attest to the facts in this case.
After the case is made against you and there is a hush in the court. The prosecuting attorney has shown that you have indeed committed acts of high treason against God. It seems inevitable that you will be found guilty.
Satan then addresses the Judge and says, "A good God must be a good Judge. The facts are clear. You must find this one guilty. Your own record in Proverbs 17:15 states, 'He who justifies the wicked and he who condemns the righteous are both alike an abomination to the LORD.' For you to acquit this one would mean that You are not righteous Yourself. You must find this one guilty as charged. I rest my case."
The Judge then calls upon your defense attorney to address the court.

The Lord Jesus Christ: Righteous Father, the case made by the prosecution is indeed true. I will not dispute the charges made. However, I will submit to this court two pieces of evidence in the defense of my client:
Exhibit A: THE PASSIVE OBEDIENCE OF CHRIST - Let the record show that on Calvary's cross, the sins of this one was transferred to me and I bore the full punishment demanded by Your high and holy Justice. I was wounded for his transgressions, brusied for his iniquities, the chastisement that brought him peace was upon Me and by My stripes, he was healed.
Exhibit B: THE ACTIVE OBEDIENCE OF CHRIST - Let the record show that I, the second Person of the adorable Trinity, became a man, was born of a virgin, and lived a righteous life on earth always pleasing You, righteous Father. I lived the life You demanded in Your high and holy law.
Just as this one's sins was transferred to Me on the cross and I suffered the penalty due to him (in his place), so also My righteous life was transferred to his account.
"For our sake he made him to be sin who knew no sin, so that in him we might become the righteousness of God." – 2 Cor 5:21
Righteous Father, if You will check the record, You will see that this man's sins have been paid in full and in fact the only record concerning this man now is that He lived my life – for My life was imputed to His account, legally and at Your good pleasure. For it was decreed this should happen in our Eternal Counsel meeting of the Divine Trinity, before the foundation of the world.
GOD THE JUDGE: "Having checked the eternal records and the validity of exhibits A and B, the case made by the defense is both true and satisfactory in this court for the purpose of dismissing all charges made against this man.
Would the accused please stand:
In that My son has borne your punishment in full and has imputed His righteous life to your account, I declare you NOT GUILTY.. but more than that, Righteous, in the splendid righteousness of My Son. I can do this because My wrath, due to you, was borne by My Son. He has paid for your sins in full.
You are JUSTIFIED in my sight. Forever I am at peace with you. Your sins I will remember no more. By grace alone through faith alone in Christ alone, you are justified."
Justified - not merely "just as if I'd never sinned," but "just as if I'd always obeyed." (Jerry Bridges)
Rom. 5:1 - "Therefore, since we have been justified by faith, we have peace with God through our Lord Jesus Christ."
If salvation depends on the believer's deeds, our salvation is only as secure as our faithfulness.
Justification is a legal word (from the court room) and for the believer in Christ is a past tense event - through the person and work of our Lord Jesus Christ ALONE!
This peace with God is not some temporary cease fire (in hostilities) but is the eternal, immutable and irrevocable standing of the believer with his God.
- John Samson, www.effectualgrace.com