God's Sovereignty Part 2 by Marco Gonzalez
In my last post, I discussed the extent, degree, and magnitude of God's sovereignty. I understand, however, it may have raised questions and concerns. Naturally, if I am claiming God's sovereignty and absolute control, how can humans still be responsible? Better yet—how then, can we be responsible for our actions? Is God a master puppeteer, while human beings are strung and maneuvered by his hand? If all of human history is sovereignly orchestrated by God and upheld by his independent governing will, how can we make choices? These questions I will address; specifically, how are divine sovereignty and human responsibility compatible?
Let me begin by stating—Man is accountable for all his choices and decisions. It is a mistake to believe that man may sit idle, while God is governing all affairs. Human beings are responsible and accountable for all their choices. The scriptures continuously call for man to respond to God. In fact, Reformed Theology has always believed it to be an integral part of God's sovereignty. Man is responsible to respond to the gospel. He is responsible to make upright and righteous decisions. He is responsible to love and care for his family. He is responsible even without sufficient saving knowledge of God. He is responsible to preach the gospel among the nations. God's sovereignty does not negate human responsibility, but grants it, while also maintaining freedom and meaning to human decisions. Yet is an equal emphasis between God's sovereignty and human responsibility even possible? The biblical writers, throughout the whole, find no problem coinciding God's sovereignty and human responsibility.
In Romans 9, Paul anticipates objectors who question God:
You will say to me then, "Why does he still find fault? For who can resist his will?". (Romans 9:14)
Paul responds with:
20 But who are you, O man, to answer back to God? Will what is molded say to its molder, "Why have you made me like this?" 21 Has the potter no right over the clay, to make out of the same lump done vessel for honorable use and another for dishonorable use? (Romans 9:20-21)
Similarly, scripture condemns those who crucified Christ, but this event was also decreed by God (Luke 22:22; Acts 2:22; 4:27-28). The main point of Romans 9 is to explain why the Jews, God's chosen people, have not believed. Paul points their unbelief to God's sovereign hand. Yet in Romans 10, he attributes it to their unbelief in the gospel. Jesus identified Judas, who would inevitably betray him, while the scriptures indicated it was decreed by God. Judas, however, was fully responsible. The Assyrians were also decreed, by God, to plunder and punish the Israelites. However, they were a fully responsible, wicked people, before God (Is 10:5-10). Finally Joseph, whose brothers sold him into slavery, being wrongly accused by Potiphar's wife, imprisoned and falsely accused, rebukes his siblings for their wicked intent. But at the same time, affirms God's sovereign and good purposes (Gen 50:20). So how then, do our actions correspond to God's sovereignty? Jesus, in Matthew 7, explains the nature of our ability to choose.
So, every healthy tree bears good fruit, but the diseased tree bears bad fruit. A healthy tree cannot bear bad fruit, nor can a diseased tree bear good fruit (Matthew 7:17-18).
Our choices are determined by desire. We act and speak, according to our character. This has commonly been referred to as "compatibilist freedom." What we most desire, is what we will choose. If Bill decides to eat leftovers, it is not arbitrary, but based on an inward desire to eat. Our choices, then, are completely free in the sense that they come from what we most desire. It is called compatibilism, because it is compatible with determinism. Determinism means that every event, including human decisions, has a cause other than itself. Therefore, we are free, because we still act according to our desires. If a natural disaster occurs, let's say a storm caused by God, we are free to respond according to our character and desire. Naturally, this would look for different for all people. Some would ensure the survival of others, while many would protect themselves. Everyone in this scenario, is freely choosing what they most desire. However, the most common view that objects to compatiblism is called "Libertarian Freedom".
Libertarians emphasize that our choices are not determined in advanced, but that we are the ultimate causes of our choices. They do affirm that God is the first cause, but not in regard to human decisions.
R.K. McGregor Wright states:
"The belief that human will has an inherent power to choose with equal ease between alternatives. This is commonly called "the power of contrary choice" or "the liberty of indifference." This belief does not claim that there are no influences that might affect the will, but it does insist that normally the will can overcome these factors and choose in spite of them. Ultimately, the will is free from any necessary causation. In other words, it is autonomous from outside determination."
Notice from the start that Libertarians are very concerned with their autonomy. Human freedom, the power to choose contrary, is defined as the ability to choose A or A- given the same state of circumstances. If Bill chooses to eat ice cream, given the same state of circumstances as when he had chosen ice cream, he could have just as easily chosen fruit. Our desires, character, and longings may influence our decisions, but we always have the freedom to choose contrary. Libertarians believe without "the power of contrary choice" we are not responsible for our actions. In reality, this makes human decisions arbitrary, and in some sense, our decisions are independent from our own nature! Since we ultimately have the power to choose contrary. The human will, then, becomes an independent faculty that can't be moved by anyone or anything; if it is, we are not responsible. In other words, we must be "able to do otherwise" at any given moment. This type of freedom has many problems and inconsistencies. In fact, I believe it actually eliminates human responsibility, instead of protecting it.
The scriptures in no way claim that we are responsible in the Libertarian sense. Libertarian freedom is not a biblical idea, or even exegetical, but is completely deduced. Unless we are going to begin inferring that every text that says "will" or "choose," means "able to do otherwise." Clearly, they don't. Even in our judicial system, responsibility is based on motives. We are judged on character, motive of the crime, intent of our desires, all according to our character. A courts delineation of crimes is grounded upon causes, motives, and desires. In our example of Bill, he would therefore not be held responsible for his actions because he can act separately outside of his motives, greatest desires, and his character. As a result, Bill would be labeled as "criminally insane." Libertarians want to preserve freedom and responsibility, but they in fact decimate it. Consequently, Libertarian freedom doesn't adequately answer God's sovereignty and human responsibility. Compabatlism freedom is supported by numerous texts and answers the dilemma of sovereignty and responsibility.
Wayne Grudem, in his highly acclaimed Systematic Theology, uses an analogy of an author writing a play. He uses the analogy of Shakespeare's play, Macbeth. Shakespeare is the author of the story, dictating the events, mapping the progression, and naturally is the first cause of all events. In this magnificent play Macbeth kills King Duncan. But who killed King Duncan? Did Shakespeare commit the crime or did Macbeth? Within the storyline, Macbeth carried out the murder of King Duncan. Macbeth killed King Duncan using all the means that were accessible to him. However, outside of the storyline, Shakespeare set the story in motion, determined and causes all events, created all the characters, and was involved in every detail. The author and characters, therefore, have different sets of causes within their levels. The characters are within their level of the storyline, while the author is outside. Using this analogy, God fully causes all things within his rights, as creator and sustainer, and we fully cause things in another way, as creatures.
This Faith That You Gave Me (A Prayer)
Eph. 2:8 For by grace you have been saved through faith. And this is not your own doing; it is the gift of God, 9 not a result of works, so that no one may boast.

Phil 1:29 For it has been granted to you that for the sake of Christ you should not only believe in him but also suffer for his sake...

2 Pet 1: 1 To those who have obtained a faith of equal standing with ours by the righteousness of our God and Savior Jesus Christ...

Phil 1: 6 And I am sure of this, that he who began a good work in you will bring it to completion at the day of Jesus Christ.

John 6: 39 And this is the will of him who sent me, that I should lose nothing of all that he has given me, but raise it up on the last day. 40 For this is the will of my Father, that everyone who looks on the Son and believes in him should have eternal life, and I will raise him up on the last day."

John 10: 26 but you do not believe because you are not among my sheep. 27 My sheep hear my voice, and I know them, and they follow me. 28 I give them eternal life, and they will never perish, and no one will snatch them out of my hand. 29 My Father, who has given them to me, is greater than all, and no one is able to snatch them out of the Father's hand. 30 I and the Father are one.

Heb 12: 2 looking to Jesus, the founder and perfecter of our faith...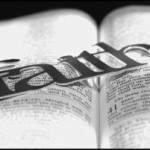 THE FAITH YOU GAVE ME (A Prayer) by John Samson
"Lord, I thank you for this confidence I have in You, Your Person, Your word, Your promises. I thank You for this because it was not anything of my own doing, but from first to last, Your gift to Me.
I once thought that the grace was your part, the faith my own, but now, through Your word, I see that You gave me faith as a gift - yes, You gave me the gift of trust, the gift of confidence, the gift of an assurance that You are true, that You are all You say you are, and that You will do all You say. Oh, how I thank You for this! Left to myself I would never have come to You, would never have trusted You, and I would never know the assuring, priceless comfort of Your promises. But You did not leave me to myself, but you granted me faith to believe You and when I did so, You justified me forever.
I know that faith is simply a belief in You, a faith that does indeed lead to action on my part. Romantic feelings between couples ebb and flow and my fear was that what I feel about You today may not last forever. How this fear robbed me of sacred and blessed assurance - the assurance of my salvation. Could I keep this thing up? Would I feel the same thing next Friday as I do today? Would I really? Really would I?
Now I know that You complete every project You start. This faith is much more than a feeling, but a sure and steadfast confidence that Your promises are true. You are the ground and depth of my faith. It is You (not me) who began the good work in me and therefore You will bring it all the way to completion. By Your grace I will be found trusting You ten thousand Fridays from now. The faith that You require is the faith You Yourself gave me, and this faith is not a casual temporal interest in You, but a faith that endures all the way to the end. That is its very nature.
Oh, how this knowledge thrills my soul. My faith is not the product of my prone to wandering heart, but the gift of a Sovereign and sure Savior. I once thought that the one thing I brought to the table of redemption was my puny but hoping faith... now I see that this faith I have was something You gave me. It is as strong and eternal as You are, unshakable in the midst of trial... a constant sure thing when all around me fails!
And even when my faith seems to fail... even when I might lose sight of You and even deny You by my words or my actions, and start walking in another direction, like Peter before me, you pray for me that my faith would not fail and I am turned around so that I see You once again. You do this Lord, over and over again, and that is why You never lose any of Your true sheep.
Oh how this truth sets me free... Salvation is truly of the Lord.
Lord, when I feel weak and when faith seems to be failing, I now know that all I need do is look away from Me and look instead to You. You will help me to look up and see You, Jesus, the author and finisher of my faith. Yes, yes, yes, You are the source of my faith. You are faith's initiator and perfecter. Though frail and tiny, my faith looks to You now and will always look to You to find a God big enough and trustworthy enough to rest in. I do believe You Lord and I know I always will. This is not because of some feeling I have, but because Your word teaches me that my confidence in You is the gift of God, not as a result of works, so that for even this, I cannot boast.
Oh how I love You Lord. Oh, how I love You."
The Death of Christ by John Murray
In dealing with the nature of the atonement it is well to try to discover some comprehensive category under which the various aspects of Biblical teaching may be subsumed. The more specific categories in terms of which the Scripture sets forth the atoning work of Christ are sacrifice, propitiation, reconciliation, and redemption. But we may properly ask if there is not some more inclusive rubric under which these more specific categories may be comprehended. The Scripture regards the work of Christ as one of obedience and uses this term or the concept that it designates, with sufficient frequency to warrant the conclusion that obedience is generic and therefore embrasive enough to be viewed as the unifying or integrating principle. We should readily appreciate the propriety of this conclusion when we remember that the one passage in the Old Testament that above all others delineates the pattern of Christ's atonement is Isaiah 53. But we ask: in what capacity is the suffering personage of Isaiah 53 viewed?
It is none other than that of servant. It is by that designation he is introduced, "Behold my servant shall deal prudently" (Isa. 52:13). And it is in that capacity that he reaps the justifying fruit, "By his knowledge shall my righteous servant justify many" (Isa. 53:11). Our Lord himself puts beyond all doubt the validity of such a construction when he defines for us the purpose of his coming into the world in terms that precisely convey such a connotation: "I came down from heaven not to do my own will but the will of him that sent me" (John 6:38). And with reference even to the climactic event which is pivotal in the accomplishment of redemption, his death, he says, "On this account the Father loves me because I lay down my life in order that I may take it again. No one takes it from me, but I lay it down of myself. I have authority to lay it down, and I have authority to take it again. This commandment have I received from my Father" (John 10:17,18). And nothing to this effect could be more explicit than the words of the apostle. "For as through the disobedience of the one man many were constituted sinners, even so through the obedience of the one many will be constituted righteous" (Rom. 5:19). "He made himself of no reputation, taking the form of a servant, being made in the likeness of men. And being found in fashion as a man he humbled himself, becoming obedient unto death, even the death of the cross" (Phil. 2 :7, 8; cf. also Gal. 4:4). And the epistle to the Hebrews also has its own peculiar turn of expression when it says that the Son "learned obedience from the things which he suffered, and being made perfect became the author of eternal salvation to all them that obey him" (5:8,9; cf. 2:10).
This obedience has frequently been designated the active and passive obedience. This formula when properly interpreted serves the good purpose of setting forth the two distinct aspects of Christ's work of obedience. But it is necessary at the outset to relieve the formula of some of the misapprehensions and misapplications to which it is subject.[1]
Interview: Law and Gospel
Last evening I was interviewed by Scott Oakland on the reformedcast.com website on the subject of the distinction between Law and Gospel. You can hear the full interview here. - John Samson
The Doctrine of God and Creation by Louis Berkhof
Since God not only created the world but also upholds it, we naturally pass from the doctrine of creation to that of divine providence. This may be defined as that work of God in which He preserves all His creatures, is active in all that happens in the world, and directs all things to their appointed end. It includes three elements, of which the first pertains primarily to the being, the second to the activity, and the third to the purpose of all things.
1. The Elements of Divine Providence. We distinguish three elements:
a. Divine preservation. This is that continuous work of God by which He upholds all things. While the world has a distinct existence and is not a part of God, it nevertheless has the ground of its continued existence in God and not in itself. It endures through a continued exercise of divine power by which all things are maintained in being and action. This doctrine is taught in the following passages: Ps. 136:25; 145:15; Neh. 9:6; Acts 17:28; Col. 1:17; Heb. 1:3.
b. Divine concurrence. This may be defined as that work of God by which He co-operates with all His creatures and causes them to act precisely as they do. It implies that there are real secondary causes in the world, such as the powers of nature and the will of man, and asserts that these do not work independently of God. God works in every act of His creatures, not only in their good but also in their evil acts. He stimulates them to action, accompanies their action at every moment, and makes this action effective. However, we should never think of God and man as equal causes; the former is the primary, and the latter only a secondary cause. Neither should we conceive of them as each doing a part of the work like a team of horses. The same deed is in its entirety both a deed of God and a deed of man. Moreover, we should guard against the idea that this co-operation makes God responsible for man's sinful deeds. This doctrine is based on Scripture, Deut. 8:18; Ps. 104:20, 21, 30; Amos 3:6; Matt. 6:45; 10:29; Acts 14:17; Phil. 2:13.
c. Divine government. This is the continued activity of God whereby He rules all things so that they answer to the purpose of their existence. God is represented as King of the universe both in the Old and in the New Testament. He adapts His rule to the nature of the creatures which He governs; His government of the physical world differs from that of the spiritual world. It is universal, Ps. 103:19; Dan, 4:34, 35, includes the most insignificant things, Matt. 10:29-31, and that which is seemingly accidental, Prov. 16:33, and bears on both the good and the evil deeds of man, Phil. 2:18; Gen. 50:20; Acts 14:16.
2. Misconceptions of Divine Providence. In the doctrine of providence we should guard against two misconceptions:
a. The Deistic conception. This is to the effect that God's concern with the world is of the most general nature. He created the world, established its laws, set it in motion, and then withdrew from it. He wound it up like a clock, and now lets it run off. It is only when something goes wrong that He interferes with its regular operation. God, is only a God afar off.
b. The Pantheistic conception. Pantheism does not recognize the distinction between God and the world. It identifies the two, and therefore leaves no room for providence in the proper sense of the word. There are, strictly speaking, no such things as secondary causes. God is the direct author of all that transpires in the world. Even the acts which we ascribe to man as really acts of God. God is only a God that is near, and not a God afar off.
3. Extraordinary Providences or Miracles. We distinguish between general and special providences, and among the latter the miracles occupy an important place. A miracle is a supernatural work of God, that is a work which is accomplished without the mediation of secondary causes. If God sometimes apparently uses secondary causes in the production of miracles, He employs them in an unusual way, so that the work Is after all supernatural. Some regard miracles as impossible, because they involve a violation of the laws of nature. But this is a mistake. The so-called laws of nature merely represent God's usual method of working. And the fact that God generally works according to a definite order does not mean that He cannot depart from this order, and cannot without violating or disturbing it bring about unusual results. Even man can lift up his hand and throw a ball into the air in spite of the law of gravitation and without in any way disturbing its operation. Surely, this is not impossible for the omnipotent God. The miracles of the Bible are means of revelation. Num. 16:28; Jer. 32:20; John 2:11; 5:36.
To memorize. Passages referring to:
a. Preservation:
Ps. 36:6b. "O Jehovah, thou preservest man and beast."
Neh. 9:6. "Thou art Jehovah, even thou alone; thou hast made heaven, the heaven of heavens, with all their host, the earth and all things that are thereon, the seas all that is in them, and thou preservest them all."
Col. 1:17. "And He is before all things, and in Him all things consist."
b. Concurrence.
Deut. 8:18a. "But thou shalt remember Jehovah thy God, for it is He that giveth thee power to get wealth."
Amos 3:6. "Shall the trumpet be blown in a city, and the people be not afraid? shall evil befall a city, and Jehovah hath not done it?"
Phil. 2:13. "For it is God who worketh in you both to will and to work, for His good pleasure."
c. Government.
Ps. 108:19. "Jehovah hath established His throne in the heavens; and His Kingdom ruleth over all."
Dan. 4:3b. "His kingdom is an everlasting kingdom, and His dominion is from generation to generation."
I Tim. 6:15. "Which in its own times He shall show, who is the blessed and only Potentate, the King of kings, and Lord of lords."
d. Miracles and their design:
Ex. 16:11. "Who is like unto Thee, 0 Jehovah, among the gods? Who is like Thee glorious in holiness, fearful in praises, doing wonders?"
Ps. 72:18. "Blessed be Jehovah God, the God of Israel, who alone doeth wondrous things."
Mark 2:10. "But that ye may know that the Son of man hath power on earth to forgive sins, He saith to the sick of the palsy, I say unto thee, Arise, and take up thy bed, and go thy wan into thy house."
John 2:11. "This beginning of miracles did Jesus in Cana of Galilee, and manifested forth His glory; and His disciples believed on Him."
For Further Study:
a. Name some examples of special providences. Cf. Deut. 2:7; I Kings 17:6, 16; II Kings 4:6; Matt. 14:20.
b. How should belief in divine providence affect our cares? Isa. 41:10; Matt. 6:32; Luke 12:7; Phil. 4:6, 7; I Pet. 5:7.
c. Name some of the blessings of providence. Cf. Isa. 25:4; Ps. 121:4; Luke 12:7; Deut. 33:28; Ps. 37:28; II Tim. 4:18.
Questions for Review
1. How is the doctrine of providence related to that of creations?
2. What is divine providence?
3. What is the difference between general and special providence?
4. What are the objects of divine providence?
5. What are the three elements of providence, and how do they differ?
6. How must we conceive of the divine concurrence?
7. How far does the divine government extend?
8. What is a miracle, and what purpose do the scriptural miracles serve?
9. Why do some consider miracles impossible?

God's Sovereignty Part 1 by Marco Gonzalez
Over the past few months, I have been studying God's absolute, complete, authoritative sovereignty. This is a glorious truth that we don't want to miss in our lives. A truth like this, sustains our devotion, faith, and affections toward God. I know of no greater truth that withstands the tragedies of life, than the precious truth of God's sovereignty. In creation, fall, and redemption God is in complete control.

William Cowper, author of "God Moves in Mysterious Ways," was upheld and gravitated to this truth. Cowper struggled severely with depression, anxiety, and fears his whole life. He had attempted suicide several times. One night, in the midst of severe depression, he planned to drown himself in a river. On that particular evening, fog covered the city and the cab driver was unable to see. He believed that he had driven Cowper to his destination, the river. But when Cowper stepped out, he was at the front door of his home. There is no doubt in my mind, and hopefully in Cowper's as well, that God caused the fog. The fog engulfed the night sky and left the cab driver unaware of his direction.
You see, God's omnipotence and omniscience controls everything. His power and knowledge are infallible. Who can say to him, "What have you done?" God is the creator, we are the creature. Job, like all of us, realized that no purpose of God can be thwarted. The sovereignty of God is not always an easy doctrine to accept; however, it is a firm foundation which we place our faith on. God does not merely foreknow events that will take place based on human volition; he ordains them.
If God simply foreknows every event, according to human volition, then his power is limited by events, people, and actions. How can God who is above all, transcends above all, and surpasses above all be subject to human determination? Yet, this can't logically and biblically be a coherent case for God's sovereignty. When an event or action comes to pass, including human decisions, God must provide the means. This is, both meticulous and enormous. For example, if God knows that Peter will betray and deny him three times, it must come to pass. Even if God foreknows Peter's future choice, he must still bring to pass all small and large events leading into Peter's denial. Once Peter is created his denial is inevitable. In fact, before Peter was even born, his betrayal was determined. If God could prevent sin and chooses not to, then did he not ordain it to happen? I do not see how anyone, including my readers who disagree can object to this argument. God must orchestrate his will upon individuals, interactions with people, and small details. In other words, by limiting Peter's choice, God accomplishes his will. If God did not ordain these things, then there is the possibility Peter would not deny him and God will be fallible.

Consider redemption history throughout scripture. How many events, leaders, nations, and prophecies did God have to bring to pass, which would ultimately lead to Christ? My purpose, however, is not to explain divine sovereignty and human responsibility, which I will at a later time. Of first importance, is to observe God's control of all things.

1. Control over Nature
From natural calamities to the falling of a sparrow God exercises his complete authority.

Are not two sparrows sold for a penny? And not one of them will fall to the ground apart from your Father. (Matt 10:29)
The lot is cast into the lap, but its every decision is from the Lord. (Prov 16:33)
Does disaster come to a city, unless the Lord has done it? (Amos 3:6)
These are just a few texts that point to God's absolute control of nature. Or consider Jesus, who stopped a storm by three words (Mark 4:39). There are no storms, earthquakes, massive destruction, or even death, which is outside of God's command.


2. Human Actions

God's sovereignty even extends to the affairs of men. Cyrus, who allowed the temple to be rebuilt, was under the complete control and will of God. Joseph's preservation of Israel, along with his rise in power, was all determined by God. All ordained by God, in spite of, human affairs. This also includes the sinful actions of men. Again, if God's foreknowledge is based on human volition, and yet he still permits sinful actions to occur, how can we not say he has ordained them? Simply put, human volition does not answer the question of God's sovereignty, but raises more questions.
For example:
I form light and create darkness, I make well-being and create calamity, I am the LORD, who does all these things. (Isaiah 45:7)
In all of redemptive history, the most heinous, monstrous, scandalous sinful act of man was the death of Christ. Yet, the scriptures attest, God's authoritative, sovereign right, and efficacious purposes.

For truly in this city there were gathered together against your holy servant Jesus, whom you anointed, both Herod and Pontius Pilate, along with the Gentiles and the peoples of Israel, to do whatever your hand and your plan had predestined to take place. (Acts 4:27-28)


Every OT and NT writer affirmed the sovereign hand of God and exhorted believers to do the same. In all things God is preeminent.
Come now, you who say, "Today or tomorrow we will go into such and such a town and spend a year there and trade and make a profit"— yet you do not know what tomorrow will bring. What is your life? For you are a mist that appears for a little time and then vanishes. Instead you ought to say, "If the Lord wills, we will live and do this or that." As it is, you boast in your arrogance. All such boasting is evil. So whoever knows the right thing to do and fails to do it, for him it is sin. (James 4:13-15)
There are many more passages, vindicating God's sovereign hand, but for our purposes I believe these suffice. It is undeniable, considering scripture as authoritative, to avoid God's absolute control of history and nature. God ordains the whole course of history and nature is grounded in his wise immutable will. His knowledge, naturally, is grounded in his omniscience, which presupposes universal knowledge. Consider, for example, God as the author of a story. As author, he determines all chapters, knows the beginning to end, and dictates the progression of the story line.
As his collective people-- the church, we take part in this story. God has written the narrative of our lives, which come to fruition through obedience and faith. We have a God whose knowledge is exhaustive. What a wonderful truth! Of course, there are many more issues that arise from what has been stated. I will address these apparent inconsistencies or concerns in subsequent posts. For now, let us praise God, as controller, as sustainer, as Lord!

Election and Reprobation
I was interviewed this morning (April 15, 2014) on the "Knowing the Truth" radio broadcast with Kevin Boling as we talked about the doctrine of election, reprobation, Christ and the Cross, responding to a new book by Austin Fischer "Young, Restless and No Longer Reformed." The 55 minute program is available to hear/download here. - John Samson
THE DOCTRINE OF THE SAINTS FINAL PERSEVERANCE By John Gill
The doctrine of the saints final perseverance in grace to glory, being a doctrine so fully expressed in the sacred scriptures, so clearly wrote there as with a sun-beam, having so large a compass of proof; as scarce any other doctrine has; ,a doctrine so agreeable to the perfections of God, and the contrary so manifestly reflecting dishonor upon them, particularly the immutability of God, his wisdom, power, goodness, justice, truth, and faithfulness; a doctrine so well established upon his purposes and decrees, his counsel and covenant, and which so well accords with all his acts of grace towards, and upon his people; a doctrine so well calculated for their spiritual peace and comfort, and to promote holiness of life and conversation; a doctrine one would think, that every good man must wish at least to be true; it may seem strange, that any man believing divine revelation, and professing godliness, should set himself to oppose it, and call such an Opposition Serious Thoughts upon it, as a late writer has done; who has published a pamphlet under such a title, and which now lies before me, and which I have undertook to answer, and shall attempt to do it in the following manner. And, it is to be hoped, he will think again, and more seriously, and that his latter thoughts will be better than his former.
I shall not dispute his account of saints, and the characters of them, though there are some things which require distinction and explanation. He has rightly observed, that the question about the saints falling away, is not meant of barely falling into sin, but so as to perish everlastingly and therefore he has not produced the instances of David, Solomon, Peter, and others; which, with great impertinence and impropriety are usually brought into this controversy. He has put what he has to say upon this subject into Eight propositions, which he endeavors to confirm by scripture authorities. And,
The First is, "That one who is holy or righteous in the judgment of God himself, may nevertheless so fall from God, as to perish everlastingly;" in support of which he produces Ezekiel 18:24, but when the righteous turneth away from his righteousness, and committeth iniquity—In his trespass that he hath trespassed, and in his sin that he hath sinned, in them shall he die. Which he understands of eternal death, as he thinks is evident from verse 26 (Serious Thoughts, hereafter S. T., pp.4, 5). But 1. such a sense of the words is contrary to the scope and design of the whole chapter, which not at all concerns the perseverance or apostasy of saints, and neither their salvation nor damnation; but the sole view of it is to vindicate the justice of God, from a charge of punishing the Jews, not for their own sins, but the sins of their fathers, and of injustice and inequality in his providential dealings with them, and has nothing to do with the spiritual and eternal affairs of men.—
2. The whole context wholly and solely regards the house of Israel, and the land of Israel, and the conduct of the people of Israel in it, according to which they held or lost their tenure of it, and were either continued in it, or removed from it: so that it is quite impertinent to the case before us and this writer is guilty of what he calls a fallacy in others, in applying that to the saints in particular, which relates to the Jewish church and nation only, as distinguishable from all other people (S. T., p. 7), and so stands self-condemned.—
3. The righteous man here spoken of, is indeed called and allowed by the Lord himself to be so; yet that righteousness by which he is denominated, only regards him as an inhabitant of the land of Israel, and as giving him a title and claim to the possession and enjoyment of it; but not as justifying him before God, and giving him a title to eternal life and happiness. For this righteousness is called his, his own, and not another's, which he himself had done, and not what Christ had done for him, his own in which he trusted; it was a righteousness of works, as appears from verses 5-9, and not the righteousness of faith; there is not a word of faith in the account, nor of the obedience of Christ, nor of the sanctifying grace of the Spirit; this man does not appear to be either a righteous man or a holy man in an evangelical sense; wherefore the instance is quite impertinent. Millions of instances of this kind will never enervate the doctrine of the saints perseverance; let it be proved if it can, that any one that has been made righteous by the obedience of Christ, and has been truly and inwardly sanctified by the Spirit and grace of God, ever so fell away, as everlastingly to perish; let this be proved and we have done: As for a man's own righteousness and outward acts of holiness, we allow a man may turn from them and he lost, but not from the righteousness of Christ, which is everlasting, nor from an inward principle of grace and holiness, which ever abides.—
4.Besides, admitting that a righteous man in an evangelical sense is here meant., though it cannot be allowed; yet what is here said is only a supposition, which puts nothing in being, and is no proof or instance of matter of fact.—
And, 5. the death here spoken of, is not eternal death, or the death of soul and body in hell; for this death was now upon them, what they were complaining of as wrongfully punished with; it being, as they supposed, on account of their fathers sins, and not their own; and from which death also they might be delivered by repentance and reformation, see verses 23, 32. All which cannot be said of eternal death; but it is to be understood of some temporal affliction and calamity, which in Scripture is often called a death, as in Exodus 10:17; 2 Corinthians 1:10 and 11:23,such as captivity in which the Jews now were on account of their sins, and was the subject of their complaint. Dying in his iniquity, is the same as dying for his iniquity, and both in verse 26 (Ezekiel) signify the same thing, and are not two different deaths; which is repeated to shew the certainty of it; and is also what is meant by the death of the soul, not of the soul only, or of the body only, but of the person of the sinner, punished with a temporal affliction for his sins; and so falls short of proving that a truly righteous and holy man may perish everlastingly.
Sermon on Ephesians 1:3-4 By John Calvin
Blessed be the God and Father of our Lord Jesus Christ, which hath blessed us with all spiritual blessings in heavenly things in Christ: According to his choosing of us in him before the foundation of the world, in order that we should be holy and unblameable before him in love. - Ephesians 1:3-4
We have already seen how St. Paul exhorts us to praise and bless God because he has blessed us, and that not after an earthly manner but after a spiritual manner, so that we should content ourselves with God's showing of his fatherly goodness and love towards us in opening the gate of the kingdom of heaven to us by hope. Although we are subject to much misery in this world, yet there is good reason for us to content ourselves with God's choosing of us after that fashion and with his calling of us to himself, for it is witnessed to us by the gospel that he is our Father [Matt. 6:9; Lk. 11:2] inasmuch as he has joined us to our Lord Jesus Christ as members to their Head.
And now St. Paul brings us to the origin and source, or rather to the principal cause that moved God to take us into his favour. For it is not enough that God has revealed the treasures of his goodness and mercy to us to draw us to the hope of the heavenly life by the gospel—and yet that is very much. For had not St. Paul added that which we see now, it might have been surmised that God's grace is common to all men and that he offers it and presents it to all without exception, and, consequently, that it is in every man s power to receive it according to his own free will, by which means there would be some merit in us. For if there were no distinction between men except that some receive God's grace and others refuse it, what could be said but that God has shown himself liberal to all mankind But they that are partakers of the grace of our Lord Jesus Christ attain to it by faith. And so you see what might be judged of it. But St. Paul, to exclude all merit on man's part and to show that all comes from God's pure goodness and grace, says that he has blessed us according to his election of us beforehand. As if he should say that to exalt God's grace as becomes us, we must look upon the diversity that is found among men. For the gospel is preached to some, and others do not know what it is but are utterly shut out from it, as if God should make it rain in one quarter and allow another quarter to remain very dry.
Now if it is demanded why God pities the one part and forsakes and leaves and abandons the other, there is no other answer but that it so pleases him. Upon the preaching of the gospel in a place, some will be affected with lively faith in their hearts and others will go away as they came without benefiting at all, or else they harden themselves against God and betray the stubbornness that was hidden in them before. What is the reason for this difference Even this, that God directs the one sort by his Holy Spirit and leaves the other sort in their natural corruption.
You see then that the thing in which God's goodness shines forth most to us, is that by the preaching of the gospel to us we have, as it were, a token that he has pitied us, loves us, calls us and allures us to him. But when the doctrine preached to us is received by us with heart and affection, that is yet a further and more special token by which we perceive that God intends to be our Father and has adopted us to be his children. Not without reason, then, St. Paul says in this passage that we are blessed by God even according to his election of us beforehand. For it is not that we have come to him; it is not that we have sought him. But the saying of the prophet Isaiah [65:i] must be fulfilled in every respect, namely, that God shows himself to such as did not seek him, and that such as were far off see him near at hand, and he says to them, 'Here I am, here I am. Although you have despised me, yet I vouchsafe to come to you because I have a care of your salvation'. Thus we see what St. Paul was aiming at in this passage.
In short, we have to note here that we shall never know where our salvation comes from till we have lifted up our minds to God's eternal counsel by which he has chosen whom he pleased and left the remainder in their confusion and ruin. Now then it is no marvel that some men think this doctrine to be strange and hard, for it does not fit in at all with man's natural understanding. If a man asks of the philosophers, they will always tell him that God loves such as are worthy of it, and that, since virtue pleases him, he also marks out such as are given that way to claim them for his people. You see then that, after our own imagination, we shall judge that God puts no other difference between men, in loving some and in hating others, than each man's own worthiness and deserving. But, at the same time, let us also remember that in our own understanding there is nothing but vanity and that we must not measure God by our own yardstick, and that it is too excessive a presumption to impose law upon God so that it would not be lawful for him to do anything but that which we could conceive and which might seem just in our eyes. The matter here, therefore, concerns the reverencing of God's secrets which are incomprehensible to us, and unless we do so, we shall never taste the principles of faith. For we know that our wisdom ought always to begin with humility, and this humility imports that we must not come weighing God's judgments in our own balances or take it upon ourselves to be judges and arbiters of them. We must be sober because of the smallness of our minds, and since we are gross and dull, we must magnify God and say, as we are taught by the holy Scripture [Ps. 36:6], Lord, thy counsels are as a great deep, and no man is able to give an account of them.
You see then that the reason why some men find this doctrine hard and irksome is because they are too much wedded to their own opinion and cannot submit themselves to God's wisdom, to receive his sayings soberly and modestly. And truly we ought to take warning from what St. Paul says, namely, that the natural man does not understand God's secrets but regards them as stark foolishness [I Cor. 2:14]. And why Because we are not his counsellors but must have things revealed to us by his Holy Spirit, or else we shall never know them, and we must have them in such measure as he gives them to us.
St. Paul speaks here of the things we know by experience, namely, that we are God's children, that he governs us by his Holy Spirit, that he comforts us in our miseries and that he strengthens us through patience. We should not conceive any of all these things unless we were enlightened by his Holy Spirit. How then shall we understand that which is much higher, namely, that God elected us before the creation of the world? Since the matter stands thus, let us learn to put away all that we conceive in our own brain and put it under foot, and let us be ready to receive whatever God says to us, casting away our own judgment and assuring ourselves that we cannot bring anything from our side but utter stupidity. Thus you see what we have to bear in mind.
And, in fact, we see how St. Paul exhorts us to come to the same point. 'Who art thou, O man (he says) who contends against thy God?' [Rom. 9:20]. After he had set down many replies we are accustomed to make, he says, 'O man'. By the word 'man' he meant to make us perceive our own frailty, for we are but worms of earth and rottenness [Ps. 103:14]. Now then, what audacity it is to open our mouths to reply against God. Is it not a perverting of the whole order of nature? Is it in our power to pluck the sun out of the sky, or to take the moon between our teeth, as they say? Much less is it lawful for us to contend with God and to advance reasons for controlling his judgments which we cannot comprehend.
There are those who will grant this doctrine of predestination, which St. Paul treats here, to be true, for they dare not contradict the Holy Spirit, yet they would it were buried so that it might never be spoken of. But they merely show themselves to be nothing but fools in controlling the Holy Spirit who spoke it by the prophets and apostles, and even by the mouth of God's only Son. For when our Lord intends to assure us of our salvation, he brings us back to this eternal election; and similarly when he intends to magnify the gift of faith, the one in the tenth chapter of John and the other in the sixth. And therefore that kind of people come too late to put God to silence and to efface from the holy Scripture the things which are shown there. For the whole Scripture is profitable [2 Tim. 3:16]. St Paul said that of the Law and the Prophets. Therefore we may also conclude that there is nothing superfluous in the gospel, nor anything which serves no good purpose and by which we may not be edified both in faith and in the fear of God.
Even if we or an angel from heaven...
In this excerpt from his message at the 2012 Ligonier West Coast Conference, Dr. R.C. Sproul explains why it's imperative to hold fast to the doctrine of justification by faith alone.
Standing Firm for the Doctrine of Justification by Faith Alone from Ligonier Ministries on Vimeo.
Transcript
If an angel comes in here and says, "Wait a minute. You can't get to heaven by trusting Christ and Christ alone, and having the imputation of His merit. And the angel came here and said, "For you to really be justified you have to have inherent righteousness. You have to add works to faith, merit to grace, you to Christ." If an angel from heaven came in here and said that this afternoon, I would take him by the seat of his celestial pants and kick him out of here!
Paul said that if anybody teaches you any other gospel, even if it's an angel from heaven, let him be anathema. Let him be anathema; let him be damned.
If the Pope, the Bishop, the priest, your preacher, teaches any other gospel than that which you have received, let him be anathema; because there is no other gospel.
And now I'm interested, because I can remember when I got involved in this debate back at the time of ECT and was loosing friends faster than I could shake a stick at them, and people say you're dividing the church, and all that—same kind of thing they said to John MacArthur.
And I was alone one night and I went in the church and I opened this passage in Galatians. And I had always stopped at verse 9, "As we said before so I say again, if anyone preaches any other gospel to you than that which you have received let him be accursed"—I would stop there. This time I went to verse 10.
"For do I now persuade men, or God? Do I seek to please men? For if I still pleased men, I would not be a slave of Jesus Christ."
Here's where, when the gospel is at stake, as Luther said in His great hymn, "A Mighty Fortress," in the last verse, Let goods and kindred go, this mortal life also. If we have to let go of our family, let go of our friends, let go of our church, let go of our lives, so be it. Otherwise, we seek to please men rather than to please God. And God has saved us with a gospel that is really a magnificent gospel, a marvelous gospel. And if I trade that in, or negotiate it, and say to people who affirm the council of Trent—this other gospel—that I have a unity of faith in the gospel with them, what have I done!
I'll give up my relationship to any leader in Christendom over this doctrine; I'll split my family over this doctrine; I'll split the church over this doctrine. This is the gospel! If the Lord marks iniquity, who shall stand? Well, guess what? He does mark iniquity. And blessed is the man to whom the Lord does not impute sin.
From the Garden of Eden, the first way justification entered the world was how God saved Adam and Eve by covering their nakedness; by hiding their sin. The whole system of atonement in the Old Testament when the blood came into the holy of holies and was sprinkled on the mercy seat, it was to cover the sin of the people. That's what the cloak of the righteousness of Christ does for all who put their trust in Him. His righteousness is my covering. And that's how I can stand before a holy God.
Again, if I have to wait until, through the machinations of the church, and the sacraments, and all the rest, and purgatory, to make me pure before I can be justified, I'm going to sleep in tomorrow morning. Because without sola Fide, you're without the gospel. And without the gospel, you're without hope. But thanks be to God who gives us the glorious gospel of justification through trusting in the work of Jesus and the work of Jesus alone, who alone is not only able, but willing to save all who put their faith in Him.