Top 10 Books on Theology & Piety

Top 10 Books on Theology
Click Here to Purchase any of these Books
Institutes of the Christian Religion, by John Calvin
The book was written as an introductory textbook on the Protestant faith for those with some learning already and covered a broad range of theological topics from the doctrines of church and sacraments to justification by faith alone. It vigorously attacked the teachings of those Calvin considered unorthodox, particularly Roman Catholicism, to which Calvin says he had been "strongly devoted" before his conversion to Protestantism. The over-arching theme of the book--and Calvin's greatest theological legacy--is the idea of God's total sovereignty, particularly in salvation and election.
The Economy of the Covenants, by Herman Witsius
This, his magnum opus, is a reflection of some of the most fruitful and mature thinking on federal theology during the seventeenth century, and still holds a preeminent place in our own day. Reformed theology has always understood the biblical doctrine of the covenant to be the theological framework which best unifies Scripture, making it a consistent hermeneutic. In this two volume work, Witsius, presents the reader with a fully biblical and experiential doctrine of the divine covenants; opening up their nature, stipulations, curses, and blessings. Anyone interested in Reformed theology should read this book, for it is Reformed theology at its best.
Institutes of Elenctic Theology, by Francis Turretin
The best systematizer of the reformed doctrine in the world! This is a wonderful set, with a good translation, well arranged, theologically sound and deep but devotional/experimental as well. A great addition to the library of the serious students of the God's Word!
The Westminster Standards
The Westminster Standards is a collective name for the documents drawn up by the Westminster Assembly (1643–49). These include the Westminster Confession of Faith, the Westminster Shorter Catechism, the Westminster Larger Catechism, the Directory of Public Worship, and the Form of Church Government,[1] and represent the doctrine and church polity of the English and Scottish Reformation. The Westminster Confession of Faith and Larger and Shorter Catechism have been adopted as doctrinal standards by a number of Reformed and Presbyterian Christian denominations.
Bondage of the Will, by Martin Luther
The Bondage of the Will is fundamental to an understanding of the primary doctrines of the Reformation. In these pages, Luther gives extensive treatment to what he saw as the heart of the gospel. Free will was no academic question to Luther; the whole gospel of the grace of God, he believed, was bound up with it and stood or fell according to the way one understood it. Luther affirms our total inability to save ourselves and the sovereignty of divine grace in our salvation. He upholds the doctrine of justification by faith and defends predestination as determined by the foreknowledge of God.
Marrow of Theology, by William Ames
One of history's most influential Christian writings presents the Puritan understanding of God, the church, and the world. Now in modern English. This masterpiece was written in order to boil all the arguments of systematical theology down to their essence, so his readers would have the MARROW of each point at issue.
Systematic Theology, by Charles Hodge (3 Volumes)
The magnum opus of one of America's most prominent theologians offers an in-depth exploration of theology, anthropology, soteriology, and eschatology. This monumental work, now a standard for theological students, was written while Hodge served as a professor at Princeton, where he permanently influenced American Christianity as a teacher, preacher, and exegete. Includes a comprehensive index.
The Art of Prophesying by William Perkins
Perkins provides basic guidance to help all Christians to read and use the Bible intelligently. He has a particularly powerful message for those who lead God's people and especially those who preach. The Art Of Prophesying carries sparks capable of igniting a preacher. It should be beside every minister's desk as a book to turn to again and again. The Art Of Prophesying will be invaluable reading to any lay person or lay minister seeking a spiritual renewal for themselves, their love ones, or their communities of faith. -- Midwest Book Review
Historical Theology, by William Cunningham
William Cunningham (1805-1861) was an Scottish theologian.
His lectures surveying the history of theology, delivered between 1847 and 1861, became the basis for his Historical Theology. It remains a classic in the Reformed and Presbyterian tradition. Kindle Version
The Marrow of Modern Divinity by Edward Fisher
When you read Fisher's work, and in particular this edition of it, you will come away with much more than just Fisher's (significant!) wisdom; for Fisher himself mined the treasures of all the Reformers before him, and he quotes extensively from Luther, Calvin, and others; and in this edition, the very extensive commentary of Thomas Boston (one of the greatest Puritans) is included in an easy-to-follow format. Boston's comments alone would be worth purchasing, and contribute no small incentive to acquiring the Marrow. I hope may readers will put this treasure trove to good use.The Marrow of Modern Divinity (Free eBook) by Edward Fisher
Other Books that Could Have been on this list.
The Works of Jonathan Edwards
The Complete Works of John Owen
Disputations on Holy Scripture by William Whitaker
Van Til's Apologetic Readings and Analysis by Greg Bahnsen
A Treatise On Regeneration, by Peter Van Mastricht
Click Here to Purchase any of these Books

Top Ten Books on Piety, Sanctification, Spiritual Growth
The Gospel Mystery of Sanctification:
Growing in Holiness by Living in Union with Christ
by Walter Marshall - Perhaps the best human-authored book on sanctification ever produced.
The Life of God in the Soul of Man by Henry Scougal
Critical work! Sanctification occurs because the human soul has been united to Christ and participates in the divine nature. A person is a Christian because of what Christ has done for us, not what we do for ourselves. The Christian life is the same as He and continues to live and intercede for us. He is our sanctification.
The Practice of Piety by Lewis Bayly
Written originally in 1611, The Practice of Piety is a powerful work on Christian piety and practical living. Deeply influential on the Puritan movement, The Practice of Piety systematically investigates piety, beginning with a detailed account of God and Christ. In it, Bayly contrasts the "misery" of someone not reconciled to Christ with the happiness of the "godly man" who is reconciled to God. Bayly diagnoses the various problems that keep people from experiencing true piety, offering solutions to each so that one may remain pious in one's everyday life. However, the majority of The Practice of Piety is various meditations and prayers for believers, which Bayly intended to advance piety. Extremely practical and personally enriching, The Practice of Piety is bound to change the way one lives.
The Bruised Reed by Richard Sibbes
If you lack assurance, are hurting, weak and suffering under the burden of sin, read this book, and by reading you will be amazed how helpful this is to yourself and your ministry to others.
The Mortification of Sin by John Owen
Truly an amazing book. John Owen never dissapoints. Our favorite Puritan author. In a related work, Owen's treatment of the Holy Spirit is the finest we have ever read.
Crook in the Lot by Thomas Boston
One of our favorite books of all time. While this book is about providence and the sovereignty of God, the depth of Boston's biblical insight will help you better get a bird's eye view of reality resulting in a life of genuine piety. We studied through this book with our early morning men's group and the result was changed lives.
The Fear of God by John Bunyan
This is a great book to give anyone new to the faith and a blessing to those who have already been Christians. A true classic which I am currently reading and benefitting immensely from.
The Doctrine of Sanctification by A.W. Pink
Here Pink compiles the best teaching on sanctification through church history.
Holiness by J.C. Ryle
Truly a rich little gem that is to be read and reread. Classic!.
The Christian in Complete Armour by William Gurnall
This is, no doubt, the most comprehensive work ever written on the subject of spiritual warfare. It is a massive tome, but there are few books in existence that I would recommend more highly. Very Edifying. A must own for your library.
The Intolerance of Tolerance by D.A. Carson
Pg. 111-112
Truth Grounded in Revelation:
The revelation has come to us in the natural world, in great events of miraculous power attested by witnesses, in the personal work of the spirit of God, in the enormously rich variety of writings that make up the Bible, and supremely in the person of Jesus Christ. These are not mutually exclusive channels. For instance, most of what we know propositionally about Jesus is found in the Bible, including those parts that preserve the testimony of witnesses – so here we have Jesus himself, witnesses who have left words about him, and the Bible that preserves them and conveys them.

First, the content can be indeed, has been- put into propositions, creeds, catechisms, statements of faith. It has substance. Of course there is an interpretive element in all our confessions, for finite beings cannot know anything without interpreting it. Only omniscience can escape the limitations of perspectivalism- of looking at things form a limited perspective. But that does not mean that all perspectives are equally valid, or that there is no truth in any particular interpretation.
As Christians band together to study the Bible, they come to convictions about what the Bible is saying- and that leads, rightly, to shared creeds that are modifiable only by more light from the Bible itself. Our confession of such truth cannot participate in the perfection of omniscience, but it is nonetheless valid and appropriate to the limitations of our finitude and our fallenness. Better yet, it is made possible by a gracious god who condescends to disclose himself in human words, and by the Spirit who convicts rebels of sin and illumines darkened minds.

The Structure of Scientific Revolutions by Thomas S. Kuhn
Structures by Thomas S. Kuhn is an excellent book that explains the nature of science. Though written by a non-Christian author, it is a great resource that questions the objective claims of science.
Pg.24-25
Few people who are not actually practitioners of a mature science realize how much mop-up work of this sort a paradigm leaves to be done or quite how fascinating such work can prove in the execution.
And these points need to be understood. Mopping up operations are what engage most scientists throughout their careers. They constitute what I am here calling normal science. Closely examined, whether historically or in the contemporary laboratory, that enterprise seems an attempt to force nature into the preformed and relatively inflexible box that the paradigm supplies.
No part of the aim of normal science is to call for new sorts of phenomena; indeed those that will not fit the box are often not seen at all. Nor do scientists normally aim to invent new theories, and they are often intolerant of those invented by others.
Instead, normal scientific research is directed to the articulation of those phenomena and theories that the paradigm already supplies.

The Key to Spiritual Growth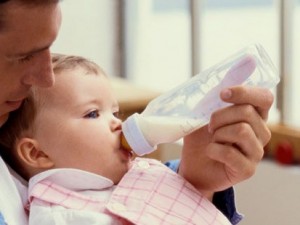 Do you want to grow spiritually? Really? Do you? If God told you exactly what to do, would you do it?
The fact is that God has told us exactly how to achieve spiritual growth in His word. What may surprise us is that this growth is not achieved by some dramatic "mountain top" experience with God, but by the regular, consistent, on-going, non-spectacular but extremely supernatural MEANS OF GRACE. These means are THE PREACHED WORD, PRAYER AND THE LORD'S SUPPER.
Does that sound in any way boring to you? Not flashy enough? If that is the case, then quite frankly, your thinking has been shaped by something other than the word of God.
I am sure you have noticed that when a baby wants milk, everyone in the house knows about it! There is no way anyone will get any sleep at night until baby has his way. He wants milk and he wants it now! His cry is unrelenting until he can taste milk.
The Bible tells us that in the exact same way babies crave milk, Christians are to desire the spiritual milk of the word of God for spiritual growth. 1 Peter 2:2 tells us, "Like newborn infants, long for the pure spiritual milk, that by it you may grow up into salvation..."
Spiritual growth is not automatic. God uses MEANS to grow His people spiritually. These are what we call "means of grace" which one theologian defined as the "objective channels which Christ has instituted in the Church to which He ordinarily binds Himself in communicating His grace." The means of grace are "his ordinances, especially the word, sacraments, and prayer, and all these are made effective in the salvation of the elect" (Westminster Shorter Catechism, Q&A 88).
Biblically, these means of grace include the regular preaching of the word of God in the gathered assembly of the saints (the local Church), prayer and the sacraments (baptism and the Lord's Supper).
William Boekestein writes, "the (early) church grew as the believers 'devoted themselves to the apostles' teaching and the fellowship, to the breaking of bread and the prayers.' Because devoting yourself seems to lack pizzazz, we tend to make spiritual growth more difficult than it is. But, with few exceptions, those who are growing in godliness are committed to preaching, the sacraments, and prayer. These are the ordinary means of grace. Spiritual growth doesn't require innovation because God doesn't work erratically and irregularly. We don't have to "find God's wave and ride it" until He surges elsewhere.
Still, the means of grace don't always seem to work. Maybe we've said, 'I come to church, partake of the sacraments, spend time in prayer, and I don't seem to grow.' Assuming that we are diligently and believingly using the means, we shouldn't too easily dismiss the vital role they are playing in our lives. Imagine saying, 'I eat three times a day, but I don't get any healthier. Eating must not be the answer.' What shape might we be in if we weren't being fed by God through His ordinary means?"
In care for your soul I ask you not to neglect the means of grace. For me, for you and for every believer, it is the key to all spiritual growth. - JS
God's Sovereignty Part 3 by Marco Gonzalez

In my previous articles, we discussed God's control over everything and compatibilism between divine sovereignty and human responsibility. We learned that Libertarian Freedom, in itself, inadequately relieves this tension. Libertarians, however, are well aware of this and have adapted their views to what has been called: "Middle Knowledge". In this view, supporters still claim the Libertarian freedom of man, but they integrate Middle Knowledge into their construct. Like most things in theology Middle Knowledge is not new. William Lane Craig, apologist and philosopher, is one of the foremost contemporary theologians who hold this view. As we will see, middle knowledge is simply another venue to human autonomy, the indeterminate view of God, and Libertarian freedom.

I have shown how God decrees all events, brings them about, and his absolute sovereign control over all things. We also know that God's omniscience presupposes comprehensive knowledge. But what about passages that appear conditional? For example, If David leaves or stays in Keilah. Remember Saul is seeking his life and David has remained in Keilah. David prays to the Lord, seeking his guidance, as to whether he should remain there. The Lord responds:

[12] Then David said, "Will the men of Keilah surrender me and my men into the hand of Saul?" And the LORD said, "They will surrender you."
(1 Samuel 23:12 ESV)

Two options have now been presented to David. First, if he remains, the Keilahites will betray him. Second, if he leaves, he will free himself of their betrayal. God, therefore, knows both the possibilities and actualities of any circumstance. God's comprehensive knowledge not only includes what will actually happen in the past, present, and future, but possibilities that never occur.
In Matthew 11:20-24, we have a similar circumstance. In this passage, Jesus says that if Tyre, Sidon, and Sodom had seen his miracles they would have repented. Jesus knows what would have happened given another state of circumstances. It is noteworthy to mention Chorazin, Bethsaida, and Capernaum after seeing his miracles still rejected him.

"[20] Then he began to denounce the cities where most of his mighty works had been done, because they did not repent. [21] "Woe to you, Chorazin! Woe to you, Bethsaida! For if the mighty works done in you had been done in Tyre and Sidon, they would have repented long ago in sackcloth and ashes. [22] But I tell you, it will be more bearable on the day of judgment for Tyre and Sidon than for you. [23] And you, Capernaum, will you be exalted to heaven? You will be brought down to Hades. For if the mighty works done in you had been done in Sodom, it would have remained until this day. [24] But I tell you that it will be more tolerable on the day of judgment for the land of Sodom than for you."
(Matthew 11:20-24 ESV)

I am hoping my more observant readers, will make the connection to Libertarian Freedom. God's knowledge of these possibilities, given another state of circumstances, and the ability to "choose contrary" create the need for Libertarian Freedom. But if God knows all the possibilities of any circumstance, doesn't this contradict his eternal plans? No, it is abundantly clear from scripture that God knows all the possibilities of any event. Of course, there are many possibilities that God can bring about, but has sovereignly determined not to. God's knowledge of what is possible is called:
Necessary Knowledge or Natural Knowledge- God's knowledge of possibilities is grounded in himself.

God knows all the possibilities because he knows himself and his nature. Since God knows himself, this knowledge cannot be imparted or influenced by his creatures. His knowledge is above and beyond man, because he knows himself. When God, however, brings about an actual event, meaning a possibility becomes an actuality, it is called:

Free Knowledge- God's knowledge of actualities are the things he has decided to bring about.

Free knowledge refers to God's eternal decree. It is a free act because God has determined, independently of any influence, to create and bring about his purposes. These acts are free and are not necessary, since it is based in himself. His purpose in these free acts is to display and magnify his worth. These two categories clearly and thoroughly explain God's knowledge.
Subsequently, the idea of Middle Knowledge was created by Spanish Jesuit Luis Molina (1535-1600). His ideas have been adopted by Jesuits, Lutherans, and Arminians. Middle Knowledge, introduced a third category to God's knowledge. William Lane Craig, in his book The Only Wise God, has explained the three categories, as follows:

1. Natural Knowledge: God's knowledge of all possible worlds. The content of this knowledge is essential to God.
2. Middle Knowledge: God's knowledge of what every possible free creatures would do under any possible set of circumstances and, hence, knowledge of those possible worlds which God can make actual. The content of this knowledge is not essential to God.
3. Free Knowledge: God's knowledge of the actual world. The content of this knowledge is not essential to God.

Craig is attempting to reconcile the conditional passages of human responsibility and divine sovereignty. Even Israel, the chosen people of God, was given conditions of blessings and cursing based on their obedience. If the idea of Middle Knowledge was simply to explain the conditional connection between future events, with the connection determined by God, I would have no objection. But this connection is not what Craig has in mind or is trying to reconcile. Origen, an early church father once said, "Things do not occur because God knows them, but God foreknows them because they are going to occur." This is exactly what Craig has in mind and his sequence of God's knowledge allows it. God begins with Natural Knowledge, then consider the possibilities of Middle Knowledge, and creates with Free knowledge. With this sequence, God does not derive his knowledge of the free actions of men from himself, his eternal decree, but from creatures.
Take a look at definitions 1 and 2. Why separate "possible worlds" and "knowledge of what every possible free creatures would do under any possible set of circumstances" under distinct categories, when God knows both. God knows all possible words, assuming he is omniscient, and therefore he knows all creatures and their possible actions. God's knowledge of contingencies belongs in his necessary knowledge and a third category is not needed. In my definition of necessary knowledge, I have included both.
This is why each category also states-"The content of this knowledge is not essential to God." God's knowledge does not originate with himself, or his nature, or his decree. At the root, when Middle Knowledge refers to "free creatures", it means Libertarian freedom. I would refer the reader to see my post on Libertarian freedom here. Remember Libertarian freedom allows for the influence of an event, but the agent can always choose contrary, given any set of conditions. When God knows all the possible worlds, and makes one possible, that actual world must come to pass and will infringe upon human freedom. God has determined that all the events of that actual world must come to pass. If God is to have middle knowledge than he can't know what choices humans will make. If God knows all the possibilities, given a set of circumstances, he cannot possible know human decisions because the circumstances or conditions never determine human choices. This is where Open Theist's are absolutely correct, as they are well aware that if God chooses a possibility he is still determining all events. The act of an actual word is God foreordaining all events of that world. This is why I have excluded middle knowledge as a separate category.
It is interesting to note that both definitions of God's knowledge and man's choice are corresponding. God's knows all possibilities, given a state of circumstances, and actualizes the world we choose. Yet man's ability to choose is "the ability to choose contrary" given a state of circumstances. This is what Craig means when he says "free creatures" in definition 2. The need for Libertarian freedom is at the heart of middle knowledge. But we learned already about the inadequacy of Libertarian freedom. In our final analysis, we can't agree with a middle knowledge that advocates Libertarian freedom.