The Father's Giving Determines the Peoples' Coming
Dr. James White reviews comments by Cheryl Schatz regarding John 6:37, and her particular way of undercutting John 6′s clear testimony to monergism. The section begins around the 42 minute mark and continues to 1:18:50.
Text: John 6:36 But I said to you that you have seen me and yet do not believe. 37 All that the Father gives me will come to me, and whoever comes to me I will never cast out.
Respectable Sins by Jerry Bridges
Some powerful words from Jerry Bridges:
Pg. 19-20

But what about our conservative, evangelical churches? Has the idea of sin all but disappeared from us also? No, it has not disappeared, but it has, in many instances, been deflected to those outside our circles who commit flagrant sins such as abortion, homosexuality, and murder, or the notorious white –collar crimes of high-level corporate executives. Its easy for us to condemn those obvious sins while virtually ignoring our own sins of gossip, pride, envy bitterness, and lust, or even our lack of those gracious qualities that Paul calls the fruit of the Spirit (Gal 5:22-23).
A Pastor invited the men in his church to join him in a prayer meeting. Rather than praying about the spiritual needs of the church as he expected, all of the men without exception prayed about the sins of the culture, primarily about abortion and homosexuality. Finally, the pastor, dismayed over the apparent self righteousness of the men, closed the prayer meeting with the well known prayer of the tax collector, "God, be merciful to me, a sinner" (Luke 18:13)

God's Sovereignty, the Nature of Man and the biblical Gospel
Good times: Got to hang out with my friends at Apologia Radio for a two hour show, talking about God's Sovereignty, the nature of man, and the biblical gospel. The show airs tomorrow (Saturday) in the Phoenix area but can be heard online at this link now. - JS
Ask R.C. (again)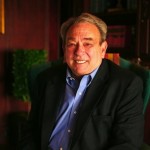 Answering theological questions from his students has been a continual commitment throughout Dr. R.C. Sproul's ministry. Originally called "gabfests" by his early students and later, "Ask R.C.," these sessions continue to take place at Ligonier conferences, on Renewing Your Mind, and online. The most recent "Ask R.C." live event on July 15, 2014 covered the following questions:
In 1 Samuel 28, was Saul talking to the real Samuel or a demon impersonating Samuel? (03:10)
Should the atmosphere of a church be towards the Christian, or the non-Christian? (04:30)
What does "By His stripes we are healed" from Isaiah 53 mean for Christians today? Does it imply physical healing in the atonement? (05:15)
Since your conversion, what are one or two of the most memorable or significant spiritual experiences in your life? (08:45)
Who are your heroes of the faith? (10:23)
If Dr. Sproul were to nail a modern 95 Theses to the Wittenberg door today, what might be his top two to three issues for the church to address? (12:35)
How can we defend the doctrine of sola Scriptura using Scripture? (15:53)
How does the fact that all people know God, based on Romans 1:18, affect our defense of Christianity? (23:46)
In 2 Samuel 6 when King David got the ark back from Obed-edom he then put on an ephod and offered a sacrifice to God. Since he was not a priest, how was that acceptable to God? (29:51)
Does the casting of lots to make decisions still have a place today? (31:30)
Is there any evidence of Adam and Eve's repentance and faith in Christ after the fall? (34:35)
Do you believe we're living in the end times that we read about in the book of Revelation? (36:47)
Dr. Sproul, you hold to what's called a "partial preterist" view of eschatology, is that correct? (41:19)
How does "For many are called but few are chosen" (Matt. 22:14) fit in with unconditional election and irresistible grace? Is the definition of "called" different there then its use in Romans 8:30, "…those whom he called he also justified"? (46:43)
Do you agree with the phrase, "All Scripture is equally inspired, but not all Scripture is equally applicable." (49:55)
How should the church react to its members who sanction homosexual marriage? (51:44)
Dr. Sproul, could you comment on the significance of ordinary means in our lives, particularly in light of the view that some people espouse that we just need to sit back and wait upon the Lord to do everything for us? (54:14)
Is there a biblical church history that we can follow back to the establishing of the church that does not have ties to Roman Catholicism? (63:45)
Why did Dr. Sproul write a children's book on Martin Luther, and is he going to write any more? (66:46)
What is the Reformed view of vocation, and have you ever written a book on that? (68: 03)
To what was Jesus referring to when He said in John 3:5, "…unless one is born of water…"? (70:20)
How many days was Jesus in the grave, two or three? (71:24)
Is there any remnant of the image of God left in man? How does this relate to total depravity? (71:59)
Dr. Sproul, what is driving you in your ministry today? Why is the gospel, the holiness of God, and this ministry so important today? (74:10)
Here's the link to the video.
Uprooting Anger by Robert D. Jones
Pg. 103-104
How can you uncover your concealed anger and replace it with godly fruit? Can people really change? What directives can we offer Jill and other anger concealers like her?
1. See the sinfulness and ugly consequences of your bitter heart and concealing behavior.
As we saw in chapter 3, you must identify and expose the idols in your heart, those entrenched desires and demands. While the desires themselves are not necessarily evil, they become evil when they rule your heart. Good desires easily become bad masters. Journaling helps you detect such idols and learn from anger episodes what changes are required
One useful homework assignment is to list specific negative consequences-in relation to God, others, and yourself- of harboring anger. What will result if you continue to conceal your anger? Consider inviting your spouse and friends to add to your list.

2. Turn to Jesus Christ in repentance and faith, and believe that he fully forgives you.
Having seen the sinfulness of your anger-concealing, believe in God's provision of abundant grade in Jesus Christ. He died and rose not only for hot heads (flagrant sinners) but also for clammers (silent sinners who hide their anger). In light of his gracious promises, confess your sinful heart idols and clamming actions and receive his forgiveness. Furthermore, believe that there is help and hope in Christ. God's grace not only forgives but also changes sinners. One reason why many Christians make little progress overcoming concealed anger is that they doubt God's transforming grace. He can melt your bitterness and make you a forgiver.

The Exemplary Husband by Stuart Scott
Pg. 97-98

What we worship is our passion. When we are passionate about something other than Christ, we will have the wrong desires and expectations. When we are passionate about Christ alone, we will have the right desires and expectations. In turn those desires will have a profound effect on our decisions, our actions, and our joy.

Some wrong desires and expectations in our marriages:
That my wife will please me with her physical looks and dress, her talents, abilities and accomplishment outside the home.
That I could do what I really like to do with my time.
That my wife wont be late or keep me waiting.
That my wife will be the sexual initiator, or be ready sexually when I desire her. That she would be the perfect sexual partner, no matter what is asked of her.
That she would treat me with respect
That I would know/find total love on a human level
That there would be peace and harmony around me always.

Some right desires and expectations:
That I may know Christ and delight to walk with him (Phi 3:10-14)
That I may know God's word and obey it (Ps 119:18)
That I may seek Christ with my whole heart and become like him (Ps 119:2)
That I may used of God to witness for him (Mt 28:19-20)
That I may be pleasing to Christ regardless of my circumstance (2 cor 5:9)

Seven Hours of Dividing Lines
Throughout 2014, while Dr. James White has been away on various ministry trips, I have had the distinct honor and privilege of guest-hosting his "Dividing Line" broadcasts. This allowed me the opportunity of teaching on some major doctrines at the heart of the Christian faith. Here are the youtube videos (all in one place) - JS:
Hour 1. "Law and Gospel."
Hour 2. "The Five Solas of the Reformation."

Hour 3. The "T" in the TULIP, "Total Depravity.":

Hour 4. The "U" in the TULIP, "Unconditional Election."

Hour 5. The "L" in the TULIP, "Limited Atonement."

Hour 6. July, 2014: Continuing on from Dividing Line broadcasts earlier in the year, here is teaching on the "I" in the TULIP, "Irresistible Grace."

Hour 7. July, 2014: The conclusion of the TULIP series - the Perseverance (or Preservation) of the Saints:
Saints Preserved!
Once again I had the privilege of guest hosting on Dr. James White's Dividing Line broadcast and concluded the TULIP series with the "P" - the Perseverance (or Preservation) of the Saints. I actually recorded the show last week but there were so many technical problems with the original recording that I came in to the studio for a complete redo today. Here is the program: - JS
What is the Gospel? by Greg Gilbert
Pg. 68-69
The Heart of the Gospel
Sadly, this doctrine of substitution is probably the one part of the Christian gospel that the world hates most. People are simply disgusted at an idea of Jesus being punished for someone else's sin. More than one author has called it "divine child abuse". And yet to toss substitutionary atonement aside is to cut out the heart of the gospel. To be sure, there are many pictures in Scripture of what Christ accomplished with his death: example, reconciliation, and victory, to name three. But underneath them all is the reality to which all the other images point—penal substitution. You simply cannot leave it out, or even downplay it in favor of other images, or else you litter the landscape of Scripture with unanswered questions.
Why the sacrifices? What did the shedding of blood accomplish? How can God have mercy on sinner without destroying justice? What can it mean that God forgives iniquity and transgression and sin, and yet by no means clears the guilty (Ex. 34.7)? How can a righteous and holy God justify the ungodly (Rom 4:5)?
The answer to all these questions is found at the cross of Calvary, Jesus' subsititionary death for his people. A righteous and holy God can justify the ungodly because in Jesus' death, mercy and justice were perfectly reconciled. The curse was righteously executed, and we were mercifully saved.

Simply Irresistible
Man will always resist the grace of God in the gospel until God decides to overcome his resistance. Today I had the privilege of once again guest-hosting one of Dr. James White's dividing line broadcasts and got to talk for an hour about the often misunderstood doctrine of "Irresistible Grace." I trust it will be a blessing to those who watch: - JS