« Uprooting Anger by Robert D. Jones | Main | God's Sovereignty, the Nature of Man and the biblical Gospel »
Ask R.C. (again)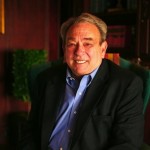 Answering theological questions from his students has been a continual commitment throughout Dr. R.C. Sproul's ministry. Originally called "gabfests" by his early students and later, "Ask R.C.," these sessions continue to take place at Ligonier conferences, on Renewing Your Mind, and online. The most recent "Ask R.C." live event on July 15, 2014 covered the following questions:
In 1 Samuel 28, was Saul talking to the real Samuel or a demon impersonating Samuel? (03:10)
Should the atmosphere of a church be towards the Christian, or the non-Christian? (04:30)
What does "By His stripes we are healed" from Isaiah 53 mean for Christians today? Does it imply physical healing in the atonement? (05:15)
Since your conversion, what are one or two of the most memorable or significant spiritual experiences in your life? (08:45)
Who are your heroes of the faith? (10:23)
If Dr. Sproul were to nail a modern 95 Theses to the Wittenberg door today, what might be his top two to three issues for the church to address? (12:35)
How can we defend the doctrine of sola Scriptura using Scripture? (15:53)
How does the fact that all people know God, based on Romans 1:18, affect our defense of Christianity? (23:46)
In 2 Samuel 6 when King David got the ark back from Obed-edom he then put on an ephod and offered a sacrifice to God. Since he was not a priest, how was that acceptable to God? (29:51)
Does the casting of lots to make decisions still have a place today? (31:30)
Is there any evidence of Adam and Eve's repentance and faith in Christ after the fall? (34:35)
Do you believe we're living in the end times that we read about in the book of Revelation? (36:47)
Dr. Sproul, you hold to what's called a "partial preterist" view of eschatology, is that correct? (41:19)
How does "For many are called but few are chosen" (Matt. 22:14) fit in with unconditional election and irresistible grace? Is the definition of "called" different there then its use in Romans 8:30, "…those whom he called he also justified"? (46:43)
Do you agree with the phrase, "All Scripture is equally inspired, but not all Scripture is equally applicable." (49:55)
How should the church react to its members who sanction homosexual marriage? (51:44)
Dr. Sproul, could you comment on the significance of ordinary means in our lives, particularly in light of the view that some people espouse that we just need to sit back and wait upon the Lord to do everything for us? (54:14)
Is there a biblical church history that we can follow back to the establishing of the church that does not have ties to Roman Catholicism? (63:45)
Why did Dr. Sproul write a children's book on Martin Luther, and is he going to write any more? (66:46)
What is the Reformed view of vocation, and have you ever written a book on that? (68: 03)
To what was Jesus referring to when He said in John 3:5, "…unless one is born of water…"? (70:20)
How many days was Jesus in the grave, two or three? (71:24)
Is there any remnant of the image of God left in man? How does this relate to total depravity? (71:59)
Dr. Sproul, what is driving you in your ministry today? Why is the gospel, the holiness of God, and this ministry so important today? (74:10)
Here's the link to the video.