The Two Ages
The basic floor plan of the two ages (this age and the age to come) exhausts all time and eternity.
The Love of God in 4D
Text: Ephesians 3:14-19
Paul's prayer for the Ephesians here reveals the central passion of the Apostle for the people - that they may be strengthened by a deep, abiding comprehension of the love of Christ for them. Once convinced of this reality, every Christian will be a forever changed person.
Eschatology - the Big Picture
Eschatology - the study of last things, is a subject that has divided Bible believers throughout the centuries. Sadly, respect and maturity in handling these differences are not the normal experience in Christian circles. So, when it comes to what the Bible teaches, there is a great amount of information that is both clear and certain. This is our starting point in this important series.
The Most Important Thing Happening in the World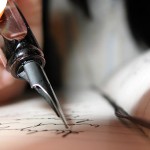 "What is the really important thing that is happening in the world in our generation? Where are the really significant events taking place? What is the most important thing? Where do you need to look in the modern world to see the most significant event from a divine perspective? Where is the focus of God's activity in history?
The most significant thing happening in history is the calling, redeeming, and perfecting of the people of God. God is building the church of Jesus Christ. The rest of history is simply a stage God erects for that purpose. He is calling out a people. He is perfecting them. He is changing them. History's great climax comes when God brings down the curtain on this bankrupt world and the Lord Jesus Christ arrives in his infinite glory. The rest of history is simply the scaffolding for the real work."
- Eric Alexander, 'The Application of Redemption,' in To Glorify and Enjoy God: A Commemoration of the 350th Anniversary of the Westminster Assembly, ed, John L. Carson and David W. Hall (Edinburgh: Banner of Truth, 1994), 245
Now, through the Church
Text: Ephesians 3:7-13
The Christian Ministry is not a mere career choice but a Divine calling and equipping to herald the truth of the Gospel. Life in the local Church is also a stupendous revelation of the multi-faceted wisdom of God. Here's why...
Providence or Pity Party?
Text: Ephesians 3:1-6
Providence takes us to places we would not choose for ourselves. Yet knowing God has us where we are for His purposes allows us to reach out to others and fulfill plans He has established in eternity. A message for every Christian.
Concerning Chapter and Verse Divisions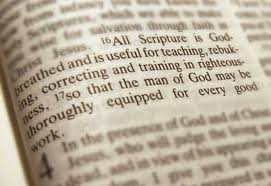 by John Samson
Where did the chapter and verse divisions in our Bibles come from?
When Scripture was originally written, there were no chapter and verse divisions. These man made additions to our Bibles came a whole lot later.
Actually, it was Stephen Langton, an Archbishop of Canterbury in England who added chapter divisions into the Latin Vulgate around 1227 A.D.
A Jewish rabbi by the name of Nathan divided the Hebrew Bible (what we as Christians call the Old Testament) into verses in 1448 AD.
Then, Robert Estienne (also known as Stephanus) divided the chapters into verses in his Greek New Testament in 1551. The first English translation to make use of his verse divisions was the Geneva Bible of 1560.
That is something of the history behind the chapter and verse divisions. The question becomes "was this development a good thing?"
My answer would be "yes" and "no." It is fair to say that there are both pros and cons in this matter.
The designations are helpful in that it allows us to easily find a verse of passage in a short time. We can find a verse easily without the need to read an entire book of the Bible. The numbering system allows us to go straight to a verse or passage we wish to locate. This is a wonderful, practical benefit. Imagine if there were no chapter/verse divisions and a preacher asked the congregation to find the section of Isaiah dealing with the Suffering Servant of the Lord. How many people would find the passage? Not many, and certainly, not very many in swift manner. However, if the preacher says, "Lets turn to Isaiah chapter 53," anyone in the audience with a Bible in hand can find the passage in just a few seconds. In this way then, chapter and verse divisions are very helpful and convenient when it comes to finding references and quotations.
But there is a downside; actually, a major downside. These divisions make it especially easy for us to look at a verse in complete isolation, with no reference to its context. Many pages could be filled with examples. Just one is Philippians chapter 4, verse 13, where we read, "I can do all things through him who strengthens me." This verse, in isolation, could be interpreted (falsely) to mean that Christ strengthens us to achieve any human endeavor; the "all things" referring to any conceivable task. An athlete might apply this by thinking the verse means that Christ will strengthen him to win every race he enters – that this in fact, is God's promise to him. An author might use the verse as a promise that whatever he writes will be a best seller; and the Christian salesman might believe that he will be number 1 in company sales because of his relationship with Christ. Christ strengthens us to accomplish anything we set out to do.
But here's the problem. The verse teaches nothing of the kind. The "all things" Christ DOES strengthen us to do refers to the things Paul referred to in the previous sentences (verses 10 – 12).
10 I rejoiced in the Lord greatly that now at length you have revived your concern for me. You were indeed concerned for me, but you had no opportunity. 11 Not that I am speaking of being in need, for I have learned in whatever situation I am to be content. 12 I know how to be brought low, and I know how to abound. In any and every circumstance, I have learned the secret of facing plenty and hunger, abundance and need. 13 I can do all things through him who strengthens me.
Verse 13 has a context, which if ignored, leads to a false interpretation. The correct one is this: Whatever the situation; whatever the circumstance; whether in hardship or in much provision and abundance; whether there is plenty or whether we experience hunger and great need, God's grace is more than abundant for us in Christ. He will strengthen us to endure whatever it is we have to face. That is true for Paul and it is also true for all who trust in Christ. We can go through any event in life, whether it be a very good or a very hard thing, because the Lord Jesus Christ will strengthen us to do so. That is the meaning of Philippians 4:13.
The word "arbitrary" refers to something based on a random choice or personal whim, rather than reason or a sound logical system. Some of the chapter divisions in our Bibles are especially arbitrary. And this is another downside.
Eschatology - A Comprehensive Historical and Theological Overview
As an amazing gift to the wider Body of Christ, Covenant Baptist Theological Seminary are very kindly and generously making their entire 17 course lectures on eschatology available free of charge online. This course, taught by Dr. Sam Waldron, is outstanding, giving a comprehensive overview of the subject from both an historical and theological perspective. I recommend the series wholeheartedly and pray that God will use it to further the cause of His truth in the midst of much deception in our own day. - Pastor John Samson, King's Church, Peoria, AZ
The first three lectures cover something of an historical overview of the Church concerning eschatology. This is a very helpful foundation for our understanding. To know that we are engaging in a conversation that has been going on for centuries, gives us a knowledge of the structure of the debate, setting the boundaries for what is and what is not to be regarded as 'heresy', as well as a right and appropriate sense of humility as we approach the Scriptures ourselves.
HISTORICAL INTRODUCTIONS—THE GREAT CONVERSATION!
Lecture 1: Eschatology in the Early and Medieval Church
ST27 01 | Doctrine of Last Things from CBTS on Vimeo.
Lecture 2:
ST27 02 | Doctrine of Last Things from CBTS on Vimeo.

Lecture 3: Eschatology in the Reformation and Modern Church
ST27 03 | Doctrine of Last Things from CBTS on Vimeo.
STRUCTURAL CONSIDERATIONS—ESCHATOLOGY MADE SIMPLE
Lecture 4: The Two Ages
ST27 04 | Doctrine of Last Things from CBTS on Vimeo.
Lecture 5: The Two Ages (Continued)
ST27 05 | Doctrine of Last Things from CBTS on Vimeo.
Lecture 6: The General Judgment
ST27 06 | Doctrine of Last Things from CBTS on Vimeo.
Lecture 7: The Eschatological Kingdom
ST27 07 | Doctrine of Last Things from CBTS on Vimeo.
Continue reading "Eschatology - A Comprehensive Historical and Theological Overview" »
Reading Ephesians
The reading of the entire book of Ephesians in the ESV (audio book).