Is the Reformation Over? - Gregg Allison and Michael Reeves
2017 marks the 500th year anniversary of the Reformation. Many believe that the issues that began the reformation have been resolved and are declaring the reformation over. But is this true?
The Story of Martin Luther (Playmobil Animation)
Stop motion animation that uses Playmobil to tell the story of Martin Luther, and the Reformation. Over 5000 individual photos bring to life scenes from the life of Luther like the castle where he hid as an outlaw, Wittenberg where he taught, the monastery where he was gripped by the Bible, and the Imperial Council at Worms.
Voice Over: Mike Reeves
Animation: Dan Rackham
Here's the script from the Martin Luther video:
This is the story of Martin Luther.
He got up to some pretty adventurous things. He was kidnapped by knights on horseback; lived in disguise in a castle and helped some nuns escape from a monastery, by hiding them in barrels.
But as a young man he was troubled by a deep sense that he wasn't right with God. Once, in a thunderstorm, a lightening bolt nearly struck him. He thought he was going to die.
He cried out for help to one of the saints, saying rashly: "Save me, and I'll become a monk".
He survived, and so, true to his word he gave up his studies as a lawyer and became a monk. His friends and family said he was wasting his talent.
In the monastery he started reading the Bible. He discovered that it was God's mercy & love that was all that was needed to be right with God. For the first time in his life, he found a deep peace with God.
Luther was invited to be a lecturer at the university in Wittenberg. He taught through books of the Bible. His lectures were popular, even ordinary people from the town came along.
In those days the Catholic church was telling Christians that their good behaviour could earn them heaven. Luther knew from the Bible though, that no amount of good works could earn you forgiveness! Not even the pope was able to give forgiveness from God - only God could do that.
Luther saw that the church had left behind what the Bible taught and was even making things up for it's own gain. He decided that he must teach against these false ideas.
He made his complaints public by nailing them to the place in town where people published important documents…the door of the castle church.
He explained that it wasn't possible to buy God's forgiveness or to live a life that was good enough to deserve to know God.
His writings, showed that God wants to forgive the wrong we have done. And that this is only possible because Jesus, the son of God, came to pay the punishment our wrong deserved. Jesus did this as he died in our place.
Luther's ideas quickly spread throughout Europe thanks to a recent invention - the printing press.
The pope wrote a document saying that Luther had to take it all back. And if he didn't he'd be treated as a heretic. Luther refused and publicly burnt a copy of the pope's letter.
Luther's ideas shook things up religiously, politically and culturally. He was summoned to stand before the emperor and answer for his supposed crimes of explaining what the Bible said.
The emperor declared Luther an outlaw, banning his literature. That's when he was rescued and went to live in disguise in a castle. Dressing in knights' clothing he changed his name to knight George and grew his hair and a beard.
He spent his time translating the New Testament - this again was published widely, meaning ordinary people could read the Bible for the first time.
Luther secretly returned to Wittenberg. He continued to write books and translate the bible. He also got married and had a family.
Europe was buzzing with Luther's message about the Bible.
Today, 500 years on, the truths of the Bible that Luther knew continue to impact millions of people.
People who have come to know God personally, knowing the peace and forgiveness Jesus offers us.
The forgiveness that Luther found is still available today.
We can all be in a right relationship with God because of one man – the Lord Jesus Christ.
Life as a Pastor: Responding To Anonymous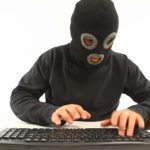 by Pastor John Samson
The shepherd's staff serves the dual purpose of rescuing lost sheep when their heads get caught in the hedges and fending off vicious wolves who seek to devour. In the same way, when God raises up a pastor, it is a gift to the people of God – a man who demonstrates God's love for His sheep and yet also a man fearless when God's people need protection. A Pastor needs both a tender and a brave heart.
When God raises up a man with a shepherd's heart, He takes much time to forge him to become more and more Christlike, so that he can more faithfully represent the Lord Jesus as the Chief Shepherd of the sheep. This forging process usually involves tough and difficult times - times even of deep despair, almost to breaking point. The Apostle Paul was brought there (2 Cor. 1:8-10) and God's ministers are often brought to the same exact place, so that they learn complete dependence on God rather than any kind of man-made provision.
God makes His true pastors, men who love God and people. They portray genuine compassion and tenderness and yet are to be wholly resolute in the face of opposition: a man of tender heart and a thick skin. That is quite the contrast and quite the balance, and for sure, this balance is not always achieved. The best of men are men at best!
A pastor will face criticism often. He needs to know how to handle it. One thing is sure, if he does not, he will not be in ministry long. It is vital that He knows whom He serves and what pleases Him. A pastor knows, going into the ministry, that he cannot ever please everyone. Therefore His priority is to please the One who enlisted him, the Lord Jesus Christ Himself. If He is sure he is doing his all to please Him (though he never does this perfectly), this is his rest and comfort at all times.
A dynamic pastor (younger than me) in an eastern state in the US wrote the following to me:
"I have a question for you as an experienced pastor.... how does a Godly pastor respond (or not respond) to "Anonymous" to this kind of email (see below)? These kinds of emails obviously hurt and I never know how to respond... in the past I have just ignored them and not bothered to respond, but I don't know... am I wrong to not respond to these kinds of emails? I would greatly appreciate any guidance you can offer brother!"
Good afternoon,
I have a minor complaint after listening to one of your online sermons. You claim your sermons are expositional, but you spent most of your time speaking what seems to be a personal rant about how everyone is a horrible failure... I thought pastors were supposed to be at least a

little bit loving, uplifting, and positive, wanting to help their parishioners grow... not being judgmental, condescending, or mean, laughing at people's sin... I hope this was a one-time occurrence and I just wanted to give you some constructive criticism from my viewpoint.
Col. 3:12 "Put on then, as God's chosen ones, holy and beloved, compassionate hearts, kindness, humility, meekness, and patience"
Eph. 4:31 "Let all bitterness, and wrath, and anger and clamour, and evil speaking, be put away from you, with all malice"
1. Cor. 16:14 "Let all that you do be done in love"
God bless

Here was my reply:
Hi Pastor ________,

Good to hear from you.

Continue reading "Life as a Pastor: Responding To Anonymous" »
The Killer Shoes of Peace
Text: Ephesians 6:15 - "and, as shoes for your feet, having put on the readiness given by the gospel of peace."
The heavily spiked shoes of the Roman soldier meant sure footing in any type of terrain and also could be used as something of an offensive weapon. In spiritual terms, these killer shoes are essential equipment in the armor of God, and it is vital that we put them on and keep them on. Here's the "how to" on that.
THE FIVE SOLAS - Standing Together, Alone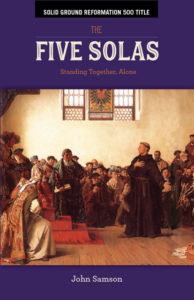 THE FIVE SOLAS - Standing Together, Alone by John Samson
NOW AVAILABLE FOR PREORDER AT THIS LINK. You will not be charged until the books are in print and being shipped.

ENDORSEMENTS:
"The Puritans often made you read three chapters before getting to the first point in their outline. If you wish to understand the foundation of the solas of the Reformation but would like to do so in under an hour, John Samson provides you with the basics right here." - Dr. James White, Alpha & Omega Ministries, Phoenix, Arizona
"Recent years have seen a number of key anniversaries connected with events and people who were vital catalysts in the Protestant Reformation. Thankfully this has resulted in a renewed focus on the 'five solas' - a convenient shorthand list of the Reformers' key convictions. Throughout church history, wherever these principles have been stressed and adhered to, the church has always flourished. So it is a highly encouraging trend. I'm thankful for this excellent booklet by John Samson; a cogent, focused, and accessible study of the solas that not only reminds us what these principles mean, but also shows us why they are important - and why they must stand together." - Phil Johnson, Executive Director, Grace to You
"This is such a crucial topic; and having read many pieces written on the five solas, this one stands out for not only being theologically sound, but also clear and concise. It is written in a way that just about anyone could pick up and understand. I am thankful that God has raised up his servant John Samson for this deeply needed work; a work we ought to get into the hands of as many people as possible." - John Hendryx, monergism.com
"Get this book! Then get several more to share with your friends and family. John Samson has the remarkable ability to communicate essential truths with an undeniable passion and faithfulness that is winsome, clear, and devastating to the opposition. The people of God in this generation are in need of these old truths: the same truths that transformed the early church and led our heroes (throughout history) into living lives that changed the world. Go sell 100 of your vapid, modern Evangellyfish books and turn that money into getting this book into the hearts and minds of Christians everywhere." - Jeff Durbin, Pastor, Apologia Church, Tempe, Arizona
"Part celebration and part exposition, Pastor John Samson has provided a brief and readable introduction to the grand framing truths of the Reformation. In this timely little work, Samson particularly emphasizes how the five "Onlies" magnify God's complete and gracious work of salvation in Jesus Christ — of which we learn in Scripture alone, which we find in Christ alone and enjoy by grace alone, through faith alone, to the glory of God alone! As a bonus, Samson not only concisely shows the radiance of each, but also the interrelationship of the whole. Pastors will find this a very useful introductory work for use in ministry." - Dan Phillips, Pastor, Copperfield Bible Church, Houston, Texas
"As a lover of the theology of the Reformation, I appreciate this introduction into its key themes. As a pastor who thinks practically, I appreciate the accessibility and brevity of this tool for getting this theology into the hands of the average person in the pew. I hope this resource is used to introduce many to the rich theological heritage of the Reformers and that it leads to them digging deeper into that heritage." – Steve Weaver, Pastor, Farmdale Baptist Church, Frankfort, Kentucky
The Breastplate of Righteousness
Man's greatest need is not happiness but righteousness, and this is something provided in God's armor - something we have to put on!