Behold the Lamb of God
Text: John 1:29
EMERGENCY ALERT: Sin is deadly serious in the sight of God. God's wrath, His 'holy revulsion against that which is the contradiction of His holiness' is fully justified. The only way of escape from this inevitable and just judgment is God's provision in His sin atoning Lamb. This is not fake news! This is not a drill!
Sola Gratia - Grace Alone
I am thankful for today's opportunity to share God's word. I was able to say a whole lot on the vital theme of "Sola Gratia" (Grace Alone) in just under an hour. - JS
The host, Julio Rodriguez wrote, "Today, I had the privilege of having John Samson join me on BRIDGE Radio to talk about the Reformation and "Sola Gratia", that is 'By Grace Alone.' On today's episode, we discuss why it is only by God's grace that we are saved and not by our works or through other means. The Word of God describes the human condition as being completely unable to achieve salvation on his own. We review Pelagianism, Semi-Pelagianism, and both the Roman Catholic and Protestant Arminian view of God's Grace in relation to our salvation. What is the correct view? Do I play any part in my salvation? Well, tune in to find out!"
Here's a link to the podcast.
The paperback version of my new book "The Five Solas - Standing Together Alone" is available here. The ebook and audio version is available here.
Why Every Christian Should Be A Member Of A Local Church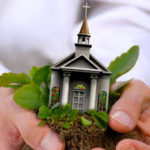 What are some really good (scriptural) reasons to commit to a specific local congregation/ body of believers as opposed to just being a "free range Christian"?
I seek to answer that question on the Iron Sharpens Iron podcast found here. - John Samson