Christ - The Head of the Church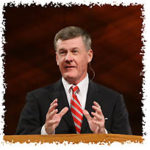 Just in the last hour, the sermon that affected me more than any other I have ever heard was posted online. I was privileged to be in attendance when it was preached by Dr. Steve Lawson at the Shepherds Conference two weeks ago today. Perhaps it is just where I was at when I heard it and the Lord was dealing with me in a deep way – and perhaps others will not find it to be as equally impacting as I did – but this to me was so powerful that quite frankly, I wept through much of the sermon.

I believe your heart will soar in hearing this proclamation of the Lord Jesus in His full authority, power and glory. After the sermon, I just took time by myself to walk around outside, just thankful to have heard such a God honoring message... As I say, no sermon has affected me more than this one. What a Savior He is!
If (very soon) you can carve out 55 minutes of uninterrupted time to hear this, I believe it will do your soul MUCH good. The sermon is entitled "Christ – the Head of the Church." You will find it both on audio and video at this link.
- JS
General Session 10 - Steven Lawson - Shepherds' Conference 2018 from Grace Community Church on Vimeo.
Exposing the Word of Faith Doctrines
Julio Rodriguez, host of the B.R.I.D.G.E. radio podcast writes: "John Samson joins BRIDGE Radio again to give the testimony of his time and immersion in the word of faith movement for many years before leaving. John was not only a prosperity preacher but also a TBN host who was friends with well-known figures of the movement.
We address the word of faith's false teaching of the "little gods" doctrine, faith healing (1 Peter 1:24), and the right to riches as a Christian (John 10:10; Romans 8:32). John says, "I feel so much regret over being so caught up in this thing for years… and it is a comfort to my soul to perhaps be used to pull even one soul out of this deception…" and "This doctrine of the word of faith cannot stand up to Biblical scrutiny and Biblical context!" You will not want to miss this episode!"