Seven Charismatic Deceptions
As a guest on Chris Arnzen's "Iron Sharpens Iron" podcast (Thursday, July 26), I got to talk about seven deceptions found in charismatic circles.
A Unique Messenger With A Unique Message
Text: John 3:31-36
Jesus has unique qualifications as a Messenger and brings to us a message that must be heard and believed.
The Preacher's Task
Dr. Steve Lawson
The Preacher's Task
Text: 1 Tim. 4 - 13 Until I come, give attention to the public reading of Scripture, to exhortation and teaching. 14 Do not neglect the spiritual gift within you, which was bestowed on you through prophetic utterance with the laying on of hands by the presbytery. 15 Take pains with these things; be absorbed in them, so that your progress will be evident to all. 16 Pay close attention to yourself and to your teaching; persevere in these things, for as you do this you will ensure salvation both for yourself and for those who hear you.

Expository Preparation:
Text: 2 Tim. 2:15 - Be diligent to present yourself approved to God as a workman who does not need to be ashamed, accurately handling the word of truth.
Effective Evangelists:
2 Tim. 4:1 I solemnly charge you in the presence of God and of Christ Jesus, who is to judge the living and the dead, and by His appearing and His kingdom: 2 preach the word; be ready in season and out of season; reprove, rebuke, exhort, with great patience and instruction. 3 For the time will come when they will not endure sound doctrine; but wanting to have their ears tickled, they will accumulate for themselves teachers in accordance to their own desires, 4 and will turn away their ears from the truth and will turn aside to myths. 5 But you, be sober in all things, endure hardship, do the work of an evangelist, fulfill your ministry.
He Must Increase, I Must Decrease
Text: John 3:22-30
In the time of transition from popularity to obscurity, John the Baptist knew his place and the task he was called upon to do, delighting in the fact that Christ was now coming to greater prominence than him. We can learn much from his unparalleled humility.
From New Age to Christ
In this powerful interview, Steve Bancarz describes his dramatic conversion to Christ, and why he walked away from being a high prominence writer in the New Age movement with a monthly salary of around $40,000 a month. Along the way, he discusses the pervasiveness of the movement and its teaching which includes pantheism, reincarnation, aliens, UFO's, yoga, hypnosis and its connection with the demonic realm. You do not want to miss this one!
Why We Do What We Do In Church
Pastor John Samson speaking at Apologia Church, Tempe, AZ - Sunday, July 8, 2018
Theme: The Reformed Worship Service
Sanctification: Monergistic or Synergistic?
"so that no human being might boast in the presence of God. And because of him you are in Christ Jesus, who became to us wisdom from God, righteousness and sanctification and redemption, so that, as it is written, "Let the one who boasts, boast in the Lord." - 1 Cor 1:29-31
"Therefore, my beloved, as you have always obeyed, so now, not only as in my presence but much more in my absence, work out your own salvation with fear and trembling, for it is God who works in you, both to will and to work for his good pleasure."
‭‭Philippians‬ ‭2:12-13‬ ‭
There is no doubt that the Bible teaches that God works in us, and we work. (Phil 2:13). And it is certainly true that good works may be described as a cooperation of sorts, but (and here is the kicker) good works are not the same thing as sanctification.
Sanctification is something God does TO you, and IN you. He is conforming you to the image of Jesus. Good works are something WE do, but they are only the result of God's work -- part of the outworking of the sanctification of the Spirit. You do not sanctify yourself (even partly): That is the work of the Spirit and His work alone. Our working and obeying is not an effectual cause of our sanctification. We don't make ourselves Holy. If sanctification were synergistic we would literally be contributing a portion of the grace and power which sanctifies us. This would mean we would (at least partly) sanctify ourselves, while the Holy Spirit does the rest.
Consider another work of the Spirit: regeneration, Reformed theologians all agree with the Bible that when the Spirit regenerates a sinner, the fruit of His regenerating work is faith in Christ (John 6:63, 65). The sinner does not cooperate in order to be regenerated. The work is monergistic which means he is utterly passive in regeneration under the Holy Spirit through the preaching of God's word. His faith (and his willingness to believe) exists in him only after the Spirit disarms his hostility and renews his heart. We do not consider faith to be cooperating with regeneration but the fruit of the Spirit's regeneration.. Likewise, for sanctification, the Spirit sanctifies a sinner, and the fruit of sanctification is good works, but the sinner does NOT cooperate with God IN ORDER TO BE sanctified. Good works flow from our union with Christ, and His sanctifying work in us, but do not contribute to it in any way, since sanctification is part of our salvation - Christ's work.
So sanctification is monergistic.
Don't get me wrong, we cooperate in the Christian life as our regenerate, sanctified hearts yeld to God working in us. Indeed we are obligated to cooperate with God working in us and do good works. We take very seriously the divine commands to obey to do good. But the good works themselves aren't to be confused with sanctification. Sanctification is a work that precludes all good works. We work FROM our sanctification. We don't' work FOR our sanctification. We are passive in sanctification, but active in good works.
The Westminster Confession says it like this:
Q. 35. What is sanctification?
A. Sanctification is the work of God's free grace, whereby we are renewed in the whole man after the image of God, and are enabled more and more to die unto sin, and live unto righteousness (Shorter Catechism).
Q. 75. What is sanctification?
A. Sanctification is a work of God's grace, whereby they whom God hath, before the foundation of the world, chosen to be holy, are in time, through the powerful operation of his Spirit applying the death and resurrection of Christ unto them, renewed in their whole man after the image of God; having the seeds of repentance unto life, and all other saving graces, put into their hearts, and those graces so stirred up, increased, and strengthened, as that they more and more die unto sin, and rise unto newness of life (Larger Catechism).
…the principal acts of saving faith are accepting, receiving, and resting upon Christ alone for justification, sanctification, and eternal life, by virtue of the covenant of grace. Westminster Confession of Faith 14.2
-----
NOTE: Now I know Dr. Sproul and others have taught that sanctification is synergistic. But it is pretty clear that what they mean by this is that the Christian life is not passive and we DO obey and work. We are not quietists. But a careful reading will reveal that he does not mean that we sanctify ourselves.

The Apostles' Creed Series
Part 1: An overview of various creeds found within the pages of the Bible as well as particular focus upon the Apostles' Creed, showing its history and profound significance in the life of the Church as well as its Biblical basis.
Part 2: The Apostles' Creed has been used as a means of preparation for water baptismal candidates since the late 2nd century AD, becoming an officially recognized creed around 700 AD. This is the second of two messages showing the Biblical basis for the remaining statements of the creed.
Preaching & Liturgy Together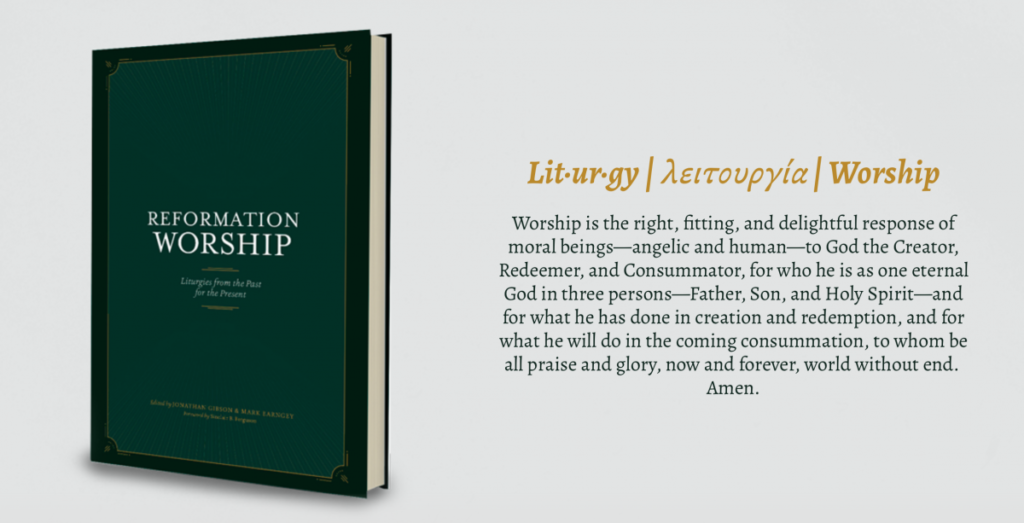 "When we think of the Protestant Reformation, we immediately think of the act of Biblical preaching as the means whereby the Gospel was established in the life of the Church. While a very true statement, it is not a complete one.
It was when not only idolatry and falsehood were removed from the worship service, but when in its place, Biblical, Gospel truth shaped the week by week liturgy (order of worship) of the Church, that the people truly 'got the message.'
Each time the people gathered to worship God, with on purpose thought behind it, each element of the Reformed worship service was intentionally devised to reveal both Law and Gospel - the reality and consequences of our sin and the perfect work of the perfect Savior, the Lord Jesus Christ. As a result, the common people were able to gain a fuller and growing comprehension of the greatness of their salvation, and even more importantly, the greatness of their Savior God.
In the power of the Holy Spirit, the two together: preaching and liturgy (order of worship) brought Reformation in the Church."
– John Samson