The Importance of Jesus' Fulfilling All Righeousness For Us
Then Jesus came from Galilee to the Jordan to John, to be baptized by him. John would have prevented him, saying, "I need to be baptized by you, and do you come to me?" But Jesus answered him, "Let it be so now, for thus it is fitting for us to fulfill all righteousness." - Matthew 3:13-15
What an odd passage. Jesus comes to John to be baptized. John, knowing Jesus' identity, tries to stop Him and tells him it should be the other way around. Jesus tells him to do it anyway in order to' fulfill all righteousness'. Huh? What righteousness? Isn't Jesus already righteous, we ask? What actual need would there be to fulfill any more righteousness? While we all acknowledge that Jesus is indeed righteous in His essence, but I propose to demonstrate from the text of Scripture that, in order to become a perfect substitute for us, Jesus also needed to fulfill all righteousness as a man from our side, a man who is 'born under the law' who needed to perfectly keep it in order to be able to impute righteousness to us. Yes we must be quick to acknowledge that our Lord's atoning death removes sin. Clearly, the curse of the law is removed because Jesus endured the penalty for us. "For our sake he made him to be sin who knew no sin, so that in him we might become the righteousness of God." (2 Cor. 5:21). "Christ redeemed us from the curse of the law by becoming a curse for us—for it is written, "Cursed is everyone who is hanged on a tree" (Gal. 3:13). Indeed, as the text of Scripture declares, in order for human beings, who are sinners, to have eternal life the guilt and penalty of sin must be removed. But Jesus does this not only by dying the death we justly deserve but by living the life we should have lived. This means, along with punishment for sins, that we must also have a perfect record of obedience to God's law. When these two conditions are fulfilled people can be justified or declared righteous, before God. Therefore, justification contains one negative and one positive element.
Continue reading "The Importance of Jesus' Fulfilling All Righeousness For Us " »
Semi-Pelagianism and Faith as the Instrument of Existential-Mystical Union with Christ (5-Part Series) by R. Scott Clark
Munus Triplex - The Triple Cure - Christ as Prophet, Priest and King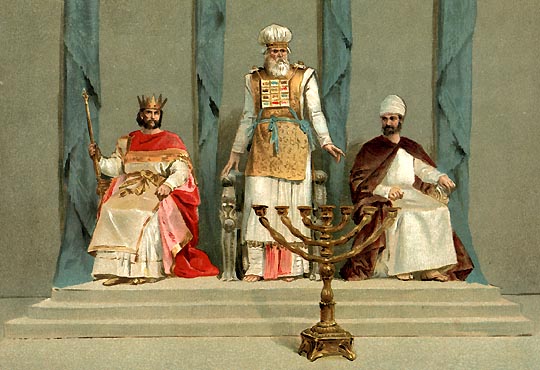 In the Old Testament, a person could be a prophet, a priest or a King, but it was impossible to be all three. Yet Scripture attributes all three of these offices to Christ. To discover what He does for us as He fulfills these three differing roles is a wonderfully enriching biblical study.
Christ holds these offices eternally. As the ultimate revelation of the Prophet, He speaks the word of God to us; as Priest, He represents us fully to the Father and brings the supreme atoning sacrifice (of Himself) that placates the Father's holy and just wrath against us for our sin; and as the conquering and reigning King, He is forever worthy of our worship and adoration. He is King of Kings and Lord of Lords.
Christ's threefold office of Prophet, Priest, and King is a central teaching in Reformed Theology, but it is a much neglected theme in much of the modern day Church. The Latin theological term for this is Munus Triplex, also known as "the Triple Cure," referring to these offices of Christ providing the remedy for us in our fallen condition.
As far as we can tell, it was Eusebius in his Ecclesiastical History (1.3.8) who first described the concept of these three fold offices of Christ. He said that Jesus is "the only high priest of all, and the only king of every creature, and the Father's only supreme prophet of prophets." Yet as with most things, it was John Calvin who made the concept widely known by his teaching in the Institutes:
Continue reading "Munus Triplex - The Triple Cure - Christ as Prophet, Priest and King" »
The Lord Jesus Christ - One Person, Two Natures
Pastor John, when the second Person of the Trinity (identified as "the Word" in John 1:1) became flesh (John 1:14) did this signify a change in the Godhead in some way? I have heard more than one preacher say that in becoming man, He laid aside His divine characteristics such as omnipresence (being everywhere present) and omniscience (knowing all things). Is this true?
Thanks for writing in. The answer is a resounding "no" to both of your questions. The Godhead has not changed one iota and never will. God is both eternal and immutable (unchanging). Malachi 3:6 says, "I am the Lord, I change not." I would also say that Christ in no way laid aside His divine attributes at any time (though by becoming a man, those attributes were veiled to us).
Its important to know that these kind of questions are not new to our generation, but Christian scholars throughout the centuries have grappled with them and found biblical answers. To combat the gross heresy that was seeking to gain inroads in the Church, Christian leaders met together at the Council of Chalcedon in 451 AD, to search the Bible and properly define what we call "the hypostatic union" - the union of the two natures of Christ. Here at this council (based on the revelation of Scripture) Jesus Christ was declared to be one Person with two natures, one that is fully human and one that is fully Divine. These two natures are united in the one Person. These natures can be distinguished from each other but never separated. How exactly this union of the two natures takes place is very much a mystery but it is certainly the case. Colossians 2:9 tells us that Christ is the fullness of Deity in bodily form.
The statement of the council was:

Continue reading "The Lord Jesus Christ - One Person, Two Natures" »