Ask R. C.
Today (May 6th, 2013) Dr. R. C. Sproul took part on an "Ask R.C." Google hangout, where he answered theological questions submitted to him live on the internet. Here is the 36 minute question and answer time:
I will spit you out of My mouth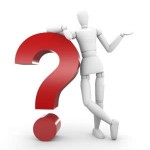 Pastor John, I see very plain statements in the Bible that show that Christ does not lose any of His true sheep. However, I am struggling to understand a passage in Revelation 3 where Christ says "because you are lukewarm... I will spit you out of My mouth." Are you able to help me understand what these words mean?
Thanks for your question. The phrase you quoted, lifted out of its context, has caused many to doubt the biblical doctrine of the perseverance of the saints. To correctly understand the verse in question, one has to see the broader context and know something of the historical background.
Please allow me to illustrate. Suppose someone 300 years from now, comes across a letter written this year (2013) in which a mother writes, "After the Church service today, we all went to McDonalds and each of the kids had a happy meal."
Then let us imagine (hard as it may be to do so) that sometime between now and 300 years from now, all the McDonalds restaurants go out of business. I realize that might be a far fetched notion, but lets go along with it for a moment for the sake of illustration.
Then, 300 years from now, someone who has never heard of the McDonalds restaurant chain looks at the words "we all went to McDonalds" and assumes that this meant a Scottish family (rather than a restaurant). They then assume that the phrase "each of the kids had a happy meal" meant that the kids were happy when they ate the food. We can almost laugh at such an interpretation knowing that it misses the mark completely. That is because here in the 21st Century, the words "McDonalds" and "happy meal" are almost universally understood to refer to a restaurant and a special sized meal for children (that includes a small toy for them to play with).
The idea of McDonalds being a Scottish family and that the kids enjoyed their meal, is a possible interpretation, but that is not how these words would normally be understood in our early 21st Century context. It is far more likely that the intended meaning of the words are that the family went to a well known restaurant called McDonalds, and each of the kids had child sized meals which included toys for each child.
I say all this because the words in Revelation chapter 3 had a context, that when known, make the passage easy to understand. However, when historical context is either unknown or ignored, we are likely to misinterpret the intended meaning of the text.
The words you quote are taken from a passage in Revelation chapter 3 (v. 14-22) where the Lord Jesus, through His apostle John, is writing to the Church at Laodicea. The city of Laodicea was located in the Lycus River Valley and was an important commercial center in the first century. The local water supply was not adequate for the many residents of the city and so an underground aqueduct was built.

The Parable of the Four Soils?
Visitor: The Scripture is excessively clear that apostasy from authentic salvation is real. The texts are far too many to express here. However, I will mention one that I wrote my masters thesis on (my masters degree is in New Testament with an emphasis in Greek - I went to both a reformed and baptist seminary). In the parable of the soils, a parable that is the first of Jesus' parables in each of the synoptics and explained by Jesus, he says satan comes to take the seed from the first heart SO THAT the person will not have faith (pistos) and be saved (sozo) - obviously faith would have resulted in salvation. The second soil, Jesus uses the exact words to describe a person who believed (pistos = which equals salvation) ...who believed for a while, but the apostatizes (aphistemi). This is a person who was saved for a time, but CHOSE to apostatize when trials came. Similar language is used for the next soil. Only the fourth soil is indicative of someone who is saved, and the onus is clearly on the one being saved to persevere. Obviously, so much more could be said...but not now. Peace friends. Than
Response: First of all there is PLENTLY of spurious faith out there among so-called Christians. I have an essay here on the visible vs. invisible church which discusses this topic.
I wish to also say this with respect but the interpretation of the four soils offered above is appalling. What it appears you are in fact teaching is salvation by works. Some people just happened to be born good (or have made their own "soil" good) while others are not. Is this really what makes people to differ? Those with naturally good hearts (good soil) believe and are fruitful and persevere; those who are wicked are unfruitful and fall away. But who do you think makes the soil good to begin with? The Farmer! He plows up the fallow ground that it would be good a receive the seed and be fruitful. Anyone from an agrarian society would have known this. The bad soil is the soil which the Farmer left to ITSELF. This parable is not about showing that some people have natively good soil, as you contend. Or that the soil somehow magically made itself "good". No one has good "soil" apart from God granting it (John 6:65). Did someone simply will themselves to be "good soil" and so bore fruit? Such teaching is, in fact, rank heresy and honestly has no place in the Christian faith. Where is Christ in all this? The emphasis on the parable is not where you are placing it.
Next, if one can lose his salvation, as you contend, then you implicitly believe there are some of your sins for which Christ did not die. That your faithfulness somehow makes up for where Jesus' work falls short. So do we maintain our own just standing before God then. Thank the Lord for Jesus who provides EVERYTHING we need for salvation including a new heart to believe (1 Pet 1:3) and persevere. Left to myself (even partly) I would fail to persevere. Thank the Lord that He preserves us as well, or we would have no hope to do so. Our right standing before God is based on HIS FAITHFULNESS, not ours.
"May God himself, the God of peace, sanctify you through and through. May your whole spirit, soul and body be kept blameless at the coming of our Lord Jesus Christ. The one who calls you is faithful, and he will do it." 1 Thess 5:23, 24
The Ring of the Fisherman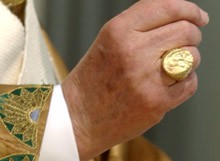 Today, (February 28, 2013) is a significant day for Roman Catholics worldwide as the current Pope steps aside, the first time a Pope has done so in almost 600 years. A number of symbolic ceremonies will mark the occasion including the breaking of the Papal ring, called the Ring of the Fisherman, also known as the Piscatory Ring, Annulus Piscatoris (in Latin) and the Anello Piscatorio (in Italian). This is an official part of the regalia worn by the Pope, head of the Roman Catholic Church. As I am sure we are all aware, Rome claims that the Pope is the successor of the Apostle Peter, who by trade was a fisherman. The design of the ring features a bas-relief of Peter fishing from a boat. The Fisherman's Ring was used until 1842 to seal official documents signed by the Pope.
Wikipedia says, "A new ring is cast in gold for each Pope. Around the relief image is the reigning Pope's Latin name in raised lettering. During the ceremony of a Papal coronation or Papal inauguration, the Dean of the College of Cardinals slips the ring on the third finger of the new Pope's right hand. Upon a papal death, the ring is ceremonially broken in the presence of other Cardinals by the Camerlengo, in order to prevent the sealing of backdated, forged documents during the interregnum, or sede vacante. This custom is also planned to be followed after the resignation of Pope Benedict XVI."
With today's events in mind, what follows is a question and answer repost of a blog article here regarding the question of Peter and the keys: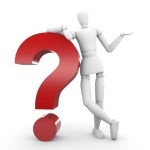 Question: The Roman Catholic Church claims that the Apostle Peter was the first Pope. Much is made of Jesus giving Peter the keys of the kingdom. Do you have anything that would help me rightly understand this Matthew 16 passage?
Thank you for your question. It is a very important one. You are right to say that Roman Catholics make much of this passage claiming that it teaches Rome's position on the Papacy in clear terms. In my opinion, the best treatment of the passage in question is found in Dr. James White's book "The Roman Catholic Controversy." The entire book is immensely helpful, and while written back in 1996, is just as relevant to the situation in our day. Roman Catholics, for all their claims, actually do not have history on their side in this debate. This article addresses this in summary form. However, regarding the Matthew 16 passage, rather than summarizing Dr. White's words, let me quote directly from the book, from Chapter 8 "The Claims of the Papacy", pages 115-118:
Few would argue that the foundational passage on which the entire Roman Catholic claim for the Papacy rests is found in Matthew 16:13-20, verses 18-19 in particular. We are told that their plain meaning supports the concept. It should be noted that Rome has infallibly interpreted these verses in the words of Vatican I. It is one of the few passages of Scripture that have in fact been infallibly interpreted by the Roman Catholic Church (John 21:25-27 being another). Let's look at Matthew's record.
He said to them, "But who do you say that I am?" Simon Peter answered, "You are the Christ, the Son of the living God." And Jesus said to him, "Blessed are you, Simon Barjona, because flesh and blood did not reveal this to you, but My Father who is in heaven. I also say to you that you are Peter, and upon this rock I will build My church; and the gates of Hades will not overpower it. I will give you the keys of the kingdom of heaven; and whatever you bind on earth shall have been bound in heaven, and whatever you loose on earth shall have been loosed in heaven."
No one will deny that this is a singularly important passage. Here the Lord Jesus leads His disciples to a confession of faith in himself; the Father from heaven reveals the true nature of His Son, Jesus Christ.
Yet we find these verses being used to support a concept seen nowhere else in Scripture. We are asked to believe that not only is the impetuous and frail Peter made the very foundation of the Church itself, but that this foundational position creates an office of Pope, and that this office involves successors who will sit in the seat of bishop in the city of Rome, 1,500 miles distant.

"Mean-Spirited" Theology
Visitor to Monergism.com: You are a nasty spirited site to have a topic labeled "bad theology". Who made you God?
Response: Perhaps you fail to see the irony in your email. You yourself are making a distinction yet declare that others cannot make distinctions. You have determined that we are wrong and are promoting something that is bad theology YET you declare that labeling something wrong or bad theology is mean-spirited. Are you not doing the VERY thing you claim to despise? You entire declaration, therefore, rests on an impossible contradiction. Isn't this the very definition of hypocrisy? Lesson I hope you will take from this: It is impossible to live and communicate without making distinctions.
"Dead Men Cannot Hate"
Here is a failed attempt to demonstrate that the Reformed view of (unregenerate) man being dead is illogical.
Visitor: A dead man can not walk to an emergency room but neither does a dead man hate.
Response: I believe you may have missed the point. The Bible teaches that those who are dead to spiritual things are quite alive to sin and the flesh. The Bible teaches there are two kinds of people in the world 1) spiritual and 2) natural. The natural person cannot understand spiritual truth and by nature thinks it is folly and is therefore hostile to it (1 Cor 2:14, Rom 8:7). He is completely dead to it - beyond his native moral capacity. The apostle says a person needs the mind of Christ to understand spiritual things (1 Cor 2:12). Otherwise they just continue on in their love of darkness (John 3:19, 20) So the dead in sin (the spiritually dead) are those in the state or condition without the Holy Spirit. This is a fact which is quite prevalent in the Bible... that is, unless you want to claim (against Scripture) that a person can come to faith in Jesus Christ apart from the work of the Holy Spirit.
In another place Jesus even says of them, "You belong to your father, the devil, and you want to carry out your father's desires. He was a murderer from the beginning, not holding to the truth, for there is no truth in him. When he lies, he speaks his native language, for he is a liar and the father of lies." - John 8:44
Essentially Jesus is here saying to them, "Like father, like son. Like the devil they have no truth in them and lie because that is what they do by nature."
Next Jesus says to them, "Yet because I tell the truth, you do not believe me! Can any of you prove me guilty of sin? If I am telling the truth, why don't you believe me? Whoever belongs to God hears what God says. The reason you do not hear is that you do not belong to God." John 8: 46-47
In other words, the reason they do not hear the truth and do not hear God is that they are spawn of the devil. They are not God's children so It is not in their nature to hear spiritual truth. Their ear only hears the things which oppose God. i.e. they are Dead to spiritual things but alive to sin.
But Jesus shows the only way some escape from slavery....In the same passage Jesus said to them,
"Very truly I tell you, everyone who sins is a slave to sin. Now a slave has no permanent place in the family, but a son belongs to it forever. So if the Son sets you free, you will be free indeed. I know that you are Abraham's descendants. Yet you are looking for a way to kill me, because you have no room for my word. I am telling you what I have seen in the Father's presence, and you are doing what you have heard from your father. - John 8:34-38
Man is naturally a slave to sin. He commits sin and cannot do otherwise. Only a work of grace, apart from their assistance or cooperation, can set them free from slavery and adopt them into God's family. Those born of God are children of God.
The Marks of a True Church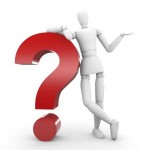 What are the marks of a true church? I have heard people say there are three: 1. The preaching of the gospel takes place. 2. The sacraments are rightly ministered. 3. Church discipline is exercised.
I can see that all of these are biblical. But is that all one should look for? What about prayer, love, evangelism, discipleship and practical care for people, etc?
Thanks for your question. Of course, many sects call themselves a "church." Such has always been the case throughout Church history. Because of this, the Protestant Reformers in coming to understand the true Gospel of Christ, sought to help people distinguish between true and false churches. Since early on in Church history Christians have used the Apostles' Creed and the Nicene Creed as confessions of faith. If a Church has a problem affirming these basic doctrines found in these catholic creeds (the word catholic here means universal, meaning that all orthodox Christians would affirm these truths) it leads me to think that they do not embrace true and sound doctrine. If a Church cannot affirm essential truths such as the Trinity or the full deity and humanity of Christ, then it is embracing something else, and anything else is a heresy. A heretical church by very definition cannot be a true church. It is vital that we get our doctrine right on the essentials of the faith. We only have to read Galatians chapter 1 to realise that if a church preaches another gospel, it comes under the anathema (the eternal curse) of God. That is why Martin Luther called the doctrine of sola fide (justification by faith alone) the article upon which the church stands or falls.
The Reformers were clear: The one true holy and apostolic church is present where (1) the word of God (and the Gospel) is preached and taught; (2) the sacraments of the church are rightly administered (namely baptism and the Lord's Supper) and (3) church discipline is faithfully exercised. By implication, this third mark necessarily requires the presence of godly leadership (elders) who provide a safe place for the sheep to grow in Christ and who can ward off any wolves who seek to devour (see Acts 20). That is why Christians simply getting together for fellowship, though wonderful, without the oversight and care of elders, it does not consititute the gathering of a true Church. Christ, the Chief Shepherd has established His under shepherds for the care, protection and spiritual well being of His precious sheep (see Hebrews 13:17).
Other things are vital for church life as you rightly observed. We could add many more things to your list in fact. However these things flourish only where the three marks of the church are present.
For instance, lets talk about love. Love is absolutely vital for the health of a local church, yet we need to ask "how do we distinguish true Christian love from all imitations?" We do so by being exposed to the word of God. When God's word is rightly preached and taught it actually cultivates true Christian love amongst the flock. It is a function of faithful shepherds of God's church to (at certain times) bring caring, Christ like and Biblically based discipline to the church's members, both as an act of love and as a means of cultivating genuine and authentic love among the church's members.
I heard a good illustration some time back that I feel is worth sharing. Think of the three indispensable elements of a house: a foundation, a frame, and a roof. Many things may be installed in a house, such as couches, chairs, curtains, sinks, toilets, a bath or shower, a washer and dryer, an oven, electrical wiring, beds and so on. I am sure we agree that the list could be endless. Yet though I may have all of these things in a yard somewhere, I really don't have a house until I have the three essentials elements of a foundation, a frame, and a roof.
There are many essential elements for healthy church life. Yet unless the Word of God is rightly preached and taught, the sacraments rightly administered, and church discipline is faithfully exercised, there is no true church present. Where these marks are absent, true holiness will be absent too. If even one of these three marks are missing it should not be considered to be a true church of Christ. - JS
What Do you Think of the Free Grace Movement?
Visitor? Have you done much research into the Free Grace Movement (FGA, GES)? I have having much conflict with my senior pastor who is a member of the Free Grace Alliance and hold firmly to Free Grace Theology. It would be a great encouragement if you could give me your take on the whole movement.
Response: The free grace movement, if I have my movements correct, are the no-lordship people. We obviously do not share their beliefs. I find it most striking that the "free grace" movement likes to speak of grace when they don't even believe that a work of the Holy Spirit is necessary to believe the gospel. If my memory servers me correctly they are free-willers and erroneously think that faith is what man contributes, as if this were easier than obeying the law. However, it is clear from the Scripture that the nature of proud fallen man is such that he can no more submit to the humbling terms of the gospel any more than he can obey the law, without renewal of heart ... or without the Lord removing the old heart of stone and granting him a new heart of flesh (Ezek 36:26)
Visitor: Yes, you do have your movement correct. From my experience the whole Free Grace Movement exists more for what they are against then what they are for. They are anti-lordship and anti-calvinism. They seem to be strongly dispensational to the point that if you are not dispensational, then you don't know how to interpret the Scriptures. With your understanding do you think this is a theology that will continue to grow, or do you think it is on its last legs? I am a Youth Pastor, and like I said before, my Senior Pastor is really having a hard time with me not being on board with his theology. Thank you, John, for your reply!
Response: I think Dispensationalism itself is on its last legs but it will not die easily. It has influenced American evangelicalism significantly for the last 100 years, but Dallas Seminary, the mother ship of Dispensationalism, has recently changed their tune from Classic Dispensationalism to Progressive Dispensationalism, which is really, in many ways, closer to Covenant Theology than Dispensationalism.
The so-called free-grace movement is indeed anti-calvinism, and what this means practically is that they reject salvation by Christ alone. Why do I say this? Well, of course they believe in the necessity of Jesus Christ, but the reject the sufficiency of Jesus Christ ... Sufficiency meaning that Christ provides EVERYTHING we need for salvation, including a new heart to believe. Their free-will theology essentially makes them sneak in a frightening level of semi-pelagianism (even though they like to talk of grace). They are, in fact, not free grace. They believe grace is CONDITIONAL. That is, God only loves a person if they meet his condition, faith. Otherwise they are cast into hell. While we agree with them that God gives us a condition of faith, but since man is impotent to exercise faith apart from regenerating grace (John 6:63-65) Jesus Christ mercifully provides everything we need for salvation INCLUDING a new heart to believe. Their strange belief system asserts that Jesus died for all sins EXCEPT the sin of unbelief. Our belief somehow makes up for our sin. But I believe the Scripture declares that if faith does not spring from a new heart, which God works in us, then we can boast in our faith because we cannot thank God for it. We could easily pray "thank you Lord for providing all I need for salvation except for faith. That is the one thing I came up with on my own." Thus we would end up attributing our repenting and believing to our own wisdom, humility, prudence, sound judgment and good sense. What makes Christians to differ from non-Christians from would then not be Christ but something else in me. Such a teaching radically misrepresents the Scripture.imho. I have long known of this movement (form the 1980s) and think it is a sub-Christian understanding of the gospel. That is not to say that many are not saved, but rather that their system of belief is largely inconsistent with the Bible.
If Monergism is True, Why Oppose Immorality Since Men Can't Help it?
Visitor: If monergistic regeneration is true, why oppose others views on homosexual marriage and other controversial issues? "No man can come to Me unless the Father who send Me draw him"
Response: Thank you for your excellent question. Actually we really don't even need a controversial issue. All human beings, apart from grace, are in bondage to sin and cannot do otherwise. You were born with the inability to perfectly obey the 10 commandments, correct?. And are you now saying now that a person can come to faith, apart from grace, and apart from the work of the Holy Spirit? Being "born this way" does not alleviate us or responsibility. If you can obey all of God's commands by yourself, with your own boasted free will, then you frankly don't need Christ, and could save yourself. But Christ came precisely because we cannot help ourselves. It is a matter of mercy, not obligation because we meet some condition. Consider this example: if you borrowed $100 million from the bank to start a new company and instead you squandered it all in a week of wild living in Las Vegas, does your inability to repay the bank alleviate you of the responsibility to do so? No, of course not. Likewise we all fell in Adam and are responsible for all of our subsequent sins and failure to live up to God's righteous demands. Our inability to lift a finger toward our own salvation, after the fall, does not alleviate us from the responsibility to obey. Otherwise, using your logic, God would be obligated to forgive us all because the fall rendered us morally impotent. But, as I have demonstrated, inability does not alleviate responsibility.
In other words, the church is to command all men everywhere (even the unregenerate) to yield to the Lordship of Jesus Christ. That is, obey Him who has authority over all things. At the same time the commands are too much for us to bear ... we all owe a debt we cannot repay. When God enables men to see in the commands their woeful inadequacy and how far they fall short of God, they will turn to their only hope, Jesus Christ. When God shows ill-deserving sinners that, from our own natural resources we cannot obey His commands (Rom 3:19, 20; 1 Cor 2:14), we then, by grace, turn to God alone for mercy. And yet God is not obligated to save anyone. He would be just to send us all to the lake of fire. But he has mercy on many in Jesus Christ, in spite of our rebellion.
‎You rightly quote, "No man can come to Me unless the Father who send Me draw him" - John 6:44 .... Take a look just before this verse to verse 37 which is in the same immediate context .... it says "ALL THAT THE FATHER GIVES TO BE WILL COME TO ME." Not some but ALL. This means that ALL persons that the Father draws will believe. Come to me means "believe in me". This create a syllogism which makes the non-Reformed understanding of the verse, frankly, untenable.
A Dozen Objections to Divine Election
Perhaps you can relate to this – Divine election does indeed seem to be clearly taught in the Bible. Passages such as Romans 8 and 9, Ephesians 1 and 2, John 3, John 6, John 10, John 17, and many others, make a convincing case. However, certain verses, at least at first glance, seem to present a different picture.
Over time I have sought to deal with some of the most frequently cited verses that are raised as objections to God's Sovereignty in election (the "what about?" verses, as I call them) trusting that this can be a helpful resource.
"WHAT ABOUT?" VERSES:
John 3:16
2 Peter 3:9
1 Tim 2:4
Matt 23:37
1 Tim 4:10
1 John 2:2
John 12:32
2 Peter 2:1
"WHAT ABOUT" CONCEPTS:
How can divine election be true if God is not a respecter of persons?
Does God create people knowing they will end up in hell?
If Divine election is true, why should we even bother to evangelize?
The ten different uses of the word "world" in John's Gospel
Another question that often arises is "how can God be just in requiring man to do what he is unable to do?"
I hope the answers I have provided can be a useful resource to you (found here). - JS
Q&A Regarding Regeneration
Visitor: You can't randomly redefine Biblical terms. Regeneration is not a supernatural change in a man to enable him to believe. Regeneration occurs when Jesus Christ comes to live in a man's heart to give him the gift of eternal life. When Jesus was telling Nicodemas about the new birth, the discussion goes beyond verse 8. Jesus tells Nicodemas the coming of God's gift of eternal life parallels Moses lifting the serpent in the wilderness, when people were dying from the snake bite, they looked to live. And in the same way the Son of Man had to be lifted up, so that whoever would believe in him would not perish but have everlasting life.
There are not two additional kinds of life to receive after the life given in the flesh. (Men are not given one sort of 'spiritual life' to enable them to believe and then after they believe then they receive eternal life.) There are only two births. There is the life given in the flesh and the life given in the new birth, which is eternal life. That life is given to us when Jesus Christ comes to dwell in our hearts. Only the ones who have the Son have the life (1John 5:11, 12). Jesus tells Nicodemas He came to give men eternal life and salvation (John 3:15-16). Men were not indwelt by the Lord Jesus Christ before His resurrection. At just the right time Jesus was sent by the Father to redeem them from the Law so that they could receive the adoption as sons (Gal 4:4). Men needed to be set free from the Law before they could be joined to Christ (Rom. 7:4). Redemption is through His blood (Eph. 1:7; Col. 1:14). Only after men are redeemed and receive the adoption as sons does God send the Spirit of His Son into their heart (Gal. 4:4-6) to give them the gift of eternal life, and the gift of salvation in the new birth. Faith precedes Christ coming to dwell in our hearts, the gift of eternal life, and salvation-- all of which we are given in the new birth. Faith precedes the new birth.
Reformed Theology is built upon an unbiblical definition of regeneration. Additionally, faulty presuppositions require an unbiblical 'new birth' to enable men to believe clear back in Genesis: at least the time of Abel, since Abel was commended for his faith (Heb. 11:4). Reformed Theology is also dependent upon many erroneous interpretations using the redefinition of "regeneration": interpreting many critical verses in the book of John as though men were already being born again. But nobody was "born again through the resurrection of Jesus Christ from the dead" before Jesus Christ rose from the dead. Nobody had been born again in the book of John (except Christ being the firstborn out of the dead). Therefore it can be objectively proven that these verses are erroneously interpreted. In addition, the verses used to establish "total depravity" have also been taken out of their context and given an erroneous interpretation. You can't build a true doctrine upon unbiblical definitions, erroneous interpretations, and faulty presuppositions (i.e. slavery to sin = bondage of the will.... and as we see, no man was set free from slavery to sin until they were united by baptism (given by Jesus Christ, not water) into Christ's crucifixion and death).
How do you place regeneration before the resurrection when Peter tells us clearly that men are born again through the resurrection of Jesus Christ from the dead?
Why do you neglect the entire context of John 3 (vs. 9-18) when you teach about the new birth?

Response:
Actually, John 3 demonstrates the necessity of regeneration to enter the kingdom. Read it again. No one can either see or enter the kingdom unless they are first born again.
All men are required to believe the gospel. God commands everyone to repent and believe the gospel. A command (imperative) does NOT tell us what man can do but what he ought to do. John 3:19, 20 puts it all in perspective. Men are required to believe BUT men love darkness and hate the light and will not come into the light. But whoever does what is true comes to the light, so that it may be clearly seen that his works have been carried out (wrought) in God."
Are you going to honestly tell me that a person can obey the command to believe the gospel apart from any grace... apart from the work of the Holy Spirit? Because this is what you are, in fact, doing.
Also as for the timing of regeneration, all people in both old and new Testaments were saved by the death and resurrection of Jesus Christ. To declare otherwise is to trust in human merit and achievement as if salvation occurred differently in old and new Testaments. One by works and the other by grace. But the Bible declares that the gospel was preached to Abraham beforehand (Galatians 3:8). And God explicitly declares in the book of Deuteronomy the necessity of regeneration by the people of the Old Testament to obey him. "...And the LORD your God will circumcise your heart and the heart of your offspring, so that you will love the LORD your God with all your heart and with all your soul, that you may live." (Deut 30:6) Notice clearly the order. Circumcision of the heart comes prior to obedience and life.
Lastly, I would challenge you to interact with the clear declarations of Jesus that regeneration precedes faith.
"All that the Father gives me will come to me, and whoever comes to me I will never cast out." (John 6:37)

No one can come to me unless the Father who sent me draws him. (John 6:44)

It is the Spirit who gives life (quickens, regenerates); the flesh is no help at all. ..."This is why I told you that no one can come to me unless it is granted him by the Father." (John 6:63, 65)
Simply put, no one can believe in Jesus unless God grants it and all to whom He grants it will believe. The Spirit quickens [regenerates], the flesh counts for nothing. See my essay here on these verses in John 6 which demonstrates that regeneration is intimately tied to (and the direct cause of) faith and that salvation is by Christ alone, utterly abolishing any remote possibility of synergism. Christ not only commands us to believe but gives us what He requires of us: a new heart to believe. The reason why one person believes the gospel and not another is not because one person was more prudent or wise but because of the grace of God in Jesus Christ alone.
Among whom are Hymenaeus and Alexander
Just today someone wrote to me asking this question:
Pastor John, some people look at the verses in 1 Timothy 1:18-20 and say that if Hymenaeus and Alexander once had faith, but now have shipwrecked it, we must conclude that one can lose true faith in Christ. How would you respond to this claim? Is there more that can be said about these two men, besides, "Since other Scriptures teach perseverance, then we must assume that the faith of Hymenaeus and Alexander must have been a mere profession"?
I sought to provide an answer here. I hope it can be useful to others. - JS
Understanding Hebrews 2:9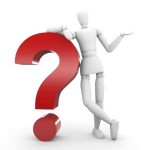 Pastor John, I am studying the Doctrines of Grace, but am struggling with the concept of the "L" in the TULIP, namely "Limited Atonement" because Hebrews 2:9 says that Jesus tasted death for everyone. Does this not refute the idea or you able to explain this verse?
Thanks for your question. I can understand your struggle as I also found the "L" doctrine the most difficult one to grasp. That is not because the Bible is unclear. I don't believe that is the case at all. My problem was that I was reading the Bible with a traditional lens, so to speak. Thankfully, what was once fuzzy to me is now extremely clear. Christ is a powerful and perfect Savior!
The whole issue revolves around what exactly was in the mind of God from all eternity in the cross of Christ. In sending His Son to die on the cross, what was God's intention? Was He merely trying to save as many people as He could, hoping that man would take Him up on the offer, or was He actually securing salvation for those He chose to redeem?
More here.
Are Arminians Saved?
I seek to provide an answer here. - JS
How Do You Know if You are One of the Chosen?
Question: I'm curious.. if you don't believe everyone has a chance to be saved.. what makes you believe you yourself might be one of god's "chosen" and those not chosen to get into god's nightclub.. do they just get to go to hell?
Response: We can know if we are chosen if we believe the gospel. That is a clear sign that God has done a work of grace in our heart. Salvation is all of Christ and you must obey the command to believe. But you do cannot attribute your repenting and believing to your own wisdom, prudence, sound judgment, or good sense. Give glory to God for all that you have, including those things...
Further, we must remember that all of us without exception are justly deserving of hell. So God is not obligated to save anyone. It would be just if he passed us all over. But he has mercy on many and it does not depend on man's will but on God's mercy (Rom 9:16). If God were obligated to save everyone it would no longer be mercy. Salvation is by Christ alone, who does everything we need for salvation including giving us a new heart to believe. God's love is unconditional for his people. It is not conditioned upon something he sees us do, or it would no longer be grace.
Consider this: If two parents were standing outside and their disobedient toddlers ran out into oncoming traffic, which one shows love to his child? 1) the parent who stands at the curb and calls out to the child to use his will to get out of traffic or 2) the parent to, at the risk of his life, runs out into the street, scoops up the child to make certain he was safe regardless of the toddlers will at the moment. We all know #2 represent parental love. If this is the case here then how much more with God. He is not concerned first about our will, because he knows better than us. Like these children he saves us in spite of ourselves. Praise God for his great love to us in Christ. - John H
Understanding Romans 8:1
I was asked this question: Pastor John, I am confused. Romans 8:1 tells me that the one in Christ Jesus is no longer under condemnation and yet when I read the King James Version, that is not the case. My heart sinks to think that I have to live a life pleasing to God "in the Spirit" before I can be certain of my standing with God. I can never look at my life for even a day and say I am fully walking "after the Spirit." I have anxious thoughts and sin is sadly a daily reality in my life. I can really identify with Paul's struggle against sin in Romans chapter 7. Yet it would seem that Paul's whole message of justification by faith alone would be destroyed if the King James Version rendering of the Romans 8:1 verse is correct. What is going on? Can you provide any insight here?
I seek to provide an answer here.
Assurance about lost loved ones
I was recently asked this question: "How does knowledge of the doctrine of election encourage/help those who are praying for lost loved ones? So many times, when discussing this doctrine for the first time, people feel discouraged and even desperate over the fact that someone that they love may or may not be elect. How can the truth of God's election encourage someone who is praying that God will save a loved one?"
I seek to provide an answer here. - JS
Q&A with R.C. Sproul & Ligonier Teaching Fellows
Watch as R.C. Sproul and Ligonier Teaching Fellows Sinclair Ferguson, Robert Godfrey, Steven Lawson, and R.C. Sproul Jr. engage in this round-table discussion (May 19, 2011) covering topics such as dispensationalism, regeneration, election, evangelism, and Harold Camping. Very highly recommended.
Understanding Luke 10:13
In Luke 10 Jesus said, "13 Woe to you, Chorazin! Woe to you, Bethsaida! For if the mighty works done in you had been done in Tyre and Sidon, they would have repented long ago, sitting in sackcloth and ashes. 14 But it will be more bearable in the judgment for Tyre and Sidon than for you. 15 And you, Capernaum, will you be exalted to heaven? You shall be brought down to Hades."
In verse 13, Jesus made it clear that if the inhabitants of Tyre and Sidon had observed the same mighty works as those done in Chorazin and Bethsaida, they would have repented.
Someone who wears Arminian or synergistic glasses as they view this text (verse 13) might argue that the Reformed doctrine of Total Depravity teaches that far more is needed than merely the observation of mighty works for someone to repent – it would need the regenerating work of the Holy Spirit – so what would the Reformed response be to this? How are we to understand Jesus' words?
It's a good question, and just for fun, I thought I would call Dr. James White on his live dividing line program earlier today to see what kind of answer he would provide.
Though we don't get to spend a whole lot of time together, James and I are good friends and he starts out by calling me Silly Brit 2.
You might ask, "Why Silly Brit 2?"
I believe the answer is quite simple in James' mind; the name Silly Brit 1 was already taken!!
Being called "Silly Brit 2″ though prompted a response from me, which was somewhat .. well… silly.
I immediately took the opportunity to start speaking with a quite outragous Chinese accent (which James, for some reason, mistakenly thought was Japanese), assuming the identity of a man named Zacky Poo Poo, telling James I would no longer be delivering sausages to him because he is a very poor tipper!
Yeah.. and its kinda downhill from there!!
But the answer James eventually provided to my question was well worth hearing.
If all you wish to do is hear the question and answer interaction between myself and James, once the program starts you can move the audio recording on to about the 16 or 17 minute mark. However, it's an excellent show and I especially enjoyed James' comments regarding Rob Bell later in the program.
You will find the program at this link. - JS
Ask R. C. Live (Part 1)
Tuesday, November 30, 2010, marked the first official session of Ask R.C. Live, a special event where Dr. Sproul answers questions from an online audience. Students were able to submit their questions via Facebook and Twitter leading up to and during this 45-minute session. The questions included:
Being reformed and committed to the doctrine of God's Sovereignty, why is it that the vast majority of Christians in our day seem more influenced by an Arminian theology?
Does God have two wills?
Do we violate the second commandment when we make images of Christ?
What is the biblical way to leave a Church? What doctrinal issues would rise to the level of making it prudent or even necessary to do so?
What are the means by which your writing and communication skills have been shaped?
How can I be sure of my salvation?
What is the official stance of the Roman Catholic Church concerning justification (and where can I find it)?
Should women be ordained or have governing authority in the Church?
Enjoy Dr. Sproul as he answers these questions in this video below. - JS
Ask R.C. Live (Nov. 30, 2010) from Ligonier on Vimeo.