ESV Greek Tools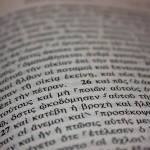 This online resource is an excellent way to interact with the Greek text of the New Testament with advanced searches, intuitive design, parsing, interlinears, etc. It's only $10 for lifetime access, and can do most of the things that you'd pay hundreds of dollars for elsewhere. (The price goes up to $14.99 on May 1).
You can try it for free at ESV Online, under the Content tab. Or you can purchase it at crossway.org/GRKTLS.
You can see a video introduction and some explanation below:
ESV GreekTools from Crossway on Vimeo.

ESV GreekTools puts the original language of the New Testament into the hands of beginning and advanced students, as well as seasoned pastors, scholars, and laymen looking for an affordable and accessible Greek reference tool. Intuitive, easy-to-use, and fully customizable, ESV GreekTools is an online application available through the ESVBible.org platform. Now you can do serious work with the Greek text, at home or on the go, no matter your level of proficiency.
Features:
•Complete NA27 Greek text
•ESV interlinear and reverse-interlinear renderings of the text
•Complete data set for each word, including lexical data, contextual and morphological information (including parsings), and Strong's number.
•Powerful search tool that lets users search by Greek word, transliterated Greek word, Strong's number, English word, or any combination of those values
•Complete English and Greek concordances
•Customizable interface that works seamlessly with other ESVBible.org features, including study resources and notes.
Helpful documentation and instructions can be found here.
HT: JT
A Bible Overview Series Recommendation
Do you have a strategic grasp of the main things taught in the Bible? Do you wish for good resources for teaching your teenage children? Need ideas for teaching an adult Sunday School Bible class? Do you want a resource that will help people understand the main contours of the Bible?
As a father, there is nothing more important to me than teaching my children the word of God. In my role as pastor, that is also true for the people I serve. If I could recommend only one product to help in that task it would be the 57 Lecture (each lasting 23 minutes) "Dust to Glory" DVD series by Dr. R. C. Sproul. I use the series with my own teenage children and have been so impressed with the tangible benefits I am seeing. I wish this series was in the home of every Christian family or Church library and used often.
Dr. J. Ligon Duncan, III, Senior Minister, First Presbyterian Church, Jackson, Miss. says this about the series, "Never before has there been a greater need for Christians to know their Bibles than now. And yet, we know them less well than we have at any time since the Reformation. That's one reason that I am so delighted to commend R.C. Sproul's Dust to Glory. It gives you the big picture — the major themes, events, and people of the Bible — the very thing we need to help us know our Bibles better. And it does so in a gripping, memorable way. Know your Bible better. Start here."
Being such a comprehensive Bible overview (57 lectures by Dr. Sproul), I realise that the series is definitely a financial investment, but one that I believe will pay for itself many times over. I am glad to see that there is currently a special price available from Ligonier Ministries. Though normally $142.50, the DVD series is currently available for $95.00. - JS Buy "Dust To Glory" by R.C.Sproul. Shop Now!
Free Online Study Bible Resource
The Holman Christian Standard Study Bible is now available as an online resource for free. Though I am a novice in terms of using the HCSB, one noticeable and remarkable feature is that if you scroll your mouse over the words in the biblical text, you can see the Hebrew and Greek words and definitions and other important information about where else you will find that word in the Bible. This website is definitely something to bookmark and use, found here. (Since posting this, John Hendryx made a very good observation in the comment section below. I would agree and although I would still recommend the useful Hebrew and Greek word feature of the site, would caution discernment concerning the study notes). - JS