If God Wills
Providence: God rules over nations and empires as well as each sparrow that falls to the ground. In the good and the hard things of life, God is working out His eternal purposes, for the good of His people and His glory.
Acts 18:12-28
I Have Many In This City
Acts 18:1-11
On leaving Athens, Paul comes to Corinth and finds a place to live, a place to work, and a place to preach. Perhaps discouraged at the thought of what awaited him, the Lord intervened by means of a vision.
Crazy Busy by Kevin DeYoung
I am the worst possible person to write this book.And maybe the best. My life is crazy busy. I don't say that as a boast or a brag. I'm not trying to win any contest. I'm just stating the facts. Or at least describing the way my life feels almost every single day. I often made the quip, "I'm supposed to write a book on busyness, if only I could find the time." And I wasn't joking. How did I get this way? How did you get this way? How did we all get this way? I've yet to meet anyone in America who responds to the question "How are you?" with the reply, "Well for starters, I'm not very busy."
I suppose there must be a six year- old somewhere out there who doesn't "have anything to do" and some dear folks at the nursing home who could use a few more interruptions, but for almost everyone in between there is a pervasive sense of being unrelentingly filled up and stressed out. I do not write this book as one who has reached the summit and now bends over to throw the rope down to everyone else. More like the guy with a toehold three feet to the ground, looking for my next grip. I'm writing this book not because I know more than others but because I want to know more than I do. I want to know why life feels the way it does, why our world is the way it is, why I am the way I am. And I want to change.

Same Kind of Busy as You
As long as I can remember—which takes us back eons and eons, all the way to the 90s—I have been busy. In high school I ran track and cross-country, played intramural basketball, did National Honor Society, tried the Spanish club, took multiple AP courses, played in our insanely time-consuming marching band, sang in a musical, and did church twice on Sunday, Sunday school, youth group, and a Friday morning Bible study. No one made me like this. My parents didn't force me (though church was not up for discussion). I wanted to do all these things. In college I did even more. I ran a season of track, played intramural sports, worked part-time for various professors, organized one of the country's largest Model UN programs (yes, it's true), signed up to be a DJ at the campus radio station, led our Fellowship of Christian Students group, went to voluntary chapel three times a week, sang in a church choir, sang in the college chapel choir, participated in my church's college ministry, helped with Boys' Brigade on Wednesday nights, went to church on Sunday morning, then Sunday school, then evening church, then chapel back on campus late into the night. Same story in seminary.

In addition to normal course work and wading through my denomination's labyrinthine ordination process, I interned at my church, preached regularly, sang in up to three different choirs at the same time, went to an accountability group every week, did the usual with church twice on Sunday, plus Sunday school, plus a midweek catechism class I taught for little kids, plus leading the seminary's missions committee and attending chapels and frequent prayer meetings. I could go on and on. And this is before I was really busy. The only people busier than single grad students are people who aren't single and aren't grad students. All those years in school, except for one semester, I wasn't married. I wasn't in full-time pastoral ministry.
I wasn't blogging or writing books. I wasn't leading elders' meetings. I wasn't speaking anywhere. I wasn't a slave to technology. I didn't have a mortgage to figure out or a lawn to mow or a furnace to fix or a dead raccoon in my fireplace (long story) or weekly sermons to prepare. I didn't have to travel. I didn't have Facebook or Twitter. Hardly anyone e-mailed me. And I wasn't parenting a child, let alone five. On most days, my responsibilities, requirements, and ambitions add up to much more than I can handle. It has since I was a teenager, and only seems to be getting worse.
When someone asks me how I'm doing, my response almost always includes the word "busy." I can think of several moments in just the past couple of months when I've muttered to myself, "What am I doing? How did I get myself into this mess? When will I ever get my life under control? How long can I keep this up? Why can't I manage my time? Why did I say yes to this? How did I get so busy?" I've bemoaned my poor planning and poor decision making. I've complained about my schedule. I've put in slipshod work because there wasn't time for any other kind. I've missed too many quiet times and been too impatient with my kids. I've taken my wife for granted and fed important relationships with leftovers. I've been too busy to pursue God with my whole heart, soul, mind, and strength.In other words, I've likely been just like you.

The Inflexible Schoolmaster
The Protestant Reformers were so certain of the importance of this doctrine (of Law and Gospel) that they declared that without it no one would be able to make sense out of Scripture. Martin Luther even declared of the person ignorant of this distinction that "you cannot be altogether sure whether he is a Christian or a Jew or a pagan, for it depends on this distinction." - Hermann Sasse, Here We Stand: Nature and Character of the Lutheran Faith, trans. by Theodore G. Tappert, (New York: Harper & Bros., 1938). p. 114.
Elsewhere Luther wrote, "Whoever knows well this art of distinguishing between the Law and the gospel, him place at the head and call him a doctor of Holy Scripture."
"The true knowledge of the distinction between the Law and the Gospel is not only a glorious light, affording the correct understanding of the entire Holy Scriptures, but without this knowledge Scripture is and remains a sealed book." - C.F.W. Walther, The Proper Distinction Between Law and Gospel.
Theodore Beza said that "confusion of law and gospel is one of the principal sources of the corruptions in the church." Ursinus, primary author of the Heidelberg Catechism, said the same.
The Bible will be an impenetrable mystery as long as we are confused about this.
Name Above all Names by Alistair Begg
Sometimes—especially in the United States—people will unintentionally invade our private space just a little by asking, "Do you have a life verse?" We understand what they mean: "Is there a text in Scripture that has been a guide to you throughout the whole of your Christian life?" Some people seem so bold in asking us this question that in whimsical moments we imagine them breaking through the crowds going straight up to the apostle Paul and asking, "So, Paul, do you have a life verse? "Would he say, do you think, "Haven't you read my letters?" Perhaps the verse that comes nearest to Paul's "life verse" is Philippians 3:8: I count everything as loss because of the surpassing worth of knowing Christ Jesus my Lord.

In simple terms he says, "I want to know Christ." That was not merely a personal testimony, for Paul assumes this should be the life testimony of every Christian. He goes on to say: Every one of you who thinks about himself as a mature Christian should think this way. And if you think otherwise, then God will lead you back to this by his grace

This is the conviction that drives each of these chapters. So, having seen what is involved in Christ being prophet, we now turn to reflect on what it means to have him as our priest. "Priest" is the only title given to Jesus that has virtually an entire book of the New Testament devoted to explaining it—the letter to the Hebrews. Hebrews is an anonymous letter. Its author describes it as a brief word of encouragement or exhortation.2 Central to this encouragement is his exhortation to "Consider Jesus," to be "looking to Jesus"—and especially to see him as our high priest. Why was that important to these Hebrews? They had experienced the same trials as Paul did when he became a Christian. First, they would have been disinherited. They "suffered the loss of all things." That must have been the fate of many Jews who had come to faith in Jesus as the Messiah.
Still today when a member of a strict orthodox Jewish family becomes a Christian, he or she may be literally disinherited. So, clearly, many of these young Christians had suffered great material privation as the result of their faith in Christ. Not only were they personally disinherited, but they were both socially and spiritually excommunicated. Put yourself in their shoes. You are a solid, law-abiding citizen of Memphis, or Columbia, or Cleveland, or Edinburgh, or London—or wherever. But because of your commitment to Jesus Christ, you are disinherited. What automatically follows? You become persona non grata in all the societies, clubs, networks, and social friendships (and children's schools!) that have made up the
fabric of your life.
All that is now closed to you. You are excommunicated from family and society. In addition there is the place of worship you attended from childhood. Its people, services, ceremonies, songs, liturgy, and all its activities were deeply ingrained in your life. Only now, when you are no longer there, do you realize the extent to which these things defined your identity. But now you are no longer welcome there. That church—still standing there as a reminder of the community that reared you and the identity you once had as part of it—is one you are no longer a part of. Instead you now meet with a number of others in the sitting room of a friend. All the things you used to enjoy—once so "meaningful" to you—rituals, officiating ministers, liturgies, music, worship ensembles, large crowds, special days of celebration—they are all gone.
Now you meet in someone's house, and they don't even have a piano! That was the situation of the first readers of Hebrews. No longer was their worship marked by the grandeur of the temple, the mass choir, the special moments. No longer did they catch sight of the high priest—the only man who, once a year, on the Day of Atonement, was allowed to enter the sacred room to seek God's forgiveness
for the people. No longer do they wait for him to reappear and raise his hands in the historic words of the Aaronic blessing, assuring them of the Lord's benediction and his peace because "there is forgiveness with him." That visible sense that their sins had once again been covered and that the face of God was smiling upon them as his covenant people—it is all gone, never to return unless . . .
Unless what?
Unless they go back. Some of them were tempted to go back. Perhaps you are in a church that the whole congregation loves deeply, where the worship is God-centered, the preaching biblical, the fellowship caring, the vision for world missions strong, and the spiritual needs of the flock met. You have had dear friends whose company moved them to another location. They look for a new church home. But whenever you speak on the phone with them and ask how they are doing, they say, "Fine, except . . . oh, if only we could be back again in our old church; we just can't find anything like it here!" That was the situation for the first readers of Hebrews. In former days they could see and touch and even smell the worship services—the great company of people, the music, all of the glorious aspects of Old Testament worship that God had given. Now it was all gone. Was it all gone—for nothing? What was the answer? How could the author of Hebrews write anything to encourage them in this situation? His response is to say:
Don't turn back. If you are tempted to it, then you have been looking in the wrong direction. You have been seeing things from the wrong perspective! You are not looking far enough! You're not seeing clearly enough! Don't you see what is really important? Get your eyes o" buildings and liturgies and crowds and
music. Fix your eyes on Jesus!

Listen to some of the things he says about Jesus to encourage
them:
1) They have a great high priest:
Since then we have a great high priest who has passed through the heavens, Jesus, the Son of God, let us hold fast our confession. For we do not have a high priest who is unable to sympathize with our weaknesses, but one who in every respect has been tempted as we are, yet without sin. Let us then with confidence draw near to the throne of grace, that we may receive mercy and find grace to help in time of need.
2) They have a real salvation:
The former priests were many in number, because they were prevented by death from continuing in office, but he holds his priesthood permanently, because he continues forever. Consequently, he is able to save to the uttermost those who draw near to God through him, since he always lives to make intercession for them.
3) They have a perfect high priest:
For it was indeed fitting that we should have such a high priest, holy, innocent, unstained, separated from sinners, and exalted above the heavens. He has no need, like those high priests, offer sacrifices daily, first for his own sins and then for those of the people, since he did this once for all when he offered up himself.
4) They have a better high priest:
They [the high priests of Israel] serve a copy and shadow of the heavenly things. . . . But as it is, Christ has obtained a ministry that is as much more excellent than the old as the covenant he mediates is better, since it is enacted on better promises

'De-Greecing' the Greeks!
Acts 17:16-34
The Greeks in Anthens had no Biblical foundation upon which Paul could build. His sermon masterfully illustrates how to reach a culture that embraces every new philosophy as truth. A message for our times.
Italian Translation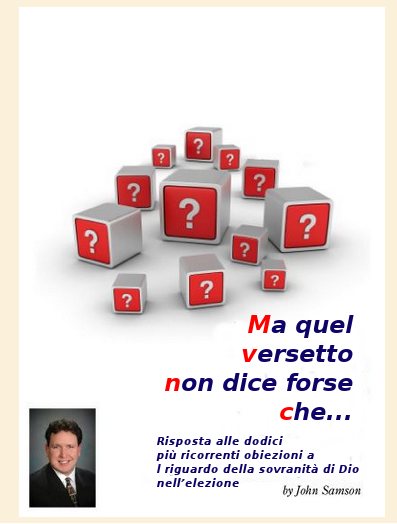 Big News Today:
A brother in Christ, Paulo Castellina, has just finished translating my book "Twelve What Abouts - Answering Objections Concerning God's Sovereignty in Election" into the Italian language. It is available to read free of charge online. May God be pleased to use it widely in the Italian speaking world and serve the cause of reformation within the Church in Italy.
Here's the link to the Italian version of the book.
The Benefits of Essentially Literal Bible Translation
Dr. Wayne Grudem - The Benefits of Essentially Literal Bible Translation with Special Reference to the ESV.
Dr. Wayne Grudem - Benefits of Essential Literal Bible Translation from The Gospel Coalition AZ on Vimeo.
Resource: If watch at the 1 minute 45 second mark (for less than 90 seconds), you will see Dr. Wayne Grudem highly recommend a legal resource that could be immensely helpful in protecting our churches from lawsuits regarding sexual orientation and gender identity – something that could well be an issue in every state after June's U.S. Supreme Court ruling.

Here's the link to the resource mentioned in an online form:
http://www.alliancedefendingfreedom.org/content/campaign/2014/church/SOGI-Handbook.pdf

On Guard: Preventing and Responding to Child Abuse at Church by Deepak Reju
pg. 4
In the movie Grand Canyon, Kevin Kline plays the role of an immigration lawyer who flees from a bumper-to-bumper traffic jam by heading down a side street. Within just a few minutes, a rather predictable Hollywood scenario unfolds: An upper-class lawyer driving a fancy car stalls in a dangerous neighborhood. He calls for a tow truck, but while he waits, a street gang surrounds his car and starts threatening him.
The tow truck soon arrives, and the old driver starts to hook up the disabled car, much to the chagrin of the gang members. "What are you doing, old man? Can't you see you are spoiling our fun?" protests the gang leader.
Taking him aside, the driver explains, "Man, the world ain't supposed to work like this. Maybe you don't know that, but this ain't the way it's supposed to be. I'm supposed to be able to do my job without askin' you if I can. And the dude is supposed to be able to wait with his car without you rippin' him off. Everything's supposed to be different than what it is here."
Welcome to the cold, hard reality of life in a corrupt and sinful world.
Not the Way It's Supposed to Be
In the beginning, it wasn't this way. God made the world, and everything he made, even the first man and woman, he deemed "good" (Genesis 1:5, 12, 18, 21, 25, 31). But quickly things went wrong as Adam and Eve chose to listen to the words of the serpent rather than trust in God (Genesis 3:1–13). Sin entered the world through the first couple and has been passed on to every generation since then.

The Bible explains to us why this world is not the way it is sup-posed to be—sin entered the world and corrupted everything. That's right—everything. No one and nothing escapes its evil grasp. The apostle Paul wrote, "There is no one righteous, not even one; there is no one who understands; there is no one who seeks God. . . . For all have sinned and fall short of the glory of God" (Romans 3:10–11, 23).
Every human being is a sinner. No one escapes the curse of Genesis 3. Sin has corrupted every part of our human existence—our thinking, our actions, our desires, our plans, our hopes, and our dreams. Our nature is sinful from birth (Psalm 51:5). Every bit of who we are is affected.
It is no surprise, then, that some adults will do unspeakably wrong things to children. In a fallen world, one sees and experiences all kinds of evil. Some men and women are so distorted by sin that they willingly commit atrocious acts against innocent children. I am going to call these people by a variety of terms—sex offender, child abuser, or perpetrator. Sometimes I will even call them sexual predators because that's exactly what they are—evil people who deliberately prey on kids.
Abuse and Moral Authority
Child abuse can be defined as any act or failure to act resulting in imminent risk, serious injury, death, physical or emotional or sexual harm, or exploitation of a child.
God has entrusted the care of children to parents (and extended family), which means they have the moral responsibility to protect, feed, mentor, care for, and love their children. There is also a more general sense in which God has given moral responsibility to adults. Church members care for other people's kids in children's ministry; teachers guide children through their education; community baseball and soccer coaches encourage and equip kids with skills in a particular sport. Even an adult passing by a child lying hurt in the street will feel more than just the tug of a good Samaritan; he will feel a natural impulse to help someone who is weaker and more vulnerable than himself.
God has given parents a unique authority over their children, but in some sense, he has given any adult who watches over a child— a teacher, coach, babysitter, or even a fellow church member—a level of responsibility and authority for that child. Every good authority reflects God; and every bad authority speaks a lie to children about God and who he is. When any adult—relative or otherwise—abuses a child, it is a violation of the moral authority entrusted to adults. Abuse is antithetical to an adult's God-given charge to care for kids. To put it more bluntly: Abuse in any form is wrong. There is never an excuse to abuse a child.
Show Me the Numbers
To get a greater sense of the problem, a quick statistical overview of child abuse is helpful:

There are approximately 747,000 registered sex offenders in the U.S. alone.
There are more than 100,000 sexual offenders who fail to report every year.
As many as one in three girls and one in four boys will be sexually abused at some point in their childhood.4
Approximately thirty percent of all cases are reported to authorities—meaning that seventy percent never get proper attention or prosecution.
Over 63,000 cases of child sexual abuse were reported in 2010.
Offenders typically prey on children they know, not strangers. Most perpetrators are acquaintances, but as many as forty-seven percent are family or extended family.