« ...and raised us up with Him | Main | The Importance of Predestination »
The Shepherd's Responsibilities
One of the many reasons God calls each individual Christian to be part of a local Church is so that they are properly shepherded. God has ordained that each of His sheep is cared for and nourished and although outside ministries can supplement a believer's spiritual intake, the scriptural responsibility lies with a group of local male elders to properly care for the flock.
Paul, speaking to elders from the city of Ephesus said, "Pay careful attention to yourselves and to all the flock, in which the Holy Spirit has made you overseers, to care for the church of God, which he obtained with his own blood." (Acts 20:28)
It is interesting that the Greek word ποιμαίνω (poimaino) is here translated as "care for" in the ESV while other translations use the word "feed." A better translation would be "shepherd."
Local Church elders are given the task of shepherding the sheep which means taking responsibility for the total well being and welfare of each sheep under their care. "Shepherd the church of God, which he obtained with his own blood."
There are four main tasks for a shepherd.
(1) Feeding - Providing a safe place for sheep to eat healthy food
"The Lord is my Shepherd I shall not want. He makes me lie down in green pastures." - Psalm 23

(2) Shearing
Shearing is generally carried out in the spring, so sheep don't become overheated in the summer. A long fleece is likely to become dirty and drag along the ground, increasing the possibility of flystrike.
A bulky fleece decreases the mobility of sheep.
In hot weather, sheep with too much wool are extremely susceptible to heat stress!!
Shearing keeps stained wool and mud-contaminated wool separate from new fleece growth.
Shearing can be stressful for sheep and it therefore requires skill to shorn efficiently and quickly, without causing harm to sheep or shearer.

Because newly shorn sheep become colder faster, its important to place them in paddocks with windbreaks and plenty of pasture.
The best time to apply louse and flystrike prevention treatments is right after shearing.
Providing sheep with coats or covers are a good option on small farms when the weather is cold or wet.
(3) Dipping
This task might appear cruel to outsiders who have no knowledge of shepherding, but it is an act of love and care, ridding the sheep of harmful bacteria and insects that would inevitably, over time, cause great harm to the sheep. Sheep dip is a liquid formulation of insecticide and fungicide which shepherds use to protect their sheep from infestation against external parasites such as itch mite (Psorobia ovis), blow-fly, ticks and lice.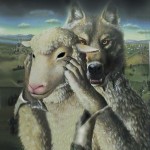 (4) Defending the sheep against attack from wolves
The Apostle Paul was very much aware of this danger and constantly warned the Ephesian elders of this:
Acts 20:29 I know that after my departure fierce wolves will come in among you, not sparing the flock; 30 and from among your own selves will arise men speaking twisted things, to draw away the disciples after them. 31 Therefore be alert, remembering that for three years I did not cease night or day to admonish everyone with tears.