« Meet the man behind the website | Main | Misunderstanding Vatican II by R.C. Sproul »
If you are in the Phoenix, AZ area...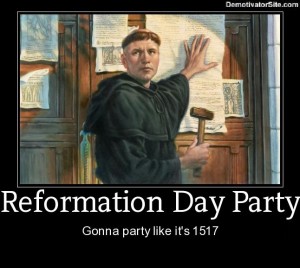 POST TENEBRAS LUX - AFTER DARKNESS, LIGHT
REFORMATION POT LUCK
If you are anywhere near Phoenix, Arizona this Sunday (October 28) you are more than welcome to join us for a special pot luck event in celebration of Reformation Sunday.
The last Sunday in October is traditionally the time when evangelicals remember how God brought the clarity of the Gospel back to the Church when Martin Luther (on October 31, 1517) nailed his 95 Theses to the door of the Wittenburg Church in Germany, sparking the Protestant Reformation.
Start time is 11:00 am. We will join together in singing praises to our God and then start watching an excellent 6 part DVD series called "Reformation Profiles" by Dr. Stephen Nichols. People new to Reformed theology may wonder just what it was about a five-hundred-year-old historical movement that affects our thinking so much today. So join Dr. Nichols for an inviting, approachable take on "Reformation 101." More than a history lesson, each session highlights one of the main personalities of the Reformation (including Luther, Calvin, Zwingli and Lady Jane Grey) and is just 23 minutes in length. These men and women affirmed the fact that on the sure foundation of God's word alone, justification is by grace alone, through faith alone, because of Christ alone, all to the glory of God alone.
Each character is seen in their historical context and then tied to one of the solas, making these vital doctrines come alive, as we come to understand how standing for these truths was a matter of life and death. Dr. Nichols helps believers understand why the Reformation mattered then and matters now.
Session titles:
Why the Reformation Matters
Sola Scriptura: Martin Luther & The Rediscovery of the Authority of Scripture
Sola Gratia: Ulrich Zwingli & the Rediscovery of Grace
Sola Fide: Lady Jane Grey & the Rediscovery of Justification by Faith
Solus Christus: John Calvin & the Blessing of Christ Alone
Soli Deo Gloria: Glorifying God in Everything
In between the teaching sessions there will be lots of great fellowship and great food.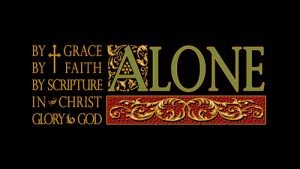 ALL ARE WELCOME. If you share a passion for the Gospel and enjoy meeting like minded people, we'd love for you to join us. We aim to finish our time together by mid afternoon.
Further details here. - John S