« Irresistible Grace (2 Quotes) | Main | Exile to New Creation in John's Gospel (Part 2) »
Precious one...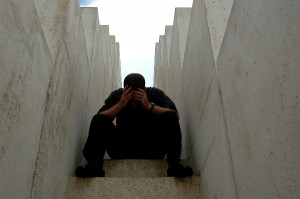 Have you ever been deeply hurt, totally ignored by somone you thought was a friend; or worse, even betrayed by them? Just remember, not only does God come very close at such times, but He is also preparing you to help others.
Think about it - who is the best person to help an alcoholic? A former alcoholic, right? Who is the best person to help a widow in their grief? Someone who has read a few books, or someone who has been through the incredible trauma of watching someone they love, slowly ebb away? We all know the answer.
Pour out your heart to the Lord. Let Him come near. Let Him touch you and heal your obvious wounds. Open your heart to the One who works all things, yes, even this, for your good. Allow His word to be your comfort, your strength, your sure guide in the midst of the storm. Let His word be the foundation under your feet when nothing else makes sense. Read the Psalms. See how men of God poured out their soul to the One who cannot be fully fathomed by human minds. And yet, each found Him to be the rock - the sure thing - perhaps the only sure thing in their lives. They found Him to be a shield, a fortress, a strong tower of hope. May I encourage you to do the same? As you do, you will know the Author of the word in a dimension unknown to you before. You will know how great a comfort God is; that is is ever faithful and true. Then see what doors He opens up for you to help other hurting people around you.
Precious child of God - just remember, God is a loving Father. I know you know that already. You have heard it thousands of times before, but right now, I believe as the hours slowly drag into days, and those long days roll into weeks, it will not be long before you will know this truth far more deeply than you do right now. He will get you through this.. you really will come out the other side... and when you do, He will have people cross your path who will want to know what got you through the darkest night of the soul. Its called Christian ministry.
Luke 22:31 "Simon, Simon, behold, Satan demanded to have you, that he might sift you like wheat, 32 but I have prayed for you that your faith may not fail. And when you have turned again, strengthen your brothers."
2 Corinthians 1:3 Blessed be the God and Father of our Lord Jesus Christ, the Father of mercies and God of all comfort, 4 who comforts us in all our affliction, so that we may be able to comfort those who are in any affliction, with the comfort with which we ourselves are comforted by God.
- JS