Top 10 Books on the Bible's Authority by Michael J. Kruger
One of the most enjoyable aspects of speaking to different groups on the reliability of the New Testament is the Q&A time. It is an exciting (and risky) affair because you never know what you are going to get. Then again, sometimes you do know what you are going to get. Over the years, one question has been asked more than all others combined: "What are the best books to read on the authority of the Bible?"
Due to the popularity of that question, I have compiled an annotated list of the 10 best books on this topic. It goes without saying that such a list is highly selective (and debatable). So many good books deserve to be included. But my list is guided by these main criteria: (a) books that focus on the theological side of biblical authority and not as much on the historical evidences for the Bible's history (though some overlap is inevitable); (b) books that are "modern," meaning they have been written sometime between the Reformation and the present (otherwise, many patristic works would make the list); and (c) books that are rigorously orthodox (Karl Barth's Dogmatics is not on the list despite the fact that it has been influential on the modern church's view of Scripture).
With these criteria in mind, let's take a look at the top 10:
10. D. A. Carson and John Woodbridge, eds., Scripture and Truth (Baker, 1983); idem, Hermeneutics, Authority, and Canon (Zondervan, 1986).
Even though this first entry technically includes two books, I am regarding them together since the same authors edited both of them. I appreciate that these books gather together some of the best evangelical scholars who cover a wide variety of contemporary issues related to biblical authority. There are essays from theological, philosophical, historical, hermeneutical, and exegetical perspectives. Although some of the essays need to be updated (some are 30 years old), they constitute an indispensable treasure trove of material on the authority of the Bible.
9. Herman Bavinck, Reformed Dogmatics: Prolegomena (vol. 1): Part IV: Revelation (Baker Academic, 2003).
I don't prefer to use systematic theologies in this list, but Bavinck's work is too important to pass up. Bavinck originally published his Gereformeerde Dogmatiek from 1895 to 1901, and we are blessed to have it translated into English. It provides the quintessential introduction to a Reformed view of Revelation and Scripture, and one can hear echoes of Bavinck for generations to come in major scholars such as Geerhardus Vos, Cornelius Van Til, Herman Ridderbos, and Louis Berkhof. If you find these Dutch theologians difficult to understand then go back and read the one on whose shoulders they are standing: Bavinck.
8. E. J. Young, Thy Word Is Truth (Banner of Truth, 1963).
Young was a vigorous defender of the authority of Scripture, and this book embodies the ethos of his scholarship. It focuses primarily on the extent of inspiration (against those who try to limit it), and the doctrine of inerrancy (against those who suggest the Bible makes mistakes). This book lays out the foundational truths about the authority of the Bible in a clear and compelling manner. Young even covers a number of alleged contradictions and offers helpful solutions. All pastors should read this book.
7. Ned Stonehouse and Paul Woolley, eds., The Infallible Word: A Symposium by the Members of the Faculty of Westminster Theological Seminary (P&R, 1946).
This fine collection of essays by the faculty of Westminster is too frequently overlooked. With articles from Murray, Young, Stonehouse, and Van Til, and a foreword from D. Martyn Lloyd-Jones, it is difficult to know how it has been forgotten. The most important article is the first, by John Murray, where he lays out the self-attesting nature of Scripture and the internal testimony of the Holy Spirit that helps God's people identify Scripture. In a world where most defend the authority of Scripture purely on the basis of historical evidence, Murray brings a refreshing and welcome perspective. Our doctrine of Scripture needs to include serious reflection on the issue of Scripture's self-authentication, and this volume is the place to start.
6. J.I. Packer, 'Fundamentalism' and the Word of God (Eerdmans, 1958).
This little book is one of my all-time favorites. It is small, but it packs a punch. The book is written in the context of the early 20th-century controversies over "fundamentalism" and whether we can (or should) still embrace traditional beliefs about the authority of the Bible. Carefully, patiently, and methodically, Packer walks through all the key issues related to these debates and impressively defends the traditional view. This is a great book to give to a fellow Christian struggling with these issues.
5. William Whitaker, Disputations on Holy Scripture (Soli Deo Gloria, 2000).
Don't let the date of this book fool you. Whitaker lived from 1547 to 1595, during the height of the Protestant Reformation, and dedicated the book to William Cecil, chancellor of Cambridge University. This book is a masterful defense of the Protestant view of the Bible. Whitaker spends considerable time defending the self-authenticating nature of Scripture and contrasts it effectively with the Roman Catholic approach. This book is also overlooked in many discussions and deserves a much wider reading. Thanks to Soli Deo Gloria publishers, we don't have to try to read it in Latin.
4. John Owen, The Divine Original: Authority, Self-Evidencing Light, and Power of the Scriptures, vol. 16 of Owen's Collected Works (Banner of Truth, 1988).
Moving forward one century from Whitaker, Owen provides one of the finest articulations of the Reformed doctrine of Scripture from the Puritan era. He too focuses on the self-authenticating nature of Scripture and the role of the Holy Spirit, contrasting it with alternative models, particular Roman Catholic. This is vintage Owen: thorough, meticulous, verbose, and utterly profound. Be warned: this is no light beach reading. It is a heavy slog to get through anything Owen writes. But the reward is worth it.
3. Meredith Kline, The Structure of Biblical Authority (1971).
Kline is one of the most original Christian thinkers in the last century, and this book is no exception. He approaches the issue of biblical authority from a distinctive angle, namely the covenantal structure of the Old Testament. Kline argues that the idea of an authoritative text derives directly from God's covenant-making activities. You can't understand the authority of the Bible if you don't understand the nature of the covenant. This is a no-frills book (I still have my original copy from when I had Kline as a professor; pea-green cover and all), but it is truly ground-breaking.
2. John Frame, The Doctrine of the Word of God (P&R, 2010).
If you are looking for a comprehensive, profound, and utterly biblical treatment of the authority of Scripture from a Reformed perspective, then this is the book. This is the fourth installment in Frame's series, A Theology of Lordship, but is really the most foundational volume (although The Doctrine of the Knowledge of God is right up there). There is hardly an issue Frame doesn't cover, or a question he doesn't answer. And his answers are so clear and balanced that it makes you wonder why you ever had that question in the first place. No one is better than Frame at making complex ideas simple (some scholars seem to have the opposite gift). This book is a treasure trove of wisdom that every pastor needs to have on the shelf ready at hand.
1. B. B. Warfield, The Inspiration and Authority of the Bible, with intro by Van Til (P&R, 1948).
Classics are classics for a reason. Warfield's work still stands out today as one of the most cogent, insightful, and helpful works on the authority of Scripture. It aptly represents the ethos of Old Princeton and is the gold standard for a distinctively Reformed view of the Bible's inspiration. Warfield's insights are so applicable to modern-day issues that it is easy to forget the content is more than 100 years old. In addition, Van Til's introduction (68 pages long) is immensely helpful. It provides a presuppositional context for Warfield's work, and reminds the reader that Van Til and Warfield had more in common than some people assume (though there are still differences).

Michael J. Kruger is professor of New Testament at Reformed Theological Seminary in Charlotte, North Carolina, and the author of Canon Revisited: Establishing the Origins and Authority of the New Testament Books (Crossway, 2012). He blogs regularly at Canon Fodder.
HT: Gospel Coalition
Feedback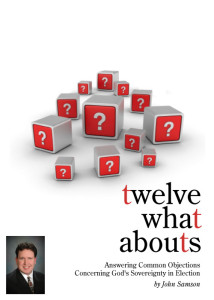 An author is always grateful to receive positive feedback concerning something he has written. I wrote the "Twelve What Abouts" book with the hope that those new to the subject of Sovereign Election, would be able to grasp the concepts clearly. If that goal has been achieved then I give great thanks to the Lord. I just received this letter today from a gentleman named William. - JS
Pastor Samson,

I wanted to thank you so much for you latest book 'Twelve What Abouts.' I just finished reading it and I was so blessed by it.

I am a Reformed Baptist with an MDiv from Southern Seminary and I found your short book to be one of the best responses to objections to Reformed Theology. Not that you have new information, but that you package it in a small, quick book that is to the point. There are many books on Reformed Theology, but most of them are very technical and are not accessible to the average layperson. I loved that your book is very easy to read and your arguments are very easy to follow.

I especially appreciated your chapters on 2 Pet 3:9 and 1 Tim 4:10. I had always heard the two wills theory and just found it somewhat lacking. Hearing your explanation fits the context so much better than other ones. Your explanation of common grace in 1 Tim 4:10 was good as well.

I really like the way you address traditions throughout the book, challenging the reader to consider whether their tradition matches what the text really says.

While I know your book will be read by many within the Reformed community, I hope that its brevity and style might appeal to those on the "other side".

Thank you again for your work and I pray that God will continue to bless your ministry.

Grace be with you,

William Sandell
Jesus on Every Page: 7 Reasons to Study Your Old Testament by David Murray
On the basis of my less-than-scientific survey of Christians' Bible reading habits, I would estimate that the Old Testament forms less than 10 percent of most Christians' Bible reading. Remove the Psalms and Proverbs, and we're probably down to less than 5 percent.
"So what?" many say.
"No great loss, is there?" others shrug.
Let me suggest seven reasons to stop shrugging and start studying the other 60 percent of our Bibles.
1. The Old Testament reveals Christ.
The Old Testament doesn't just "point forward" to Christ; it reveals him. It isn't merely a series of signposts to Christ; his revealing shadow falls on every page, exciting faith and love in believing hearts.
But why linger in the Old Testament shadows when we have New Testament sunlight?
Have you never found it easier to read and be refreshed in shade? Have you never admired the unique and wondrous beauty of the dawn?
Consider the unparalleled revelation of Christ's substitutionary atonement in Isaiah 53. And although the Gospels describe Christ's outer life, the messianic psalms disclose his mysterious inner life, the unfathomably deep emotional and mental struggles of his earthly suffering.
2. The Old Testament is a dictionary of Christian vocabulary.
How do we understand the theological words, phrases, and concepts of the New Testament? If we turn to a modern dictionary, we will import 21st-century Western meaning into ancient Eastern words. Greek lexicons will usually get us closer to the original meaning, but that still assumes the biblical authors were influenced exclusively by Greek culture.
Rather, when we come to a word, phrase, or concept in the New Testament, our first question should be, "What does the Old Testament say?" Remember, the New Testament was originally written by Jews, and much of it was written to Jews. It assumes knowledge of the Old Testament and builds upon it.
3. The Old Testament is a manual for Christian living.
While there is understandable debate over the continuing validity of a small percentage of Old Testament laws, there are 10 clear and unchanging moral principles that God applies in different ways in different contexts: to Israel in the wilderness (Exod. 20), to Israel about to enter the promised land (Deut. 5), and to Israel settled in the land (Proverbs). Jesus and the apostles continue this varied cultural application of these same 10 moral principles for their own generation (e.g. Matt. 5; Eph. 5). All these examples provide models for how to think about and apply these moral principles in our own day.
4. The Old Testament presents doctrine in story form.
God has not only given us laws; he's given us lives. He's incarnated his 10 moral principles in the lives of Old Testament characters, providing us with fascinating biographies to inspire and warn (1 Cor. 10:11; Luke 17:32).
We also see New Testament doctrines worked out in Old Testament believers' lives: through typology we learn most about Christ's priesthood from Aaron, kingship from David, and prophetic office from Moses. Abraham demonstrates justifying faith, Elijah portrays effectual and fervent prayer, Ruth and Naomi display the communion of saints, Job perseveres through the Lord's preservation, and David exhibits how forgiveness and chastisement often go together. And it's all in the vivid Technicolor and Dolby of flesh-and-blood humanity.
5. The Old Testament comforts and encourages us.
As we read the Old Testament narratives, we experience the beautiful comfort and hope that Paul promised would accompany such study (Rom. 15:4). We are comforted with God's sovereign love, majestic power, and covenant faithfulness in his relationship with Israel.
When we know the Old Testament backgrounds of the "Hall of Faithers" in Hebrews 11, we're encouraged to follow their Christ-focused faith and spirituality.
In the Psalms, we're given songs that have comforted and encouraged believers throughout the world and throughout the centuries.
And when we see the way that hundreds of Old Testament prophecies are fulfilled in Christ, our faith in God and his Word is strengthened.
6. The Old Testament saves souls.
The apostle Paul had the highest regard for the Old Testament's origin, nature, power, and purpose (2 Tim. 3:16-17). But the Old Testament wasn't only helpful for Christian living; it gave Christian life. When Paul assured Timothy that "the Holy Scriptures [are] able to make you wise for salvation through faith which is in Christ Jesus," he was speaking of the Old Testament (2 Tim. 3:15). Like the New Testament, the Old Testament also saved (and still saves) souls through faith in the Messiah.
7. The Old Testament makes you appreciate the New Testament more.
For all the Old Testament reveals of Jesus, and of Christian doctrine and experience, we must concede that it also conceals, that there's a lot of frustrating shadow, that there's unfulfilled longing and desire, that there's often something—or rather someone—missing. The more we read it, the more we long for and love the incarnate Christ of the New Testament. The dawn is beautiful, but the sunrise is stunning.
Editors' Note: Learn more about reading and applying the Old Testament from David Murray's new book, Jesus on Every Page: 10 Simple Ways to Seek and Find Christ in the Old Testament (Thomas Nelson, 2013).
David P. Murray is professor of Old Testament and practical theology at Puritan Reformed Theological Seminary in Grand Rapids, Michigan. Murray blogs regularly at Head, Heart, Hand: Leadership for Servants.

New book by Matthew Barrett – Salvation by Grace (P&R)
Matthew Barrett. Salvation by Grace: The Case for Effectual Calling and Regeneration. Phillipsburg, NJ: P&R, 2013.
Foreword by Thomas Schreiner and Bruce Ware.
Book is available at: Amazon and Monergism Books
Book Description:
Salvation by Grace: The Case for Effectual Calling and Regeneration presents a magisterial case that God's grace is monergistic—that God acts alone, apart from human cooperation, to effectually call and sovereignly regenerate sinners. Thus effectual calling and regeneration logically precede conversion in the ordo salutis (order of salvation), thereby ensuring that all of the glory in salvation belongs to God, not to man. The author also evaluates Arminian and modified views of the nature of God's grace in salvation, finding them unbiblical because they fail to do justice to the scriptural portrayal of God's sovereignty and glory in salvation.
The relationship between saving faith and regeneration is vitally important in the biblical doctrine of salvation. It is a watershed issue in the debate between historic Calvinism and historic Arminianism. Although one can savingly believe the gospel without rightly understanding this relationship, the integrity of the biblical witness to the grace of God in that gospel cannot be consistently maintained without recognizing the priority of regeneration in the application of salvation. Dr. Barrett sees this truth clearly and argues persuasively for the monergistic—or Calvinistic—position. His arguments are exegetically careful, theologically rigorous, and historically informed. Monergists will welcome this book as a helpful guide to the issues at stake, and synergists will not be able to ignore its devastating critique of their strongest arguments.
Salvation by Grace: The Case for Effectual Calling and Regeneration from credomag.com on Vimeo.
Continue reading "New book by Matthew Barrett – Salvation by Grace (P&R)" »
My Top 5 Books for 2012
The new year has begun and everyone and their brother is posting their "Top..." list of 2012. Therefore, I thought I would venture into the fray and do the same. I would draw your attention to the title of this entry. It is "my" list. There is bound to be some disagreement and some omissions as many titles have come off the presses this year. However, with that being said, these are the top 5 books that were published in 2012 that I have personally read.
5. The Law of Christ by Charles Leiter.
Whether you adhere to "Covenant Theology," "Dispensational Theology," or "New Covenant Theology" this book will cause you to think well on what it means to serve Christ "in newness of the Spirit and not in the oldness of the letter." Leiter does not tow the party line according to any of these systems, but simply and profoundly unpacks the role of Christ's commands to his church in the life of the church and individual believers. Leiter attempts to look at this matter Christologically and biblically.
4. Transformed by God: New Covenant Life and Ministry by David G. Peterson.
Peterson looks at the New Covenant promise given in Jeremiah. He unpacks its significance in its original context and shows its significance for the New Testament as well as the life of the New Testament church. Peterson does a masterful job of looking at the biblical data regarding the New Covenant and makes clear exegetical conclusions for the life of the New Covenant believer.
3. Sacred Bond: Covenant Theology Explored by Michael G. Brown and Zach Keele.
As someone who believes Covenant Theology to be the architecture of God's unfolding of redemption, there are many times I find myself clarifying what adherents to Covenant Theology really believe. Typically, the follow up question I get is whether or not there is a good book that introduces Covenant Theology. Sacred Bond is my new "go to" book for introducing Covenant Theology. If you are looking for such a book, Brown and Keele write clearly and winsomely on the subject showing why Covenant Theology is important and how its central tenants fit together biblically.
2. The Creedal Imperative by Carl R. Trueman.
Trueman's book is, to be quite blunt, necessary. It is necessary because there is a want for understanding the role of creeds and confessions in the life of the church. It is Trueman's belief, and his burden for writing this book, "that creeds and confessions are vital to the present and future well-being of the church" (p. 12). He looks at the common cultural objection against creeds and looks historical at the development of creeds and confessions. He looks at their usefulness and shows how confessions and praise are intertwined. Whether you are part of a confessional church or not, you need to read this book and think well on its content.
1. Canon Revisited: Establishing the Origins and Authority of the New Testament Books by Michael J.
Kruger.
I don't think I am overstating my belief that this book is in the "Top 10" of my all-time reads. I cannot say enough good things about this book. I read it over vacation this last summer and could not put it down; much to the chagrin of my family at times. Where canonical studies tend to fall more in the category of historical studies, Kruger has given to the church the theological underpinnings of the New Testament canon along with historical matters. This is essential reading for the church. His burden is to show the church that they have a perfectly biblical rationale for accounting for its knowledge of the canon.
Kruger introduces and evaluates the typical models associated with the formation of the New Testament canon. He introduces his view, which happens to be quite biblical and much more satisfying that the other views. Furthermore, he counters many objections that could be leveled at the view Kruger introduces.

That is, my friends, is my Top 5. As I said, I am sure there are others that could be mentioned and probably should be mentioned. These, however, are from the pile of books that I have read this last year. There appears to be a number of excellent titles to be released this year as well.

Gentry-Wellum (KTC) vs. Carson-Schreiner
"Kingdom through Covenant" is a book which spends a great deal of its effort in critiquing traditional Covenant Theology and offering its alternative whole Bible system. As as been demonstrated in the previous article, it's case against CT is largely a straw man. It builds its whole argument with the understanding that CT is "replacement" theology and that CT rejects any idea that there is a "qualitative progression in the manifestation of grace through redemptive history". Since both of these ideas can easily be demonstrated to be false and make up the bulk of their argument against CT, then the entire thesis may be on shaky ground. If their whole argument has gone wrong at such a fundamental level of misrepresentation of the theological system they critique, then the most significant arguments of the book perhaps need to be re-thought through. It is reasonable to assume that to be really qualified to critique someones theology, you cannot misunderstand and/or misrepresent what that theology teaches. In this case, those who erroneously teach that Covenant Theology is "replacement" theology have not really understood it at its most basic level, and therefore their qualifications in critiquing it may be called into question, however educated they may otherwise be.
That does not mean we disagree with Gentry and Wellum entirely. We have posted their articles for years on various topics and we are very happy to agree with KTC in vital areas such as the active obedience of Christ, the covenant of creation (or works) which many other branches of NCT do not embrace. And we agree on many other crucial areas of christology and soteriology. So KTC is a vast improvement upon other forms of NCT. Nonetheless, we cannot actively promote a book which so misrepresents our view.
So why do we carry so many articles and books by folks within the Progressive Covenantal camp? Isn't this inconsistent? We have read and benefited by authors such as D.A. Carson and Tom Schreiner and they have seemingly been great deal more careful, as far as I could read. Instead of spending so much time making a negative case against CT with the obvious misrepresentations, they seem to spend a lot more time building a positive case for their understanding, a great deal of which we happen to agree with. So even if we disagree with a theological point or chapter, we still think there is much that one can benefit. Now, if anyone can find anything which resembles the same egregious errors and misrepresentations of traditional Covenant Theology that are found in KTC, then we will reconsider our promotion of them. But I have yet to encounter them. Until then, there is more positive to glean, than negative to withhold. And we are pretty sure that if a book misrepresented your system to that degree you would withhold and warn people against it as well.
Related Articles:
Two Ways in Which Kingdom through Covenant Misrepresents Traditional Covenant Theology by J. W. Hendryx
Covenant Theology is Not Replacement Theology by R. Scott Clark
Progressive Covenantalism by Steve Hays
Progressive Covenantalism's View of the Visible/Invisible Church Distinction: A Biblical/Theological Problem by J,. W. Hendryx
Two Ways in Which Kingdom through Covenant Misrepresents Traditional Covenant Theology
For the most part, Gentry and Wellum, the brothers who wrote the new "alternative" (pg. 23) to Covenant Theology and Dispensationalism, really attempt to be fair in the characterizations of the two systems they critique. Their overall purpose seems genuine enough in trying to arbitrate between the two systems, and bring them together, however much we may disagree with their conclusions. Which is why I was truly suprised (no, stunned) to find them somehow associating Covenant Theology with "Replacement" theology throughout its pages. The first time I ran across this term (.pg 42) I was taken aback, but then I saw it again (pg. 125) and again (pg. 685). In fact it uses this term multiple times throughout the book and serves as as basis for one of their main points of contention with covenant theology regarding the distinction between the church and Israel and the progressive nature of grace in redemptive history.
Continue reading "Two Ways in Which Kingdom through Covenant Misrepresents Traditional Covenant Theology" »
A Sample Chapter on Justification


In Dr. R. C. Sproul's latest book "Are We Together? A Protestant Analyzes Roman Catholicism" he outlines six core doctrines in which Roman Catholicism is at odds with the clear teaching of the Bible; namely her view of Scripture, justification, the Church, the sacraments, the Papacy and the role of Mary. He also describes how Protestants should relate to Roman Catholics without minimizing the vital differences. The book is a clarion call to evangelicals to stand firm for the gospel, the precious good news of salvation by grace alone, through faith alone, in Christ alone, all to the glory of God alone.
I encourage you to read the foreword (by Dr. Michael Horton) as well as the introduction and sample chapter on justification:
The book is available at a 25% discount from monergismbooks.com at this link.
Encouraging Feedback
JS - I continue to receive very encouraging feedback on the new book. Here's an e-mail I received today from Don Double, one of England's most prominent Christian Evangelists: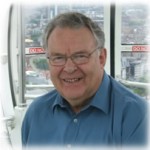 Dear John,

I want to thank you so very much for your book "Twelve What Abouts". I am reading it in depth right now and enjoying it tremedously and finding it really helpful too. I'd like to say that I very much like your style which what I is would term 'readable' (for one with my limited academic background). You may be aware that when [my wife] Heather died, the big issue for me was me clearly seeing that 'God is Sovereign', thus helping me deal effectively with grief amongst many other things.

Trust you are doing well.
Don
Praise the Lord!
Book Review: Love, Freedom, and Evil, by Thaddeus J. Williams
All throughout Church history, arguments have been waged and books have been written on the topic of human freedom and divine sovereignty and grace. The conclusion that there remains little, therefore, to be said on the topic seems reasonable, but is belied by the still unabated stream of publications tackling that thorny issue from one angle or another. One thing that stands out about the plethora of modern works touching upon the subject is that it has become virtually axiomatic to assume that, if love is to be genuine, it must be sovereignly exercised by a free will. That is the platform upon which various positions are erected: books that are primarily philosophical or logical in nature tend to synthesize from this starting premise, and those primarily scriptural in nature tend to look for ways in which scripture can be interpreted in harmony with it, or else blow it away with brute force, never pausing to consider how or if its axiomatic status can survive a basic logical scrutiny.

I found Thaddeus Williams' contribution to the discussion, Love, Freedom, and Evil, to be helpful primarily because it addresses this axiom head-on, with a common-sensical, disarming manner. Can scriptural arguments be made against libertarian free will? Yes, they can be, as Williams himself illustrates, providing a very helpful discussion of the themes of divine love and sovereignty in John's gospel. But the problem is, it is an unnecessary obstacle to people's credulousness to leave an unsubverted axiom intact, when making the scriptural case for the sovereignty and irresistibility of divine grace. It's like telling people, if you would believe what the bible says, you can no longer believe that the sky is blue.

Does the premise that authentic love requires libertarian free will deserve its axiomatic status? Williams would argue, and very convincingly so, that the answer is a resounding "No!". The self-evident nature of the argument for libertarian free will is pulled off only by a classic bait-and-switch, and when the terms are kept consistent, the argument for divine sovereignty is not only scripturally compelling, it is also common-sensical.

Williams is entering a scholarly philosophical discussion, he is not writing a popular or devotional book. It is helpful, therefore, that he constantly uses simple, adept metaphors and illustrations. This makes his argument easy to grasp and to follow. It lends a kind of ingenuousness to the work. He is not winning a philosophical argument by expert arguments beyond the ken of a common person. That can be done, but the downside is, it's not very convincing to a common person. On the contrary, he's simply showing that, when you define your terms properly, common sense is on the side of scriptures. The confidently assumed axioms of Rob Bell, Greg Boyd, and a whole host of other libertarians, are built upon a cunning sleight-of-hand.

The overarching metaphor of the book depicts human freedom in the realm of divine love and grace as a freedom with respect to machine, gunman, heart, and reformer. Must genuine love have freedom from the machine – that is, must it be more than the programmed response of an automaton? Both sides would answer, "Yes". Must it be un-coerced, that is, must it have freedom from the gunman? Again, yes. So far so good, on both counts.

However, libertarian arguments assume more. They start out with the common-sense premise that true love cannot be mechanistic or coerced, and then change the substance of the premise so that it demands that it cannot be a necessary orientation of the heart. If my heart is so swayed by passion that I cannot help but love, then my love cannot be genuine; I must be able to make a volitional choice to love or not to love, regardless of what my heart desires.

But when this unspoken shift from freedom from the machine and gunman to freedom from the heart takes place, the common-sense, axiomatic nature of the premise is overturned. If a father's heart is so full of emotion at the sight of his newborn daughter that he simply cannot help but love her, does that mean his love is no longer genuine, that it is coerced or mechanistic? Any father with common sense would be able to answer this question; but common sense leads away from the assumed axiom of the libertarian free will camp. I cannot help but love my daughter, but my love for her is genuine – and not just in spite of that lack of freedom to choose not to love her, but rather, because of it. As Williams helpfully shows, at this point, it is rather the libertarian who runs athwart common sense; for he demands that, if love is to be genuine, an "indifferent agent may choose for desires, but must remain desireless when so choosing". In other words, for love to be genuine, the lover must be desireless (could one read, loveless?). When the bait-and-switch is discovered, the common-sense nature of the libertarian argument is eviscerated.

But the problem with philosophical arguments for libertarian free will goes deeper than that. For the libertarian axiom to hold true, not only must any genuine lover have freedom from the machine, the gunman, and the heart – he must also have freedom from the Reformer (that is, from God who reforms the sinner's heart). This is the point upon which Williams' discussion of John's gospel is so helpful. The question is not ultimately whether men can resist God's sovereign power in the gospel – it is more fundamentally whether they can resist his infinite, intra-trinitarian love, by which the Father promised a people to the Son out of love for him, the Son undertook to win a people for the Father out of love for him, and the Spirit determined to bring those people into that eternal bond of love. The essence of this sovereign love of God for his people is not that they might be free from him, but that they might be one with him. The libertarian axiom that, if my love for God can be genuine, I must be free at any time to choose for or against loving him flies in the face of the kind of love God shows within the Trinity, the same kind of love to which and by which he unstoppably calls us.

Williams ends his argument by suggesting that a simple preposition change is necessary to straighten out the confused categories of the bait-and-switch axiom of libertarian free will, and turn it into both a common-sensical and a scriptural axiom. Instead of saying true love requires freedom from the machine, from the gunman, from the heart, and from the Reformer, try this: true love requires freedom from the machine, from the gunman, of the heart and of the Reformer. When God is free to set our hearts free from slavery to sin, then there is love indeed. When the Reformer freely works in the hearts he created and designed to respond to himself in love, what kind of freedom does he bring? To quote Williams, a freedom "from the burden of self, freedom from excessive rule-keeping, freedom from enslaving impulses, freedom from satanic principalities, from condemnation, from hopelessness, from alienation, from meaninglessness, from anti-love forces within, in short, Freedom from Sin. Such freedom moves us a considerable distance from libertarian free will.... With this new freedom we approach not only something like the freedom Jesus experienced, but also move closer to what He perhaps had in mind with the words, 'If the Son sets you free, you will be free indeed' (John 8:36)".
Love, Freedom, and Evil: Does Authentic Love Require Free Will? by Thaddeus J. Williams - Available now at Monergism Books
James and John
VIDEO INTERVIEW
Dr. James White and I (lurking somewhere behind the microphone stands) had a great time yesterday discussing my new eBook and Reformed Theology on James' "Radio Free Geneva" Dividing Line Broadcast. Here's the youtube video of the interview segment.
FULL LENGTH AUDIO
Dr. James White writes: Today on a Mega Radio Free Geneva: John Samson and Emir Caner
"I bet John never expected to see himself mentioned quite like that before. But, we did have John Samson in studio today to talk about his new book from Monergism.com, Twelve What Abouts, which you can find here. We then went back to reviewing Emir Caner's sermon against Reformed theology, and then took calls on the topic for the last half hour." Here's the full 2 hour program.
Wordsmithy Douglas Wilson | Review by: John Starke
Douglas Wilson. Wordsmithy: Hot Tips for the Writing Life. Moscow, Idaho: Canon Press, 2011. 120 pages. $11.20 @Monergism Books.
In C. S. Lewis's fantasy world Perelandra, a place with no sin or evil, repetition is like "asking to hear the same symphony twice in a day." Perfection has the concept of "enough," where pleasure is complete and repetition is vulgar. For those of us who read and re-read writing how-to books like Harry Potter novels, we look for that sense of "enough," where the formula works and we're satisfied.
Douglas Wilson's Wordsmithy offers no such promise, since it's not his to give. Besides, it probably doesn't exist outside the world of Forms. But Wilson provides a guide to the "writing life" that doesn't simply excerpt good writing from classic literature to illustrate his principles but attempts to be the model of good writing itself.
For example, Wilson offers a real gem when warning against "writing by rules" for fear coming up with something "like verbal tapioca pudding made with skim milk. Our world already has too much verbiage in it that comes off like it was written by a committee or a computer—or maybe a committee of computers." Or when mocking aspiring writers who quote the right people so they can be known as someone who quotes the right people. "They quote Austen like Mary quoted her 18th-century bromides, and were Austen here to see them do it, she'd slap them right into her next book, and it wouldn't be pretty."
To be clear, Wilson doesn't live in Greenwich Village and boast a contract with a New York publishing house. He's a pastor in Moscow, Idaho, who started his own classical education movement and a college to follow. His periodical, Credenda Agenda, stirs up no small wrangles among Presbyterians. None of this slights Wilson. He has lived his own counsel: "Live an actual life, a full life, the kind that generates a surplus of stories." He types with dirt under his fingernails.
Bad Form
Though Wilson never says so, writers quickly realize there is such a thing as bad style. But to perfect your style, you don't spend all your time reading manuals. Wilson doesn't include sections on brevity, unity, or usage. Rather he instructs us to get a life, read until our brains creak, get to know how language works by reading dictionaries, and learn a foreign language. In other words, Wordsmithy isn't a manual on how to write a great novel so you can go home and write it this afternoon. Rather, if you want to be a writer, Wilson offers tips for what you do for the next 30 years.
The mindful reader will realize that to follow Wilson all the way will make you a certain kind of writer. He does not dispense generic tips. To be sure, any writer who wants to improve would need to follow the spirit of Wilson's tips, but to be a Wilson-kind-of-writer means to value a certain rhetorical style. Maybe there's a label for this school of writing, but if there is, I don't know its name. I only have a sense of it, a rhythmic prose that follows the Austen-Chesterton-Wodehouse-Lewis line of quick wit and belly-laughs. You probably know the kind.
If an author is going to give us tips for a writing life, he only knows one kind of life, his own. He only knows to suggest certain books, the ones he's read. So we need to choose our writing manuals wisely, just like we need to choose our teachers wisely.
Let's suppose, though, for a moment that you, like Mark Twain, despise writers like Jane Austen. "Every time I read Pride and Prejudice, I want to dig her up and hit her over the skull with her own shin bone," Twain said. I can imagine that Twain would be impatient with Wilson as well. Does it follow, then, that we should neglect a book like Wilson's? There certainly are other books like Stephen King's On Writing, which gives writing lifestyle instructions without the Anglo-Saxon wit that Twain despised as flighty.
But here's my case for Wilson's Wordsmithy. Wilson doesn't give tips for taking command of Lewis or Wodehouse, but he shows us a lifestyle that takes command of the English language. He doesn't teach us to be mockers but to be deft wordsmiths.
You shouldn't be as cranky as Twain anyway. Austen will make your nose snort with laughter, and so does Wilson. He'll spin your head with prose and make you wonder how he did it. He won't tell you how he did it, but he'll write five more and then point to authors who do it all the time. He shows young writers still looking for their voice how to find one. You'll read this book fast and go back to it again. Wilson has wisdom only a wise man knows.
John Starke is an editor for The Gospel Coalition and lead pastor of All Souls Church in the Upper West Side of Manhattan. You can follow him on Twitter.
Book Review: Family Shepherds: Calling and Equipping Men to Lead Their Homes
Voddie T. Baucham Jr. Family Shepherds: Calling and Equipping Men to Lead Their Homes. Wheaton: Crossway, 2011. 192 pp.
Until a few years ago, Voddie T. Baucham Jr. was known primarily as a cultural apologist and popular speaker at youth events. Much of that shifted in 2007 with the publication of Family Driven Faith: Doing What It Takes to Raise Sons and Daughters Who Walk with God. With Family Driven Faith, Baucham's name became associated with a growing family ministry movement. Most of this attention was positive, recognizing his strong call for intentional family discipleship. Other responses were more critical, choosing to focus almost exclusively on the viability of family-integrated ministry—despite the fact that only one chapter in the book even raised the issue of family-integrated churches, and Baucham explicitly stated that he didn't intend this model to serve as a blueprint for every church (Family Driven Faith, 213).
In Family Shepherds: Calling and Equipping Men to Lead Their Homes, Baucham brings together his passion for family discipleship with his earlier emphasis on developing a gospel-centered worldview. He presents family as a primary context for worldview formation ("family is the cornerstone of society," 11) and then identifies the father as primarily responsible for cultivating gospel-centeredness in his family. Baucham does not propose in this book to promote any particular paradigm for family ministry. He briefly mentions family-integrated ministry in the book's opening pages, sets the issue aside, and plows forward without looking back (12-13). He aims to present "transcendent truths that govern Christian fatherhood" with the goal of preparing Christian men for their God-ordained responsibility to lead families (11, 13).
Foundations Old and New
Particularly in the first chapter, Baucham draws heavily from Old Testament precepts as he develops biblical foundations for family discipleship. He brushes aside any concerns related to this approach by attributing such concerns to a "dispensational" bent or to an overemphasis on "discontinuity between Old and New Covenants" (20). To be fair, Baucham has done the necessary exegetical work to develop a hermeneutically sound framework for his use of the Old Testament in almost every instance. Still, in a work that includes so many references to the Old Testament, it might have been helpful to include a paragraph or two to help laypeople to understand how and why his applications of Old Covenant texts to New Covenant realities are warranted.
The second chapter of Family Shepherds develops a "three-pronged" approach to family discipleship through exegesis of Paul's letter to Titus, while chapter three compares the biblical expectations with the lifestyle of a fictitious "typical churchgoing" family (39).
Chapter four, "Heralding the Gospel at Home," is Baucham at his best. This chapter serves as a launching pad for the remainder of the book and grounds the husband's priestly and prophetic roles in the gospel. (The chapter also includes a true story from a family trip that involves a bidet. Any time you can include a bidet in a book for the church market, you know it's been a good writing day.) Baucham explains what the gospel is not before proceeding to define what the gospel is (55), then explains what the gospel requires and produces (59). His understanding of the gospel as eschatological becomes the foundation for seeing the family as a God-ordained means (rather than an end in itself) and for showing patience and grace toward one's wife and children. The next two chapters demonstrate that catechesis (63) and family worship (73) are effective means for the communication of the gospel in families.
To Have and to Hold
Baucham emphasizes the "primacy" of marriage among human relationships (91). According to Baucham, the husband's career relationships exist to serve his family, not the other way around. Children are the fruit of the marriage relationship, not the foundation. Baucham's point of prioritizing marriage (97) strengthens his previous assertion that the goal is not merely to develop a healthy family but to rehearse the gospel together as a family (13). As a living picture of Christ's relationship with the church, marriage must take precedence over careers and children (98). When children see a husband love his wife as Christ loved the church, they see the gospel lived out in flesh and blood. Baucham's final words on male headship in the home are brief and straightforward (101), providing a substantive primer on navigating secular and Christian feminism.
It did seem that one additional question might have been addressed in this section: How specifically should husbands disciple their wives? Baucham rightly declares that a husband must prioritize his wife. Yet beyond leading in catechesis and family worship (which seem to focus more on the man's children than on his wife), how does a husband lead his wife spiritually? I suspect that most men have no idea how to answer that question. A handful of practical suggestions might have strengthened this section.
Raising Pelagians
Baucham draws a clear contrast between a biblical perspective on parenting and behaviorist approaches. To illustrate this contrast, he broadens the definition of Pelagianism to include a range of contemporary perspectives that treat children's nature as neutral rather than corrupted (115-117). To exemplify parental Pelagianism in action, Baucham appeals to a self-published book by Michael and Debi Pearl, To Train Up a Child. Baucham seems to assume that his readers will immediately recognize this book (117-118), though neither of us is aware of the Pearls' materials being used outside a few family-integrated congregations. Perhaps it would have been helpful to address a better-known book on Christian parenting—and there are many from which to choose!—that exemplifies a Pelagian approach. That said, Baucham's central point regarding contemporary Pelagianism is presented clearly and memorably.
Baucham helpfully distinguishes between formative discipline and corrective discipline. The chapter on formative discipline summarizes and paraphrases Cotton Mather's A Family Well Ordered for contemporary audiences—this summation, in itself, provides a welcome tool for pastors and parents. The chapter on corrective discipline presents corporal punishment as "necessary," appealing to texts from Proverbs as if they are prescriptive commands rather than inspired observations regarding typical patterns of wise living (140-141). Spanking certainly stands within the range of appropriate responses for Christian parents; however, it seems that presenting corporal punishment as necessary may be pressing the proverbial texts too far. For some children—particularly if they have been adopted from abusive backgrounds—corporal punishment can be counterproductive.
Conclusion
The last section of Family Shepherds urges men to re-evaluate their lifestyles and includes clear recommendations regarding church membership, time use, and culture shaping. Less effective is the final word on "fatherless families" (173). Ministering to single-parent families is a struggle in almost every church, especially when those single parents are mothers. Yet the recommendations for how family shepherds can serve these single-parent families seem vague compared with the rest of the book. And what about children who come to church with no parents at all? How should family shepherds minister to them?
All such questions aside, Family Shepherds is highly recommended for use in men's groups, one-on-one mentoring, and premarital counseling. Equipping and mobilizing men is a necessary foundation for cultivating gospel-centered families. Far too many men's ministry resources have relied on surface-level solutions instead of showing men what it looks like to guide their wives and children as Christ-imitating servant-leaders. This text centers equipping in the gospel and demonstrates how this functions in the home and church.
_____
W. Ryan Steenburg (PhD, The Southern Baptist Theological Seminary) is the founder and director of Daddy Discipleship and serves as the associate pastor of the Christian home at First Baptist Church in Prospect, Kentucky. Ryan lives in Louisville with his wife, Kristen; son, Wes; and daughters, Caitlyn, Anabelle, and Mikayla.
Timothy Paul Jones (PhD, The Southern Baptist Theological Seminary) is associate professor of leadership and family ministry at The Southern Baptist Theological Seminary. He is the author of more than a dozen books and serves in the SojournKids ministry at Sojourn Community Church. He lives in St. Matthews, Kentucky, with his wife, Rayann, and daughters, Hannah and Skylar. For more information about Timothy, visit http://www.timothypauljones.com.

A Long Line of Godly Men
Dr. Steven Lawson is a wonderful brother and serves as senior pastor at Christ Fellowship Baptist Church in Mobile, Alabama. He has currently written two books in what, God willing, will be a three volume series called "A long Line of Godly Men." The first two books are fabulous and I eagerly await the third. The first book is available here, and the second here. - JS
The following four short videos are very helpful.
Here Dr. Lawson explains the concept behind each of the books in the series mentioned above:
In this second video, Dr. Lawson answers the question, "why are the Doctrines of Grace good for the Church?"
In this third video, Pastor Lawson articulates what the doctrines of grace are:
In this fourth video, Dr. Lawson tells us why these doctrines are often offensive and divisive.
Book Review: Robert Letham, Union with Christ: In Scripture, History, and Theology
Robert Letham, Union with Christ: In Scripture, History, and Theology. Phillipsburg, N.J.: P&R Publishing, 2011. 208 pages. $17.99 Retail -$12.13 at Monergism Books
Union with Christ is a terrifically significant theme in the Bible and in the theological expression of the reformational, evangelical tradition—John Calvin, for example, accorded union with Christ "the highest degree of importance." It is no small wonder then that contemporary, accessible treatments on union with Christ are difficult to locate (although very fine scholarly treatments are becoming available: see esp. W.B. Evans, Imputation and Impartation: Union with Christ in American Reformed Theology; Mark Garcia, Life in Christ: Union with Christ and Twofold Grace in Calvin's Theology). We now have Robert Letham to thank for beginning to address this theological lacuna. His most recent work, Union with Christ: In Scripture, History, and Theology, although relatively succinct (141 pages of text), is still quite vast in scope and depth. Letham's intention for this book is basically twofold: (i) to demonstrate the significance of union with Christ across the spectrum of God's redemptive purposes, and (ii) to describe what it actually means to be united to Christ.
To accomplish the first task, Letham opens with chapters on creation, incarnation, and Pentecost. Each of these epochal events, he argues, show us that God's ultimate redemptive purposes are bound up with, and achieved, as he unites us to himself in Christ. Thus, God's creative purpose in designing us for himself in his image has the goal of uniting us to Jesus Christ, the true image of the invisible God. In the incarnation, the eternal Word of God assumed our human nature into personal union so that we might be joined to him. At Pentecost, the Spirit comes to realize God's purposes by indwelling us and bringing us into union with Christ.
In the final three chapters Letham accomplishes the second, more daunting, task of articulating the meaning of union with Christ, which he does in terms of representation, transformation, and death and resurrection. The chapter on representation allows Letham to discuss union with Christ by way of covenant headship and substitution, highlighting the doctrines of atonement, election and especially justification, all of which are founded on our representative union with Christ. The chapter on transformation, the longest in the book, expounds union with Christ in terms of sanctification and theosis, or what it means to say that we are growing into conformity to Christ. The final chapter describes the eschatological nature of our union with Christ in his death and resurrection and its present effects in the lives of Christians.
Among the number of important insights found in this study, the following represent those that are, in my view, the most significant for the contemporary evangelical church. The first insight is Letham's able demonstration that union with Christ lies at the heart of Christian salvation—indeed, that union with Christ is central to biblical soteriology. Whether we speak of election, atonement, justification, or sanctification (or any other aspect of salvation), all are grounded in the determinative reality of being joined to the Savior. This is a needed reminder for the church, lest it lose sight of the fact that Jesus Christ is himself our salvation and that his benefits cannot be abstracted from his person.
The second insight is Letham's much-appreciated stress on the soteriological import of the incarnation of the Word of God, reminding us that the very theo-logic of salvation is wrapped up in the mystery of the incarnate God-man. The incarnation shows us in the clearest possible way that God's redemptive intention is to join us to himself through the life-giving humanity of Jesus Christ. The incarnation, in Letham's words, "is the indispensable basis for our union with Christ. Since Christ has united himself to us in the incarnation, we can be united to him by the Holy Spirit" (40). When evangelical theology loses sight of the saving significance of the incarnation, it is bound to myopically stress forensic, substitutionary understandings of salvation at the expense of the personal, participatory reality that undergirds them.
The third insight is Letham's unfolding of the meaning of union with Christ. By focusing on the doctrine of theosis as it has been variously understood in the history of the church, Letham shows that there is a thoroughly Reformed and evangelical (not to mention patristic) pedigree for the assertion that the union believers have with Christ exceeds merely legal or symbolic notions—it is a union with the very person of Jesus Christ. This does not mean, he rightly insists, that we participate in God's essence, that we become "deified" or something other than human. But it does mean that—through faith, by the power of the Holy Spirit, and through the preached and sacramental Word —we become authentically human by participating in the present Jesus Christ himself. I cannot help but wonder of the benefits that might accrue to our churches if we were to re-appropriate this crucial aspect of our evangelical heritage.
This book in an important contribution in a number of senses. Letham has provided us an affordable and generally accessible text—not merely introductory, though also not pedantic—on a highly significant theological topic that has been strangely neglected and misunderstood. As we have come to expect from Letham, this book is clearly written, profound without being obtuse, and rich with historical insight. His writing is suffused with a pastoral and doxological tone, a mark to which all theological works should aspire (and which honors the very purpose of theology). In my view, this present work does not attain the heights of his earlier and similarly titled work on the Trinity (The Holy Trinity: In Scripture, History, and Theology), but it most certainly serves the purpose of awakening us to the fundamental importance of union with Christ for a properly biblical, historical, and theological understanding of salvation. It is to be hoped that the reformational, evangelical church will reflect deeply on what Letham has written here.
When the church loses sight of the essential saving reality of being truly joined to Jesus Christ, it runs the risk of an (unintentional) subtle dichotomizing of the person and work of Christ in which salvation is portrayed in rather abstract, extrinsic, and impersonal terms. The effect is that salvation begins to be "objectified," viewed as the reception of various benefits or gifts of Christ's work that can be received apart from a reception of the living, crucified, resurrected Christ—Christ for us apart from Christ in us. Without the proper emphasis on our union with Christ, our understanding of salvation can devolve into a gift that Christ gives rather than the gift that Christ is. My hope is that Letham's book is a blessing to the church and that it calls us to a retrieval of a theme so deeply imbedded in our Christian heritage, to the "glorious riches of this mystery, which is Christ in you, the hope of glory" (Col.1:27).
Marcus Johnson (Ph.D. St. Michaels College, University of Toronto) is assistant professor of theology at Moody Bible Institute, Chicago, IL.
Union with Christ: In Scripture, History, and Theology. Phillipsburg, N.J.: P&R Publishing, 2011. 208 pages. $17.99 Retail -$12.13 at Monergism Books
Best Books for Parenting & Best Children's Books
Best Books for Parenting


* Shepherding a Child's Heart by Tedd Tripp



* Instructing a Child's Heart by Tedd & Margie Tripp



* Big Truths for Young Hearts by Bruce Ware



*Â  Long Story Short: Ten-Minute Devotions to Draw Your Family to God by Marty Machowski



* Give Them Grace: Dazzling Your Kids with the Love of Jesus by Elyse Fitzpatrick



Gospel-Powered Parenting: How the Gospel Shapes and Transforms Parenting by William P. Farley



* Disciple Like Jesus: For Parents by Alan Melton



* Age of Opportunity: A Biblical Guide to Parenting Teens by Paul David Tripp



* Family Driven Faith: Doing What It Takes to Raise Sons and Daughters Who Walk with God by Voddie Baucham





* The Family: God's Weapon for Victory by Robert Andrews



BEST BOOK FOR CHILDREN BY AGE GROUP
Infants and Toddlers (6 months - 2)



* The Toddler's ABC Bible Storybook by Carolyn Larsen



* Our Home is like a Little Church by Lindsey Blair



* Most of All, Jesus Loves You by Noel Piper



* A Bible Alphabet Book by Alison Brown


Preschoolers (Age 3)



* My First Book of Bible Prayers



* My First Book of Christian Values



* My First Book of Memory Verses



* My First Book of Bible Promises



* My First Book About Jesus



* Jesus is Coming Back by Debbie Anderso



* I Love My Bible by Debbie Anderson



Youngsters (Ages 4-5)



* Big Thoughts for Little Thinkers Bundle



* Jesus Finds His People by Catherine Mackenzie



* Peter: The Apostle Carine MacKenzie



* Get Wisdom!: 23 Lessons for Children about Living for Jesus by Ruth Younts



* That's When I Talk to God by Dan & Alison Morrow



* God's Little Guidebooks: Ten Commandments Box Set by Hazel Scrimshire


Early Years (Ages 6-7)



* The Jesus Storybook Bible: Every Story Whispers His Name by Sally Lloyd-Jones



* 365 Great Bible Stories: The Good News of Jesus from Genesis to Revelation by Carine Mackenzie



* The Big Picture Story Bible (Book and CD Set) by David Helm



* Mighty Acts of God: A Family Bible Story Book by Starr Meade



* God's Mighty Acts in Creation & Salvation by Starr Meade



Elementary (Ages 8-9)


* Bible Doctrine for Younger Children: Book A & Book B by James W. Beeke



* Big Book of Questions and Answers by Sinclair Ferguson



* Big Book of Questions and Answers About Jesus by Sinclair Ferguson



* Building on the Rock Series (5-Volume Set) by Joel R. Beeke & Diana Kleyn



* Trailblazers Series Bundle (14 books)



* Guarding the Treasure: How God's People Preserve God's Word by Linda Finlayson



* Augustine of Hippo (Christian Biographies for Young Readers) by Simonetta Carr



* Peril and Peace: Chronicles of the Ancient Church (History Lives Series) by Brandon & Mindy Withrow





Higher Elementary (Ages 10-12)



* Bible Doctrine for Older Children: Book A & Book B



* Light Keepers series (Ten Boys and Ten Girls) by Irene Howat



* Herein is Love Commentary Series: Genesis – A Commentary for Children by Nancy E. Ganz



* The Pilgrim's Progress by John Bunyan



* Amazing Stories from Times Past: Devotions for Families and Children by Christine Farenhorst



* Crown & Covenant, 3 Volume Set by Douglas Bond



* In God's School: Foundations for a Christian Life by Charles Pierre

Books for Teens
The Most Important Thing You'll Ever Study: A Survey of the Bible
(5-Volume Set)
Starr Meade
Growing Up Christian
Karl Graustein and Mark Jacobsen
Book Review: The Gospel Commission
By Michael Horton
Reviewed by Bobby Jamieson Print
Baker Books, 2011.
320 pages. $19.99
Are evangelicals being distracted by mission creep? That is, are we allowing lots of other good things to creep in and crowd out the central task Jesus sends the church into the world to do?
On the one hand, the rising groundswell of interest in social and cultural engagement among many evangelicals likely reflects the flowering of a robust biblical view of creation and the Bible's command to love our neighbor. And many Christians are engaging these issues in a way that keeps the message of the gospel front and center in their lives and in the lives of local churches.
On the other hand, many voices insist that if the church as church is not engaging (insert favored social problem or cultural activity here), then it's not fulfilling its mission. Such critics assert that evangelical churches are too preoccupied with "member maintenance" to pay attention to the real mission of Jesus among the poor, in the inner cities, and in the places where culture is made.
A whole lot of theological issues are wrapped up in this question: the definition of the gospel, the distinction between the church as a "gathered" institution and the church as a "scattered" organism, the nature of the inaugurated kingdom of God and its implications for the present age, and, not least, the contours and scope of the mission Jesus gives to his church.
AN EXPANSIVE THEOLOGICAL EXPOSITION OF THE GREAT COMMISSION
Driven by the concern that evangelicals are in fact being distracted by mission creep, Michael Horton has addressed these issues and more in his new book The Gospel Commission: Recovering God's Strategy for Making Disciples. At its heart, this book is an expansive theological exposition of the "Great Commission" of Matthew 28:18-20. Along the way, in addition to the issues mentioned above, Horton engages with cultural pluralism, theological inclusivism, and a number of influential facets of evangelical piety and practice which he finds to be troublesome.
Horton's thesis is summed up in one sentence early on: "The central point of this book is that there is no mission without the church and no church without the mission" (14). Over against those who would denigrate the church's regular ministry of "Word and sacrament" as a hindrance to mission or as an irrelevant sideshow, Horton argues that the church's regular means of grace are at the very heart of Jesus' missional mandate. Therefore, the church is a missionary institution by nature and calling.
A RADICALLY CHURCH-SHAPED VISION FOR DISCIPLE-MAKING
In other words, Horton argues for a radically church-shaped vision for disciple-making. In my estimation, this is a timely, biblical corrective to evangelicals' general neglect of the institutional church and to the particular way that recent "missional" emphases have sometimes tended to denigrate the institutional church's ministry. This church-shaped vision comes to fruition in chapters six and seven, in which Horton unpacks how the church's ministry of preaching, teaching, administering the sacraments, and practicing discipline fulfills Christ's mandate to make disciples of all nations.
Further, Horton's view of the church's mission is grounded on a lush depiction of the Bible's teaching on the kingdom of God. In chapter 2, "Exodus and Conquest: the Gospel and the Kingdom," Horton expounds the gospel as the eschatological exodus and conquest which secures our salvation and brings the age to come crashing into the present, opening up a "crevice" between the ages in which the gospel is proclaimed to all nations.
Thus, this book contains Horton's answer to current debates about the relationship between gospel and kingdom, and it's a compelling one. Building upon careful exegetical and biblical-theological work, Horton argues that "Jesus's proclamation of the kingdom is identical to Paul's proclamation of the gospel of justification" (75). Further, "The kingdom of God in this present phase is primarily audible, not visible. We hear the opening and shutting of the kingdom's gates through the proclamation of the gospel, in the sacraments, and in discipline" (67). In the same vein, "Only if we hold in slight esteem the forgiveness of sins, rebirth into the new creation, justification, sanctification, and the communion of saints can we fail to revel in these present realities of Christ's reign" (68).
Horton's thesis that "the kingdom is the gospel and the gospel is the kingdom" (79) displays the many facets of the gospel in all their gleaming, soul-stirring radiance. Further, Horton offers a robustly biblical account of the kingdom of God that precisely details those aspects of the kingdom which are inaugurated in the present age and those which await the last day for their realization. With these theological convictions at its core, Horton's blueprint for the church's mission preserves the primacy of the proclamation of the gospel and the church's mandate to make disciples.
Building on this work, in chapter eight Horton has a clarifying and, I would argue, largely satisfying discussion of the relationship between "the Great Commission and the Great Commandment"—that is, the relationship between evangelism and social justice. Horton proposes that the way to fulfill both mandates is for the church as an institution to devote itself to proclaiming the gospel and making disciples, which equips individual Christians to fulfill both commissions in their "myriad callings in the world" (231). Then, in chapter nine, Horton addresses the touchy issue of mission creep, analyzing several "dichotomies that distort the Great Commission and distract us from the strategies that Christ gave us" (252 ff.). Similar to his Westminster West colleague David VanDrunen's work in his recent book Living in God's Two Kingdoms (Crossway, 2010), Horton carefully argues for the unique, biblically circumscribed role of the local church as an institution. This is a crucial theological guardrail for preserving the church's faithfulness to our Master's marching orders.
A VALUABLE, SUBSTANTIVE, AND CLARIFYING CONTRIBUTION
I've spent most of my time letting Horton do the talking because I think that this book makes a valuable, substantive, and clarifying contribution to the current evangelical discussion about mission, and I want his arguments to be heard.
Horton's theological work on gospel and kingdom is clarifying and pointedly edifying. Moreover, he glories in the inauguration of the kingdom of God and the hope of the restoration of all things while carefully guarding against an over-realized eschatology. Further, his massive emphasis on the centrality of the institutional church in fulfilling the Great Commission is a much-needed rallying cry. He muscles out room for the church as institution and then points out that this is how we must fulfill the Great Commission because this—the local church—is the means Jesus established for carrying out his mission on earth. And Horton carefully deprograms several common misconceptions that keep evangelicals from rightly understanding and carrying out the Great Commission. Among these are a consumeristic understanding of contextualization (114-132), the idea that we "live the gospel" (266-285), the claim that the institutional dimensions of the church are inimical to mission (285-290), and a misconstrual of the relationship between the church and the kingdom (290-293).
I have to register a few representative disagreements for the sake of conscience, but these by no means vitiate the book's value. At times, Horton's claims about what is representatively "evangelical" strike me as somewhat tendentious. I was not persuaded by his polemic for infant baptism. I don't think he gets the Sabbath and the Lord's Day quite right. And I'd raise questions about some of his language about the sacraments.
But in all of this, I appreciate that Horton is fleshing out a biblical vision for mission in the muscles and ligaments of the institutional church. Horton is dead right that the local church is at the heart of the Great Commission, and that the Great Commission provides us with "the message, mandate, and methods that Christ has ordained for his continuing mission in the world" (20). I hope that Horton's example of fleshing out this churchly vision for mission within his own convictional and confessional framework will inspire many evangelicals to do the same.
This book is theologically rich, carefully critical, and it throbs with a missionary heartbeat. Reading it will both instruct and inspire you to go and make disciples of all nations.
Bobby Jamieson is assistant editor for 9Marks.
April 2011
©9Marks
The Gospel Commission: Recovering God's Strategy for Making Disciples by Michael Horton - Available at Monergism Books for $12.95
Permissions: You are permitted and encouraged to reproduce and distribute this material in any format, provided that you do not alter the wording in any way, you do not charge a fee beyond the cost of reproduction, and you do not make more than 1,000 physical copies. For web posting, a link to this document on our website is preferred. Any exceptions to the above must be explicitly approved by 9Marks.
Please include the following statement on any distributed copy: ©9Marks. Website: www.9Marks.org. Email: [email protected] Toll Free: (888) 543-1030.

Run for your life!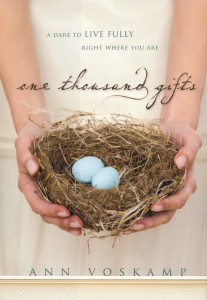 A new book by Ann Voskamp called "One Thousand Gifts: A Dare to Live Fully Right Where You Are" has gained extreme popularity among many Christian women today. However, questions have arisen regarding the author's use of very explicit metaphor in which she describes union with God in carnal terms, specifically as a sexual affair.
One of the roles a true shepherd of the sheep has is to warn the flock of false doctrine, to help them steer clear of unhealthy or dangerous spiritual food. I do so here. My advice, for what its worth - when you see these concepts being taught, run for your life! More at this link. - JS
Ten Books That Every Christian Should Own and Read
is no new idea to suggest a "top ten" list of Christian books, which, when read carefully, will ground a new believer in the basics of what it means to be a part of the historic, orthodox Christian faith. I've seen several such lists in the past, and, as the beginning of a new year seems to be a popular time for composing such lists, I've recently come across a couple more. I've always felt it a little unbalanced that almost all such lists (at least composed by Protestants) are drawn exclusively from the past several hundred years of an almost two-thousand year history of orthodoxy. The occasional nod to Augustine is usually the only exception to this bias toward the relatively more recent – and I think we are the poorer for it, and less able to sort through the plethora of doctrinal and practical woes which abound everywhere in these dark days. That said, I would like to throw my own "top ten" list out there, with a mind to take the whole history of Christian literature into account. It is, of course, a most difficult thing to boil down two thousand years of solid writings into a mere ten suggestions, and for every book I picked I could have picked ten others just like it. But, in the end, I had to make some hard decisions, which is simply the nature of the exercise. Here are the final selections:

Continue reading "Ten Books That Every Christian Should Own and Read" »
Book Review: Always Reformed, edited by R. Scott Clark and Joel E. Kim
As the crisp, cool days of Autumn grow shorter and the blazing trees shrug off their fleeting glories to stand stark against the frozen sky, we may know with a sighing certainty that winter is indeed coming. Soon, the fresh-harvested fields will snuggle up beneath a blanket of white for a long, deep slumber, and the shopping malls will spring up everywhere with those interminably various "sampler packs," enticing gift-seeking consumers with an assortment of the very best wares that can be had in dark chocolates, exotic coffees, hearty sausages and fine cheeses. Soon, those who are unfamiliar with these sophisticated luxuries, taking advantage of a cozy living room and a few days off work, will be introduced to a new world of pleasure, with time to prove all its best offerings and, if things go well, develop an appetite for further exploration in favorite specimens. Perhaps it is only the nostalgia associated with the time of year, but I can think of no better analogy for the recent publication of Always Reformed, a festschrift in honor of W. Robert Godfrey, with a remarkable array of contributors. If you want the "sampler pack" of the best the conservative, confessional Reformed community has to offer on a wide smattering of topics, then carve out some time this winter to digest this admirable assortment of essays.

Bob Godfrey is certainly a man of various passions, if this collection of writings in his honor has any semblance of authenticity. But even so, why would someone who is unacquainted with this man be willing to give up a couple afternoons of his life to figure out what those interests are? I would suggest this: it is because all of his interests tend toward tracing out the particulars of what he would call a comprehensive, consistent, Christocentric, and committed Calvinism. At a time in which Calvinism is merely a synonym for the five petals of the TULIP, and when the label Reformed is applied to virtually anyone who holds to this minimalistic set of doctrines, regardless of his broader doctrine, piety, and worship, it is refreshing to see a picture of what a Calvinism that extends to every area of life might look like. And that is just what this collection does. It is not just an introduction to the man Bob Godfrey, it is an introduction to a conservative, confessional Reformed theology, practice, piety, and worship – a total package which is as desperately needed in today's Evangelicalism as it is neglected and misunderstood.

The sampling of essay topics in the collection really is diverse. The reader will find something scintillating for just about every taste. There is a strong representation of historical themes, ranging from biographies of some remarkable men of the past to exegetical traditions of difficult passages to the chronicles of Reformed fellowships and denominations. There are also excursions into various theological questions, critiques of much of the contemporary piety and worship in the American Church, apologies for a historic, Reformed practice in worship – and even a little literary criticism.

But if there is one thread that runs through the whole book, in spite of its variety, it has to be the centrality of the Church in all areas of life. I could repeat about this collection the words of David VanDrunen, a former student of Bob Godfrey: "Bob had communicated – as much informally as formally, as much in practice as in word – the centrality of the church for Christian faith and life. Being a Reformed Christian was about much more than a few key doctrines, excellence at work, or personal devotions. Bob has helped to teach me, and many others, that the church's worship, preaching, sacraments, education, and discipline are central, not peripheral, to Christian piety". I find this sentiment to be as valid as it is un-American.

The highlights of the book are numerous. Scott Clark's fascinating history of Sister Aimee Semple McPherson was as much a true page-turner as you'll ever come across in a theological tome – and what's more, it contained a moral of tremendous importance for today's church, which has derived so much of her piety and worship practices from Sister's influence, oftentimes, I would suspect, unwittingly. Kim Riddlebarger's appeal for a frequent use of the Lord's Supper is impeccably reasoned and soul-stirring in implication. Hywel Jones offers important, practical wisdom to pastors on the manner in which to preach and teach on the foundational Reformed doctrine of monergistic regeneration. Michael Horton explores the heart of what it really is to be Reformed and "always reforming" in a manner that is both confessional and vibrant, neither denigrating nor idolizing the great documents of the Reformation. D. G. Hart's brief biography of truth-warrior J. Gresham Machen was both fascinating and relevant to battles for the truth that still rage on today. A comprehensive look at the church of the twentieth-century all but demands an evaluation of Karl Barth, which Ryan Glomsrud has capably provided.

These and many other stimulating essays are waiting only for a quiet afternoon and a thoughtful reader to serve up an illustrious platter of delectable wares, a wide-ranging sampling of what it means to be a comprehensive, consistent, Christocentric, and committed Calvinist. By all means, carve out that afternoon sometime this winter, settle down in your favorite chair, and dig in.
Book Review: A Portrait of Paul, by Rob Ventura and Jeremy Walker
In the modern Evangelical world of incessant novelties and pastoral pop-stardom, how can a church discern between a glitzy, charismatic, flash-in-the-pan pulpiteer and a faithful, humble, minister of the gospel? The question is perhaps more difficult than most Christians appreciate – and answering it correctly can have immense consequences for the health of a church. If this matter is currently on the front burner of any church or pastoral search committee today – and I suspect it must be – then I can say this to you without reservation: before you take another step, read A Portrait of Paul, by Rob Ventura and Jeremy Walker. The portrait that these men draw out faithfully from the text of Colossians will prove to be invaluable for showing in a full-orbed way just what a faithful and worthy (even if not perfect!) gospel minister should be striving for – imitating Paul even as he imitated Christ.

Colossians 1:24 through 2:5 – the passage forming the basis of this book – is one of those passages which, when you start to examine it in detail, cannot fail to surprise you in the depths and expansiveness with which it treats of its subject. How manifold and daunting are the roles and attitudes and actions that a true gospel minister must be characterized by as he pursues his work! And how easy to lose balance and perspective! What a daunting array of tasks to perform: warning against false doctrine without losing gentleness and humility; admonishing and rebuking those who err without failing to display a genuine, soul-deep love and compassion for them; pleading in prayer, leading in the pursuit of holiness, showing patience and compassion to the weak, preaching God's word faithfully, shedding the light of doctrine and the heat of practical application, and most of all, bringing every passage to bear on the Person and work of Christ, who is the sum and substance of divine revelation. Where can a minister find all of these various elements brought out and made to co-exist, not at variance with each other but in a mutually-supportive whole? The portrait of Paul in Colossians is one outstanding such case, and Ventura and Walker's book is an outstanding treatment of that passage.

It is difficult to highlight a few chapters from the book, because every chapter, in its way, is worthy of spotlighting; but if I had to pick a favorite, after a few moments of waffling, I would probably settle on the sixth chapter, which describes in detail what an effective preaching ministry looks like. After all, as the book suggests, the "declaration of Jesus is the central duty of the true servant of the Lord". Faithful pastors "never proclaim a mere system, nor a set of rules...They do not preach positive thinking. They do not preach themselves...[they] declare a person, a living person who is the source of all true life, in whom lies the hope of glory, the only fulfillment of the deepest needs of sinful men... This matter reveals the crucial difference between a true servant of Christ and a false one". After thus emphasizing the importance of a scriptural, Christ-centered preaching ministry, the chapter then goes on in very practical terms to describe just what that means and does not mean. This segment of the book should be required reading for any preacher or aspiring preacher.

As I previously suggested, this book is a must-read for anyone involved in searching for a pastor; but it is also geared for a much wider audience than that – it is not simply a "how to" manual for pastoral search committees. Its nature as a book describing in detail what a faithful minister looks like makes it an obvious choice for present or aspiring pastors; and one structural feature both underscores that use and effectively extends the target audience to virtually any believer in Christ: after the bulk of each chapter deals at a very practical and expositional level with a portion of the passage in Colossians, there are concluding segments addressed first of all to fellow-believers, and then to fellow-pastors of the authors. These segments are always suffused with intentional, practical wisdom appropriate both for the sheep and the shepherds. Not only will the pastor gain much insight into how to fulfill his ministry well, but the sheep will gain much insight into how to benefit from the labors of the pastor most fully, and how to support and uphold him, not just for his own good, but also for their own. I cannot think of any class of believer that does not stand to benefit by this marvelous book. It really is, as John MacArthur expresses it, "a wonderful, powerful, soul-stirring examination".
Book Review: My Almost for His Highest, by John Barber
Anyone who is familiar with John Barber's magisterial The Road from Eden could use a disclaimer from the outset concerning his new book, My Almost for His Highest: this is an entirely different sort of book, accessible to an entirely different kind of audience. The former work was lengthy, scholarly, and sweeping in its historical survey and analyses. This one is brief, easy to read, and touches only upon that which is of immediate and central concern to today's western Church. Is it hard-hitting? Yes. Will it make you uncomfortable? Probably, at points. But is that a bad thing? Absolutely not. If you are a Christian in America today, I cannot imagine that you could read this book and not profit. It is a passionate appeal, driven by a strong conviction that the Church is presently in dire need of a sobering, yet hopeful message. And that this is truly the case is made firm beyond argument in the crystal clear and insightful comments that lace the book from cover to cover.

Of course, it is no secret that contemporary Evangelicalism has suffered a great decline in doctrinal stability, true gospel holiness, and influence in the broader culture. Several excellent books have come out rather recently to speak to that fact. So what is it about Barber's contribution that makes it different from these? I would suggest two characteristics:

First, it is one of the most accessible books you will find on the topic. Perhaps the outstanding literary feature of Barber's book is its economy with words, its pithy, forthright sentences that hit hard and forcefully confront hidden attitudes and presuppositions. Although examples could be drawn from almost every page, I've culled a few specimens to give a taste of his style and blunt wisdom:
"Fundamentally, people aren't products of culture. They're products of Adam" (p. 13).
"...overly sophisticated churches of today see little to no benefit in articulating their oneness with other churches. In reality, when it comes to the historic creeds and confessions of the Church their attitude tends to be wholly dismissive" (p. 24).
"Innovation is not a sign of the Church" (p. 24).
"Jesus doesn't call us to attract people to our churches. He calls us to minister the gospel through which He attracts people to Himself. This is what men have forgotten today: the inherent power of the cross to draw people to Jesus!" (p. 26).
"Why have many evangelical pastors abandoned the message of the cross in favor of innovation in the ministry? They no longer believe in the power of the gospel!" (p. 28).
"...there's a world of difference between talking about Jesus and preaching Christ. To preach Christ is not to talk about how Jesus is the answer for your mid-life crisis. To preach Christ is to preach the realities of sin, salvation, heaven, hell, His passion, the glorious grace of God to sinners as repentance from sin, trust alone on Christ for the forgiveness of sins, and holiness of living" (p. 28).
"Truth be told, we have already arrived at a time when those that still wish to live radical lives for Jesus are perceived as a greater threat to the life of the Church than those who live in open sin" (p. 37).
"The person and work of Christ is the central message of every passage of scripture. Christ is the Bible's subject and object" (p. 37).
"The problem people have with biblically prescribed church discipline flows from their deeper problem with God's justice" (p. 44).
"The evangelical movement is no longer a threat to the world system" (p. 69).
Second, Barber's work stands out in its hope-filled tenor and confident expectation of the swiftly-hastening triumph of Christ's Church, regardless of how bad the current malaise has become. Drawing from examples in the bible and throughout Church history, Barber's enthusiastic prognosis is that revival, change, and reformation will certainly come again. God's Spirit will soon begin to stir the hearts of God's people, granting them anew a true sense of their utter depravity and helplessness, and causing them to cry out from the depths of their hearts for the sovereign mercy of Christ in his unchanging gospel. When the Church has become exceedingly corrupt in times past, God has done this very thing; and to the end of the age, he will continue to work in like manner, until the world is full of the knowledge of the glory of the Lord.

Now, if there is one quibble I have with the book, it has to do with the largely positive (although brief) treatment Barber gives of the Second Great Awakening in particular, which, in my opinion, has much more to do with the contemporary problems that he so forcefully argues against throughout the book than he lets on, being a movement, as I suppose, which inherently contained some of the seed ideas and doctrines which could not but have brought forth the devastating fruit we have experienced in our generation. But whether or not I am right on this point, I am at least confident that Barber both diagnoses the current problems accurately, and basically offers the way forward with unerring skill – with the only possible exception, in my mind, being a hint of a more Keswickian-leaning flavor of sanctification than I am comfortable with, in the last chapter, and which, I suspect, has something to do with a too positive view of the second awakening which gave it so much impetus. But that is a minor point of disagreement from a book that otherwise I very enthusiastically recommend for its deep and desperately-needed wisdom on so many points of vital concern.

In the final few chapters of the book, Barber gives a scriptural explanation of the largely forgotten and misunderstood doctrines of gospel repentance and faith that it would do well for any Christian at all to read and consider very seriously. In those brief chapters, there is much helpful medicine for today's ailing Church, that has been very wanting in Evangelicalism at large since the days of the Puritans. If anyone purchases the book for nothing else but to read those chapters carefully and in a spirit of self-searching, Spirit-assisted reflection, he will doubtless find the time and money so invested to be very richly rewarded in spiritual gain.
Update: I have been personally assured by John Barber that he is thoroughly opposed to Keswick theology, esp. as seen in Henrietta Mears, Bill Bright, et al, and that, although he appreciates some more Reformed elements of the Second Great Awakening, he also recognizes the deviant doctrine integral to much of it. My difficulties with some of his teaching on sanctification may lie, in part, with the lack of any sustained argumentation and clarification on his part, given the brevity of the book, as well as with an unfortunate coincidence of terminology (but not necessarily of actual doctrine) in some of the Keswickian/Revivalistic experiences of my own past.
Book Review: One or Two, by Peter Jones
It is no difficult task to discern that great cultural changes are afoot in the Western world, and that these changes are not friendly to Christianity. But just where are these cultural changes coming from, what is driving them, what are their real implications for the unique message of biblical Christianity, and how should Christians respond? Peter Jones' perceptive analysis of the new paganism contains invaluable information that all who claim the Name of Christ would be foolish to disregard, and a sobering prognosis that calls for much serious reflection. I would recommend this book both to non-Christians, who might be surprised where so many of the current cultural and political trends really originated, and what the alternative to them is; and also to Christians, who will doubtless be enabled by it to explain the differences between true Christianity and every other option in much more detail.

Anyone who is familiar with Tolkien's masterpiece will appreciate the analogy Jones employs at one point in his book:
"A scene in the movie, The Lord of the Rings, shows the band of heroes hopelessly surrounded by thousands of orcs in the Mines of Moriah. Then, miraculously, the ugly crowd, in a squealing frenzy, dissolves into the shadows. Relief registers on the travelers until... a far more fearsome enemy emerges from the depths of the earth—a Balrog, demon from the beginning of time.
Christians were relieved when secular humanism, long-time enemy of biblical supernaturalism, scurried off into the shadows. Little did we realize that a demon from the beginning of time threatens our "Fellowship of the King." That demon comes in disguise, offering spiritual help from the one place where it cannot be found: within the human soul."

So what, in Jones' analogy, is this "demon from the beginning of time? The bad news is that it is a system that has been in existence from the beginning, and has served as the foundational basis for all the great religions of the world. It is the "One-ist" view of the world – that all creation is essentially the same, that we all partake of it, and that we are to derive all our own answers and beliefs from it. In a word, whether Buddhist, Hindu, or any of the old pagan systems of old, it is "The Lie," which exchanges the glory of the invisible God for the lesser glory of his created things. The good news is that the Lie has already been exposed by the Truth – the "Two-ist" view of reality, which recognizes that all creation is utterly distinct from the Creator, and that who we are and what we ought to think and do and be must come from outside ourselves and outside all of creation.

This "Two-ist" worldview overcame the old paganism many centuries ago, after Julian the Apostate failingly attempted to reinstate it in the stead of Christianity, and ended his attempt with his death-bed cry of defeat, "You have conquered, Galilean!". But have the forces behind the modern cultural revolution succeeded where Julian failed? Is there really a new rebirth of the old paganism afoot? Is that what the revolution of the sixties was all about? And if so, what does it mean for the future of Christianity in the Western world?

Jones has obviously thought about these issues very carefully, for a very long time. He has gathered together piles of examples and documented immense changes. And what he has found is that the beliefs of the new culture, which is rising up to replace the old "secular humanism" of the past generation, is precisely in line with what Paul argued against in Romans chapter one: instead of the truth about God, the Creator of all things, there is a renewed emphasis on the supremacy and divinity of nature and the environment. Instead of the true worship of God by offering up our bodies as living, holy sacrifices, there is a renewed emphasis on a false spirituality, which seeks enlightenment by discovering the truth within, or being freed from the bonds of the physical body. Mystical meditation, ancient shamanic practices, and many other such false spiritualities are rapidly gaining ground as legitimate religious practices. Finally, instead of heterosexuality, which by God's design represents the "two-ist" nature of reality and the union of Christ with his Church, where "One" and "Two" are finally joined, there is a widespread push for "pansexuality" – accepting as legitimate every form of sexual expression, including homosexuality, which is clearly against the commandments of the Creator, but which is in full harmony with the "One-ist" view of the supremacy of creation.

Jones summed up the point of his book when he said, "You will never understand cultural conflict, debates in the Church, or your own questions about life if you do not understand that the world is divided over Truth. A timeless antithesis exists: Is everything God (One-ism), or is reality divided into the Creator and everything else (Two-ism)?" As a broad, "big-picture" overview, One or Two provides a helpful foundation for recognizing just how deep-seated and important the differences really are between true Christianity and everything else, which, in spite of the great variety, is at heart fundamentally the same in its opposition to the Truth that Paul so clearly proclaims in his letter to the Romans.
The Second London Baptist Confession of 1689 & The Baptist Catechism
The Second London Baptist Confession of 1689 & The Baptist Catechism
This volume uses the accepted editions of both the Confession and Catechism along with the Scripture Proofs for both. Also included is a brief Introduction by Dr. Jim Renihan, and the original Appendix on Baptism. Aside from the differences on Baptism, almost identical to the Presbyterian Westminster Confession of Faith.
Finally the Reformed Baptists will have their most important doctrinal statements in a form that will endure for generations to come. This beautiful edition will send the right message to the watching world about the enduring value of these documents.
Features:
- 60# paper (360 ppi for long-lasting durability)
- Gold stamping on both spine and front cover
- 1/4" marker ribbon, black, bound into the book
Book Includes:
-Historical Introduction by Jim Renihan
-Original Letter to the Reader
-The Second London Baptist Confession of Faith of 1689
-Original Appendix on Baptism
-The Baptist Catechism with Scripture Proofs
This is not a modernized version of the Confession or the Catechism.
Book Review: Burning Down the Shack, by James B. De Young
"The number one error of The Shack," James De Young summarizes in an appendix to his critique of that influential bestseller, "is that Paul Young commits the great evil that he faults the human race for committing from the beginning onward. Paul Young makes the number one evil in the world...to be the independence from God that Adam and Eve exercised in the Garden of Eden.... Yet Paul Young himself indulges the great sin of independence. By embracing the basics of universal reconciliation, Young creates his own view of how love and holiness or justice relate but does not reflect all those texts that talk about the judgment of God on the unbelievers who reject him". This analysis, which I find indubitably correct, goes far toward explaining the root error that has sprung up in many bitter fruits, which, elsewhere, De Young enumerates: "Paul Young improperly redefines the meaning of the Trinity and the special roles of God the Father, Christ the Son, and the Holy Spirit. He distorts the nature of Christ's crucifixion, the nature of sin and punishment, the wrath and judgment of God, and the nature of God's love and having a relationship with him. He has no place for the devil, the enemy of every Christian. He has corrupted the nature of forgiveness, the nature of faith and reconciliation, the nature of salvation, the very meaning of the gospel, who the children of God are, what the bible is, and the role of the institutions of the church, the state, and marriage. Indeed, he rejects the latter, twice calling them a 'trinity of terrors'".

These accusations are supported with a multiplicity of troubling quotations taken directly from The Shack; and they serve as evidence of what great errors God in his righteous wrath is often well-pleased to plunge them into who have rejected the sole sufficiency of his own self-revelation in the inspired scriptures, and have turned instead to fashioning God after their own imaginations and the councils of their own hearts. This bestseller has sadly influenced the spiritual perceptions of countless persons. I ardently urge you, if you are one of that number, to take a moment to consider very soberly and seriously if the picture of God that Paul Young has painted in The Shack is in accordance with the God who has condescended to reveal himself in the bible.

De Young's book may help you to undertake that sober consideration. Because of his previous, personal acquaintance with Paul Young, the author of The Shack, he is aware of the latter's spiritual journey, which resulted in a wholesale acceptance of the false teaching of universal reconciliation, and the life-changing effects that this error had upon him. The telltale signs of universalism, as De Young points out, are suffused throughout the entire novel; but his personal knowledge of the author vindicates one's finding of such elements, and serves to assure the uncertain reader that they really are there and they really are of a destructive nature, and attended by devastating consequences.

Of course, the false teachings of The Shack are not so hidden that they must be brought to light by long, laborious trains of logic, but they often lie right on the surface. De Young has helpfully collated many of these heretical sentiments, and deals at length with all of them, often in a clear and helpful manner. Some of the novel's false doctrines, which he treats of at length, I will reproduce here: God the Father says, "When we three spoke ourself into human existence as the Son of God, we became fully human"; "Although Jesus is fully God, he has never drawn upon his nature as God to do anything"; "I don't need to punish people for sin. Sin is its own punishment, devouring you from the inside. It's not my purpose to punish it; it's my joy to cure it"; "In Jesus, I have forgiven all humans for their sins against me, but only some choose relationship". Jesus says, "I don't create institutions – never have, never will"; "I have no desire to make [people] Christians". The Holy Spirit says, "I have a great fondness for uncertainty". These and many other direct quotations show a great multitude of errors, many of them serious enough that they have been condemned as heresy by the Church throughout its history (e.g. the heresy of "Patripassianism," which says that God the Father suffered on the cross, and which Young clearly teaches, making his imagined character of God the Father to have nail prints on his [her!] wrists, among other things).
Continue reading "Book Review: Burning Down the Shack, by James B. De Young" »
Book Review: This Is My Body, by Thomas J. Davis
If there is one symptom that serves better than any other to reveal the discrepancy between the first Reformers and their Protestant heirs today, when it comes to their respective theological emphases, practical piety, and just what is of central concern to the Christian faith, it may well be the question of the Eucharist. In very few Protestant circles today could it be said of the Lord's Supper that it obviously stands at the very heart of what it means to be a Christian and pursue a Christian life; in it's stead, all sorts of other, peripheral means of grace are sought, which usually involve a sort of individualism, and a personal, subjective element quite out of keeping with the objective reality of Christ's authoritative pronouncement, "This is my body". The famous (or infamous) unyielding severity with which the Eucharistic wars were waged among the magisterial Reformers, and the fact that the papal mass unexceptionally drew some of the sternest denouncements from all of them, tells us at least this, that the matter was absolutely vital to them, to a degree that the average Evangelical would not understand today. But the question is, Why? What did they see in the Eucharist that was of such vast importance to all of them, regardless of how differently they may have viewed the matter?

In his examination of the Reformer's eucharistic thought, This Is My Body, Thomas J. Davis has done an excellent job of analyzing what Luther, Zwingli, and especially Calvin really had to say about the presence of Christ in the Lord's Supper; and along the way, he has uncovered just why it was so crucial a topic to them. What he has to say about Calvin's understanding in particular (to whom he devotes the bulk of the book) is meticulously-researched, well-reasoned and certain to shake up the common conception. His somewhat surprising, but probably right, assessment is that Calvin's doctrine of the presence of Christ in the Eucharist actually had more in common, and on more important points, with Luther's doctrine than it did with Zwingli's. In fact, it would perhaps not be too much to say that the real presence of Christ in the Eucharist was as vital a point for Calvin as it was for Luther. And in addition, the bodily presence of Christ, although explained differently and fiercely rejecting any idea of ubiquity, had an immensely important role in Calvin's thought.

Undergirding much of Davis's analysis is his research into the importance of sign and thing-signified in sixteenth-century Europe (his concluding chapter is a penetrating discussion of sign and reality in Renaissance art, and the effects that this cultural paradigm may have had on the hermeneutics of the Reformers); and this information is helpful in unpacking Calvin's treatment of the Eucharist. Although Calvin, against Luther, was willing to talk of the Eucharistic elements as "signs," the meaning of which must be made plain by the Word of institution, properly understood, he nevertheless considered the signs utterly necessary for the communication of grace. Against those who argued that the signs are unnecessary, since they build up the believer's mind through the Word, which in terms of mere understanding could be just as easily done by the Word alone (a fairly common perception today, as well!), Davis argues that "Calvin, however, considered the signs essential....it is the special function of the signs to imprint on the believer's heart one's communion with Christ. The imprinting process requires that physical signs accompany the word for two reasons: the necessity of God's condescension because of human weakness and the requirement that Christians follow God's commands." In fact, in a later discussion, Davis suggests that, to Calvin, "sacraments convey a better understanding of salvation to the Christian than the Word alone, because the sacraments appeal to all of the bodily senses: taste, feel, smell, sight, and (with the adding of the Word to the sacramental sign) hearing" (emphasis added).

The importance of signs as instruments of grace reaches all the way to Calvin's Christology. God is never unmediated in our sight of him; and the ultimate instrument by which he revealed himself is the truly human body of Christ. Therefore, "Since Calvin's theology of God is instrumental, to speak of things as instruments is not to denigrate them: it is to put them in their proper place in relation to God. God remains the efficient cause of all good things, but those good things are carried by instruments of grace. As such, to say that Christ's body is instrumental in conferring salvation on the Christian and that the body and its senses are instrumental in appropriating knowledge and understanding of that salvation is not to denigrate the instruments but to understand their role" (emphasis added).

But even so, is not the fact that Calvin spoke of the elements as signs, in and of itself an indication of the great divide between himself and Luther? Without minimizing the differences, the two perspectives were perhaps not quite so antagonistic to each other as has often been made out. Although Calvin could never agree to the ubiquity of Christ's human body, simply because he clung so tenaciously to the ongoing fullness of Christ's humanity, including that physical element of a human body localized in space, he nevertheless attached a vital significance to the Christian's being made to partake of the human body of Christ – although, true to Calvin's custom, he was willing to let the mechanics of that union remain shrouded in a divine mystery beyond which he did not dare to penetrate – "Calvin was never able to fully comprehend, much less explain to others, the details of the mode of union".

But he did consider the union essential: "The body of Christ is the sine qua non of Christian life. The Christian experience is nothing more and nothing less than participation in that body. And that, for John Calvin, is how God is to be known. Scripture, Sacrament, and preaching point to that body and present it; the Holy Spirit joins the Christian to it." In this, to substantiate Davis's suggestion, Calvin really does seem closer to Luther than to Zwingli.

Davis hits upon a helpful truth when he is analyzing Calvin's hermeneutics, and particularly, his frequent use of (as well as finding of) the literary device of "synecdoche" (using a part for the whole), which enables him to give a compelling, brief description of Calvin's Eucharistic thought, which shows both the essential similarity and the greatest discontinuity with Luther's:
Calvin's insistence that we are saved by our participation in Christ's body and that we are fed by Christ's body can be read as drawing life from Christ's humanity. This is not to dispel the notion that when Calvin spoke of Christ's body he did not mean only Christ's body: he meant at least that. Did he mean more? I think so. Being human demands having a human body; we see Calvin as insistent on this in his eucharistic teaching, and one can read at length about this in his commentary on the ascension in Acts. But the reason Calvin demanded that Christ's body remain in heaven, even in the eucharistic celebration—hence the requirement of the Christian being lifted up to heaven in mind and spirit to be joined with Christ there—was because he thought the body, with its limitations, to be requisite for true humanity. And for Calvin, Christ must retain full humanity even after resurrection because the humanity of Christ is the mediatorial principle in Calvin's theology. In the humanity of Christ, the Christian sees incarnated the will of God. It is the humanity of Christ to which the Christian has access.
As the foregoing excerpts demonstrate, Davis exhibits both a detailed knowledge of Calvin's thought, not just from the Institutes, but from the entire body of his writings; and he is exceptionally adept at bringing all the various emphases and motifs of the great Genevan into a coherent and self-interpreting whole, which has some eye-opening effects on just how he really viewed the sacrament of communication with the body of Christ. This fresh understanding may well prove fruitful in the coming years in paving the way for a greater recognition of commonality between Lutheran and Reformed Eucharistic doctrine.
Book Review: God's Lyrics, by Douglas Sean O'Donnell
There are many books available on the specific question of music in worship, some focusing on lyrical content and others on musical style, with positions ranging from psalter-only, a capella singing to arguments for the superiority of the modern praise and worship genre to classic hymnody; but I'm not aware of any of them that do precisely what O'Donnell's new book, God's Lyrics, has done. He has not touched upon many of the pertinent issues: the application of the Regulative Principle of Worship, the question of musical style, and so on, are left untouched. But what he has put together is certainly an important contribution to the discussion, which may prove to be eye-opening at least, and even paradigm-shifting in some respects.

The basic concept of the book is simple enough: before we can properly evaluate the lyrics we sing in church, we must know what appropriate lyrics should look like. And if we would know what fitting lyrics should look like, we can do no better than to examine the inspired lyrics of God's people throughout the whole course of their history, see what they have sung about, and compare our songs against that standard. When we do so, however, the conclusion may be a little unexpected, whether we prefer classic hymnody or contemporary praise and worship!

In order to provide this evaluation, O'Donnell has done two things: first, he has given an exposition of the songs of God's people at the key junctures in their redemptive history – the two songs of Moses and the songs of Deborah, Hannah, David and Habakkuk (with some additional thoughts on Mary's Magnificat, Simeon's Nunc Dimittis, and the songs of Revelation). Second, he has drawn out all the major themes from those songs, and made a scientific comparison between those themes and the themes both of the most popular classic hymns and the most popular contemporary praise songs.

What O'Donnell has discovered, in this process, is a definite disconnect between biblical emphases and the emphases in our own singing, both in contemporary worship songs (unsurprisingly!) and also, to a lesser extent, in much classic hymnody. Although in a generally winsome way, he is very direct in pointing out our widespread failure to make our own singing thematically similar to the singing of God's people in scripture. Speaking of the Song of Moses, for instance, he suggests, "We can sing verses 13 and 17 and 18, which speak of the Lord's leading his people out of Egypt and into the Promised Land: 'You have led in your steadfast love the people whom you have redeemed; you have guided them by your strength to your holy abode' (v. 13). But can we sing what falls between those verses, of the 'terror and dread' that will fall upon 'the inhabitants of Canaan'...?"

O'Donnell continues, "Maybe we should cut and paste our bibles, making them a collage of our culture, a mirror of our worldly minds and its conceptions of God and justice and salvation.... Or maybe we should just cut out all this cutting out and hear what God has to say"!

Hearing what God has to say is in fact what O'Donnell has striven to do in the first part of his book; and in the second part, he has compared what we customarily sing against that standard. His careful comparison of the fifty most popular modern praise songs has discovered several problems, the most serious of which is an overwhelming emphasis on the experiential, subjective element of the one worshiping, and a corresponding de-emphasis on the objective truths of the great works of God in history. Even the "God-centered language" of these songs "is often confused, if not nullified, by the language of self".

But classic hymnody, as well, although not to the same degree, has some disparity of emphasis. Of the twenty-five most commonly sung pre-1800 hymns, the major discrepancy is the lack of rejoicing in God's righteous judgment against his enemies, which is such a dominant theme in biblical songs of redemption.

So where does all this leave us? Some would say, "psalter only (or inspired-text only) singing is the answer, of course!" I certainly wouldn't argue against drastically increasing the amount of divinely-inspired songs that the modern church sings in worship – and O'Donnell's appendix, in which he has put the six key songs of redemptive history in meter, and set them to some common hymn tunes, may prove a very valuable way to do that very thing. But without getting into Regulative Principle arguments (as that was not the burden of the book anyway), it must be admitted, even by those of us who believe that there is good warrant for composing and singing songs that accord with the scriptures, that what we present to our congregations to lift up to the Almighty God in worship is of utmost importance. If we do not give the matter serious attention – just as serious as the evaluation that O'Donnell has provided for us – then we are derelict. Without over-reacting and expelling good, biblically-sound songs, we need to ensure that we are only singing songs that fully agree with the biblical example and testimony; and also, that we are not singing a repertoire of songs which, when considered as a whole, fails to evince the balance and range of doctrines that the inspired text of scriptures portrays the church as singing. It is that latter principle that was eye-opening to me; and for providing ample evidence to work with in addressing the widespread failure in that regard, I am very grateful for O'Donnell's work.
Book Review: From the Resurrection to His Return, by Don Carson
I love it when real scholars can write so simply and practically that someone who doesn't know it would never suspect that they're academicians. This is a trait that Carson has displayed from time-to-time – and his recent book on "Living Faithfully in the Last Days" in light of the soon return of Christ is a perfect example of that.

What is the book (or booklet) all about? It's just a practical exposition of a practical portion of scripture: 2 Timothy 3:1—4:8. Walking paragraph through paragraph, Carson explains what the Apostle Paul has to say about living in the last days; holding the right mentors in high regard; holding few illusions about the world; holding on to the Bible; and holding out the Bible to others. Very practical stuff, that cuts to the heart of certain widespread errors in the modern Church.

It's too bad that, of the immense body of writings available on the topic of "eschatology," or the study of things and events surrounding the coming return of Christ, 99.9% of it is on the "what," and only an infinitesimal fraction on the "so what". But in the Bible, the "what" of Christ's soon and certain return is always used to fuel the "so what" of how to live in these last days. And Carson's book reflects that biblical emphasis that is so lacking elsewhere.

Even if you're wary of theological titles as slow-going, hard-to-read books, this is not a book to be intimidated by. It will take you an hour to read if you're a fast reader, two if you're slow; and that will be an hour or two well-spent. You will learn something, and it will be something very practical and of foundational importance for what really is the best way to spend this fleeting life on earth.
Book Review: Before God, by Mike Sarkissian
It struck me, this week, that if you really want a litmus test of true saintliness, it won't do to look for sacrificial acts of charity, passion-filled preaching or writing, frenetic occupation with ministry-related works and endeavors, success in filling churches, sending out missionaries, becoming a "pop star" in the world of Evangelicalism. If you want a litmus test of true saintliness, all you really have to know about is a person's prayer life. There is no truer sign of a genuine, humbled, God-loving follower of Christ than one who, whether in public or private, cannot refrain from pouring out his soul to God continually, because he knows his sinfulness and inability for anything good, yes – but he also knows God as a Father and Jesus Christ as a faithful and sympathetic High Priest. That was one of many things that struck me while I was reading Mike Sarkissian's book, Before God: The Biblical Doctrine of Prayer; and I would strongly encourage anyone else to give it a careful reading.

The subject matter of the book makes it thoroughly practical, from cover-to-cover; and the way in which the subject matter is approached is commensurate with its importance. Prayer is coming to God on his own terms, at his invitation, in accordance with who he is, what he has done for us, and what he invites and commands us to do. From page one, Sarkissian's work is suffused with that perspective. Before he says a word about prayer, he spends some vital time discussing authority – and comes to the conclusion that it is only God's Word to us that provides any basis for what we believe or how we approach him. If we really want to pray, we must ask with the disciples, "Lord, teach us to pray". This is such a foundational point to make, for if we approach God in any other way, then it won't matter what or how we pray after that. God cannot be approached on our terms; and that is the first and non-negotiable lesson of prayer.

It is upon this firm foundation that Sarkissian builds his book; and fittingly, he undertakes to do nothing but explain what God himself, through his infallible word, has taught us about prayer. In this, he has done a tremendous job of giving a comprehensive overview of the complex treatment the scriptures give of prayer. A significant portion of the book is spent in a helpful and practical exposition of the Lord's Prayer, which is good; but he does not just account for Jesus' teaching on the nature of prayer, he also gives some time explaining his own example of a prayerful life, from his wilderness devotions to Gethsemane, as well as the foundational necessity of his intercessory and mediatory prayer for all the saints. Finally, he brings together the biblical witness to a whole plexus of related questions, touching on everything from posture in prayer to the questions of fasting and laying on hands, with many other such questions in between. Through it all, his writing remains characterized by three things: commitment to the scriptures alone as the ultimate authority to answer any of our questions; emphasis on simple explanation and practical application; and warm devotion.

I don't think Mike Sarkissian would take offense (or even contradict me) if I say that this book is not primarily valuable because he is a great scholar or expert in his field; he has been humble enough to recognize the valuable works of many saints and scholars before him, and has been more than ready to stand on their shoulders. The book is filled with quotes and information gleaned from dozens of well-selected sources, including Reformation greats such as John Calvin, many of the Puritans, and modern conservative scholars. This serves to make the book a treasure house of helpful information, from trusted sources, on a vital topic.

And really, Sarkissian just seems a down-to-earth guy with a pastoral heart and a love for Christ. Which is so much the better if you also happen to be a down-to-earth Christian who loves the Father of our Lord Jesus Christ and desires to grow into a more intimate fellowship with him. If you're of that sort (as I am), then I'm confident this book will help you.
Book Review: The Good News We Almost Forgot, by Kevin DeYoung
What thoughts usually come to mind when the word "catechism" comes up in conversation? Hopelessly outdated? Long, tedious, and abstract? A divisive and uncharitable word-club, wielded to the dread and consternation of poor, stodgy children, who have grown interminably pale and listless by reason of forced exclusion from fresh air and exercise, and over-exposure to sixteenth-century archaisms? True, I may be describing the impression in a bit of an overdone fashion, but I think there's enough truth in the portrayal to strike a nerve. Catechizing our children is simply not in vogue these days, at least in much of the Western Church; and the perception of catechizing is largely negative. Why is this? Is the skepticism warranted? Kevin DeYoung is to be thanked for doing a tremendous job of answering that question in the negative; and he is to be thanked all the more heartily for choosing to do so with that most precious, gospel-rich catechism of them all (with a couple close contenders!), the Heidelberg.

Really, where in two-thousand years of church history may one encounter a more beautiful, compelling, and succinct summation of the gospel and the Christian life than the Heidelberg Catechism? They who look askance at catechisms either have no eye for beauty and truth, or have not looked closely enough at the Heidelberg. And in either case, a fresh dose of this catechism may prove a very healthy corrective.

Kevin DeYoung has done a good job in providing this fresh look at the Heidelberg; and he has done so in such a way as to bring out the fact that this sixteenth-century catechism is not outdated, but eminently practical and relevant to many controversies peculiar to our own time and society. It is not abstract, dull, or hard-to-follow, but surprisingly simple, profound in an easy-to-comprehend sort of way, and full of that intuitive and surprising beauty which characterize truly great expressions of the pure, unadorned truth. It is not uncharitable, nor excessively divisive and polemic, but rather a warm, pastoral, and tenderly loving guide to the great truths of the bible. All of the common, largely negative stereotypes melt away in the down-to-earth and up-to-date meditations in DeYoung's book.

But wasn't the catechism written to address such questions as transubstantiation versus memorialism versus spiritual presence in the Eucharist? Justification by an external righteousness imputed versus an internal righteousness infused? All of those questions were hammered out centuries ago, weren't they? What can the catechism teach me about the hot-button items of today? Does it address political agendas, environmental concerns, the question of homosexual behavior in the Church, contemporary versus traditional forms of worship, the "deeds not creeds" mindset of the "emerging church" and other such movements? Surprisingly enough, in these and many other such issues, DeYoung brings the truths of the Catechism to bear in surprisingly helpful and relevant ways. And he always does so in a style that is very straightforward, engaging, charitable, winsome – if there is anyone who does not come across in the academic, stodgy manner with which so many people acquaint the old catechisms, it is DeYoung. And yet, as he makes very clear, he himself loves the catechism immensely and finds it anything but old, boring, or out-of-date.

Will everyone agree with every opinion he gives on the plethora of practical issues that come up in the course of his walk through the catechism? No, it is only to be expected that a person may have a quibble here with his application of the second commandment to the question of portraits of Jesus, or a raised eyebrow there over his "vivacious baby-baptizing" [!] – but his secondary opinions are all framed quite charitably, and the essence of his theology is so soundly gospel-centered that I can't foresee any true believers coming away from the book scowling. Helped in many ways? Yes. Made to think more deeply about practical matters? Yes. Just a little miffed over a minor point made here and there? Perhaps, if there are any readers out there who have strong opinions on certain theological matters (and don't we all, to some degree?). But disappointed with the book as a whole? I can't imagine that anyone would come away with that impression – unless, of course, he is a little upset by the true Gospel of God's grace itself.

Because, really, when you get right down to it, that's what the Heidelberg Catechism is: a faithful portrayal of the Gospel of God's grace; and DeYoung's book is a faithful explanation of what the Heidelberg Catechism says, rounded out with specific applications of it to every topic under the sun. Which is just to say that this really is a book about the good news of the Gospel; and if we really have "almost forgotten" this good news (and in some cases, I'm afraid to say, we largely have), then nothing can be a more pressing issue than "rediscovering the gospel in a 16th century catechism".

"This has been a book about theology," DeYoung candidly admits in the epilogue; "about knowing theology and loving theology. But if we've really paid attention to the Heidelberg Catechism, this should also be a book about warmhearted experiential faith. In fact, knowing and loving theological truth is what produces the warmhearted experiential faith." Kevin, I concur.
The Good News We Almost Forgot: available at Monergism Books.
Book Review: This Is For You, by Jimmy Hopper, Tim Lien, and Eric Venable
This Is For You is something of a unique book, that I believe could be put to a very profitable use by a great many Christians. It's similar to a daily devotional – each chapter is very brief, but contains much food-for-thought that could be ruminated upon throughout the day – but all of the meditations are on the sacrament of communion. Hence, rather than reading it daily, it seems geared toward a weekly use: every Lord's Day, before approaching the table, believers would do quite well to read one of the meditations, to assist them in reflecting upon the vastly important significance of what is taking place in the breaking of the bread.

I immediately hit it off with these authors, and felt that I had taken a journey quite similar to theirs. Previously, in their broadly Evangelical backgrounds, they had seen communion as something that they primarily were doing – it was a time for them to remember the Lord's death, symbolize their faith in him, search their hearts for sin and failures, and ask forgiveness. What was missing was any thought at all that the sacrament was a means of grace – something that in reality was primarily the work of God, signifying and sealing his covenant promise to be merciful to us, and mysteriously but really nourishing our hearts with his spiritual presence.

This radical shift in understanding may be illustrated by a couple of quotes. First, Tim Lien reflects on his practice of communion before his thinking shifted to a more Reformed perspective (and his words could just as easily be mine!): "Bread in hand, I would hold it and try to get myself into a focused spiritual sobriety. Concentrate, concentrate, bread lifted, I'm sorry, I'm sorry, bread at lips, please forgive me, please forgive me, bread in mouth. Commence juice sequence. I'm sorry, I'm sorry, think about the dying bleeding Christ, forgive me, forgive me, try to imagine the physical horror, help me to do better, gulp the Welch's. It is finished." I can definitely relate to that way of doing communion. The problem with it is, it's all about what I'm doing, how I'm repenting – but doesn't the whole concept of being fed at the Lord's table indicate the exact opposite?

So what, then, is the proper approach to the sacrament? In a different place, Eric Venable describes a different way of thinking: "There are many things I love about the Reformed understanding of the sacraments, but near the top of the list is the understanding of the sacraments as a means of grace....at the hearts of this phrase is the idea, that the Christian life is not a self-sustaining enterprise.... God's biblical prescription for a weak, susceptible, and failing faith is not for us to redouble our efforts, do more Christian things, and attend more Christian activities. Instead, it involves humbling ourselves to recognize our own inability within ourselves for spiritual vitality. It is then that we open the mouths and ears of our souls to humbly receive the help that God gives. The Reformed tradition believes that the primary and most vitally important way that God strengthens and grows our faith is through the means he has prescribed, specifically, through his Word, his sacraments, and prayer." I would concur most heartily – and when the Lord's table is approached in this way, what a time of wonder and joy it becomes, to realize that, in spite of my weakness and inability to continue in the faith, God is richly supplying me with his own presence, his own body and blood, to nourish my heart for the long journey home!

Of course, the sacrament of communion has many wonderful nuances, meanings, and applications, which I cannot get into here. But in this little book, many of them are brought out and reflected upon in a very helpful way. I think the authors' perspectives are quite consonant with historic Reformed thought, and would be very beneficial for many Evangelical Christians today who may not be familiar with this perspective on the sacraments, and in particular, the sacrament of communion.
Rescuing Ambition by Dave Harvey