Objections to Sovereign Election
Chris Arnzen's recent interview with me on Iron Sharpens Iron focused on handling objections to Sovereign Election and is now posted online at this link. - JS
My Journey Out Of The Word Of Faith

The audio from the program is now available here for listening and download.
Chris Arnzen writes:
June 4, 2015: TODAY's GUEST on "IRON SHARPENS IRON" Radio, heard 4-5pmEDT at www.IronSharpensIronRadio.com, is PASTOR JOHN SAMSON of King's Church in Peoria, AZ (see www.KingsChurchAZ.com & www.EffectualGrace.com) to discuss his JOURNEY OUT OF THE WORD OF FAITH MOVEMENT INTO REFORMED THEOLOGY. John was not only once a "Word of Faith" preacher but also a TALK HOST on the "Word of Faith" movement's TV oasis, the Trinity Broadcasting Network, before realizing, abandoning & repenting of his heretical ways.
John has filled-in as guest host for Dr. James R. White of Alpha and Omega Ministries on a number of occasions on his "Dividing Line" broadcast, and is the author of "Twelve What Abouts: Answering Common Objections Concerning God's Sovereignty in Election".
Back in September 2014, I hosted Dr. James White's "Dividing Line" Broadcast and discussed something of my journey out of the word of faith movement.
Interview: Law and Gospel
Last evening I was interviewed by Scott Oakland on the reformedcast.com website on the subject of the distinction between Law and Gospel. You can hear the full interview here. - John Samson
Interview with Omri by Marco Gonzalez
I would like to introduce you to a series of blog posts I will be starting. Years ago, I began to interview John Frame and Vern Poythress, which drew great interest from our readers. Periodically, you will be seeing more interviews from local pastors, rap artists, or possibly more theologians.
This series will begin with Omri, a lyrically talented artist who lives in Arizona. I am humbled that he agreed to the interview and believe you will be edified by his wisdom. Many readers will be quite familiar with Omri. He has been featured on Shai Linne's "Attributes of God" , "Lyrical Theology", and Christcentric's "The Jude Injunction".
Here is a brief bio about Omri:
Omri is a living testimony of the sovereign, saving grace of God. Despite being raised by believing parents, he did not experience a radical change of life until his final year of college. Shortly after his conversion, he moved to Phoenix, AZ and began serving at Grace Bible Church. It was here that God used the church to mature and refine Omri as a Christian man, equipping him with the theological depth and practical wisdom relayed through his music.
Artistically, Omri aims to communicate the majesty of the Creator through the beauty of lyrical complexity. He currently resides in Gilbert, AZ with his wife, Emily, while teaching high school Bible and English and pursuing a Master of Arts degree in Biblical Counseling at the Master's College.

Tell us a little about yourself. I first stumbled upon your work on Shai Linne's "Attributes of God" and was highly impressed with your musical/lyrical ability.

I've been writing and recording a little over six years now. The first time I recorded was during the same week that God saved me, but ironically, the two events were unrelated. I have always enjoyed words, even from a young age. Whether it was reading books and comics, writing, or listening to good speakers, for whatever reason, I have always been drawn to elegant diction. Shortly after God saved me, I moved to Arizona to get plugged in at Grace Bible Church where my wife and I currently serve. Besides making music, I teach English and Bible at a local Christian high school full-time and I'm studying to complete my Master's degree in Biblical Counseling at The Master's College. Unfortunately, these things don't leave as much time for music as I would like, but it's all good. This is what God has for me right now. The Attributes of God feature was actually my first big feature and quite a few people who currently follow my music were introduced to me then. It's encouraging to hear that you had the same experience.

When were you first introduced to Hip-Hop and when did you begin to see it as a viable use for the Glory of God?

Good question. I honestly don't even remember the first time I heard rap because growing up, I wasn't allowed to listen to it. My parents didn't understand it, and like many people in the late 90's, just saw Christian hip hop as the church trying to be like the world in order to reach the world. I never lost interest in rap though. I can remember listening to Yolanda Adams with my parents and always anxiously anticipating this one rap verse that was on one of her songs! Eventually, though, my parents warmed up to the idea of Christian hip hop and began listening to it with my siblings and me.
Whether or not rap could be used to glorify God was never a question in my mind though. It never even occurred to me that there was a reason why it couldn't be. In college was the first time that I actually tried my hand at writing poetry and performing it. My school hosted open mic nights all the time and I grew tired of listening to people exalt stuff that was sinful. So I started writing just for the sake of being a light and calling people to repentance. Over time, I grew in confidence through people's encouragement that I was actually decent at it, even the people who were sinning in the ways I was talking about when I performed!

What is your process for creating music? How do the scriptures, theology, and prayer fit into this?

How I make music has changed constantly over the years. Initially, I was just downloading free, generic beats online and writing lyrics to those. About a year in to writing and recording, a friend taught me about multisyllabic rhyme schemes and I began developing that writing style. Now, after putting out a decent amount of my own music, I am giving more attention to the musicality of my songs and projects. What hasn't changed is the role that theology, prayer, and God's word play in the process. I see my music is a platform for God's exaltation and the proclamation of the gospel. I'm not interested in being reserved about those things or talking about other stuff. I still enjoy some music that doesn't major on those same things or aren't as explicit about them, but that's not what I want my music to be. I'm constantly praying that God would guide me and give me wisdom and skill throughout the creative process like He did for Bezalel and Oholiab in Exodus 31. Whenever I write, I try to consider Psalm 40:3, "He put a new song in my mouth, a song of praise to our God. Many will see and fear, and put their trust in Yahweh" and Psalm 102:18, "Let this be recorded for a generation to come, so that a people yet to be created may praise Yahweh." I'm aware that, by God's grace, He may use my music to move people to think about Him in a way that affects several generations to come. That is what I want God to accomplish through my music.

I would invite anyone who has not watched this video to view it before reading this. Please share with us your heart on this video. Why "Wonderful Complexity"? And what inspired you to create such a masterpiece?
Wonderful Complexity was something that I had been wanting to write for a very long time. Early on in my Christian walk, through reading the Bible with an eye toward God's attributes, I began to realize that God was far beyond anything that I could imagine. He didn't mesh with my logic and there was no way that I would ever fully wrap my mind around Him. I began reading the M'Cheyne's Bible reading plan in 2009 and I kept noticing passages that, in one way or another, revealed that even the writers of Scripture saw very little of the totality of God. I started to get the sense that everything I was reading in Scripture was just the tip of the iceberg. Among those passages are Deuteronomy 3:23-24, Job 26:14, Nehemiah 9:5, and Psalms 145:3 and 147:5. Those have become some of my favorite verses and most helpful to my own growth as a believer. With the Wonderful Complexity song and video, I wanted to capture something of that sense of wonder by highlighting the paradoxes within God's character. Lord willing, it will simply be a catalyst for listeners to continue (or begin) considering God in that way. I like to think of it as my small contribution to the world to accomplish that end.
The recent controversies surrounding Christian Hip-Hop have left many believers on both sides of the fence. Many Christians see Hip-Hop as invalid and should not be a means to preach the Gospel and edify the church. As an artist, what would you say to this?
Well, obviously, I disagree. Everything that I've ever heard against the use of hip hop for the sake of the gospel has been from who I assume are well meaning saints who misunderstand God's glory and elevate their own preferences. I recommend anyone seeking clarity on this issue to read Al Mohler's article, "Thinking about Thinking about Rap" and God's Servant's article appealing to the NCFIC panelists. I believe both these brothers address the issues surrounding this debate very well.
Where can viewers find more of your music? And what are some future projects we can expect?
I can't say too much yet about what's to come, but I am working on another EP. The idea for the project came from an impactful sermon series that was preached at my church. There is no doubt in my mind that this project will be my best music yet. In the grand scheme of things, we're still a little bit early in the creative process, but I'm excited to get it into people hands. I think it is something that the church and Christian hip hop can benefit from greatly. All my music, as well as links to features and other projects, can be found on isix5.com. For things specific to Wonderful Complexity, visit wonderfulcomplexity.com.

Rosaria Butterfield Interview
"Conversion put me in a complicated and comprehensive chaos. I sometimes wonder, when I hear other Christians pray for the salvation of the 'lost,' if they realize that this comprehensive chaos is the desired end of such prayers. Often, people asked me to describe the 'lessons' that I learned from this experience. I can't. It was too traumatic. Sometimes in crisis, we don't really learn lessons. Sometimes the result is simpler and more profound: sometimes our character is simply transformed." - Rosaria Butterfield
Rosaria's story is a fascinating one, as you will see from this interview below, which took place on January 11, 2013:
Dr. Carl Trueman writes this concerning her book The Secret Thoughts of an Unlikely Convert - An English Professor's Journey into Christian Faith, "This autobiography is the launchpad for numerous sophisticated reflections on the nature of life, faith, sexuality, worship, education and other matters. As one would expect from a lover of nineteenth century literature, the book is also beautifully written with many a well-turned sentence; and as one would expect from someone schooled at the highest levels in critical theory, it eschews simplistic pieties for stimulating analyses of both Christian and non-Christian culture. I cannot recommend this book highly enough. I do not agree with everything she says; but I did learn from everything she wrote. It deserves the widest possible readership." It is available here.
Objections to Divine Election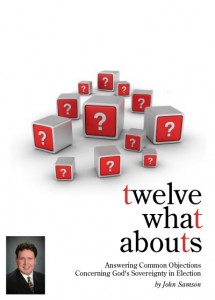 I have just finished being interviewed by Scott Oakland, host of the weekly ReformedCast.com podcast on the subject of God's Sovereignty in Election.
If you are interested in either hearing or downloading the 45 minute program, you can do so at this link. - JS
Twelve What Abouts - Interview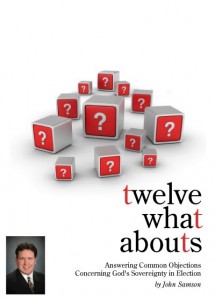 It was a great pleasure to meet the hosts of "Backpack Radio" as they conducted a one hour radio interview of me regarding my new book and the theme "Answering Objections to Calvinism."
The hosts were extremely gracious (as well as cool) and allowed me to really address some very important issues. The time flew by.
Although the show aired in the Phoenix, Arizona area on Sunday evening, you can now hear the program online at this link. - John Samson
FamilyLife Today Interviews Brian Borgman, Author of "Feelings and Faith"
Brian Borgman, author of Feelings and Faith: Cultivating Godly Emotions in the Christian Life recently spoke with Dennis Rainey and Bob Lepine on FamilyLife Today.You can tune into their three-part conversation or read the transcript here.
Part one of the interview focuses on sanctifying your emotions. Dennis Rainey says,
I think every single person who is listening to our broadcast can benefit from a better biblical understanding of how they were made—their emotions. This will help husbands and wives as they relate to each other. Parents are shaping their children to better understand their emotions as well. I think what Brian Borgman has done here is going to be very helpful.
Part two addresses controlling your emotions and combating sin with Scripture. Borgman, Rainey, and Lepine also reflect on Martin Lloyd-Jones' words:
I regard it as a great part of my calling in the ministry to emphasize the priority of the mind and the intellect in connection with the faith. I am equally ready to assert that the feelings, the emotions, the sensibilities, obviously, are of very vital importance. We have been made in such a way that they play a dominant part of our makeup. I suppose that one of the greatest problems in this world, not only for Christians but for all people, is the right handling of our feelings and emotions.
In part three, Borgman discusses faith-led feelings. He says:
We cannot determine the will of God by how we feel about something. We cannot determine what's true by how we feel about something. It's actually very dangerous to rely on your feelings and then translate that into, 'This is what God wants me to do. This is what God wants me to believe, and this is how God wants me to obey.' We know the will of God through the Word of God. It's the Word of God that's infallible, not our feelings.
Transcripts to part I; part II; part III
About Brian Borgman: Brian Borgman is the founding pastor of Grace Community Church in Minden, NV serving as a youth pastor, a volunteer prison chaplain, and a singles pastor. He is a devout Calvinist, and has a B.A. in biblical studies from Biola University, a Master of Divinity from Western Baptist Seminary in Portland, and a Doctor of Ministry degree from Westminster Seminary in California. Brian has authored Feelings and Faith and My Heart for Thy Cause: Albert N. Martin's Theology of Preaching. Brian has a wonderful wife, Ariel, and three beautiful children, Ashley, Zachary and Alex.
Discussing Reformed Theology
The following video from our brothers at Lampmode demonstrates how Reformed theology should be discussed among brothers and sisters in Christ. Even though these four men (Json, Stephen the Levite, Hazakim and Shai Linne) would not consider themselves highly trained Christian theologians and by no means are all in 100% agreement, the conversation is rooted in love and humility with the goal to glorify God and edify one another.
HT: Justin Edwards
Reclaiming the Gospel
Kirk Cameron interviews Dr. John MacArthur on the TBN set, September 9, 2004.
Interview on ReformedCast
Scott Oakland has recently begun ReformedCast, in which he provides a weekly interview with persons in the Reformed Community. I was interviewed yesterday for his third episode. The topic: From Credobaptism to Paedobaptism. Make sure you also check out the first two interviews with Bob Hayton and Sean Michael Lucas, and look for the upcoming weeks with new interviews on the topics of the English and American Puritans.
Didactic Music
When you think of different items that obviously go together as pairs, what comes to mind? Peanut butter and jelly? Socks and shoes? Reformed theology and hip-hop music? Uh...probably not those last two.
But actually, believe it or not, there are a few groups today who are intent on showing that those two items – rock solid reformed theology and hip-hop – can belong together. One such group is Christcentric, and they sent me their latest album, Didactic Music, volume one, to preview ahead of time. Below is my review of their lyrics – and after that, an enlightening interview I had with Christcentric, where they explain just what makes them tick.
The mind of the author...
From Nine Marks Ministries, a very insightful interview between host Mark Dever and R. C. Sproul (back in 2005). Their topic was "Theology & Books" with R.C. sharing his thoughts regarding many of his books. Here are some of the topics and their corresponding time codes:
03:40 -- R.C. Sproul the Writer
11:22 -- Dever's suggestions of where to get started with R.C.'s books
16:42 -- How would you define total depravity?
17:47 -- Why is it important for pastors to get a hold of [total depravity] directly today?
19:05 -- One of the things I appreciate about your writings is you take depravity seriously. So many popular Christian authors out there are telling people that they should have better self-esteem, and that they should feel good. They're kind of therapeutic. You don't do that at all. You wrote one back in the eighties called The Hunger for Significance. Do you want to talk about that book for just a moment?
25:59 -- The Holiness of God. You were writing this because you thought people were just misunderstanding God. They had too high a view of man and too low a view of God.
28:30 -- You wrote [a book] on the heart of Reformed theology called Grace Unknown. (Now titled What is Reformed Theology?)
29:30 -- Willing to Believe, the controversy over free will.
30:50 -- The Dark Side of Islam
31:55 -- What's the basic idea behind unconditional election?
32:55 -- You talk about unconditional election in Chosen by God, which you think might be your most important book. Why did you write this back in 1986?
34:17 -- Much more recently you wrote Getting the Gospel Right: The Tie that Binds Evangelicals Together. This was essentially because of some of the confusion in the evangelical community because of the document Evangelicals & Catholics Together.
35:55 -- While we're thinking about the Gospel, tell us about the atonement. What is the atonement?
38:20 -- The Glory of Christ
Books on Apologetics (43:33)
43:47 -- If There's a God, Why are There Atheists?
44:23 -- Reason to Believe
44:59 -- Explaining Inerrancy and Knowing Scripture
45:15 -- Ethics and the Christian (currently out-of-print)
45:55 -- Classical Apologetics
46:33 -- Lifeviews
46:50 -- The Mystery of the Holy Spirit
47:20 -- Not a Chance
48:28 -- Choosing My Religion
48:47 -- The Consequences of Ideas
49:15 -- Defending Your Faith
49:47 -- Last doctrine to ask you about: perseverance of the saints. I'm a Southern Baptist, and that doctrine is abused when some friends talk about "once saved, always saved," and I'm scared that they've never been saved in the first place. But (perseverance) is a precious doctrine. You want to spell it out for us?
Books on the Christian life (51:50)
52:06 -- Knowing Scripture
52:27 -- God's Will and the Christian
52:56 -- Pleasing God (currently out-of-print)
53:32 -- Surprised by Suffering (currently out-of-print)
54:00 -- The Invisible Hand
54:28 -- The Last Days According to Jesus
56:13 -- Five Things Every Christian Needs to Grow (currently out-of-print)
56:30 -- When Worlds Collide
57:13 -- What things do you most appreciate about the current scene in American evangelicalism?
57:34 -- What things are you most concerned about?
You can hear the interview here.
An Interview with Vern Poythress By Marco Gonzalez
Dr. Vern Poythress teaches New Testament studies at Westminister Theological Seminary. With his strong objective thinking from his studies in mathematics, professor Poythress has published some of the finest works on the New Testament. He has published books on Christian philosophy of science, theological method, dispensationalism, biblical law, hermeneutics, Bible translation, and Revelation. Some of his works include: a book on Revelation, The Shadow of Christ in the Law of Moses (Phillipsburg, NJ: Presbyterian and Reformed, 1995), and Understanding dispensationalism Dr. Poythress has a close relationship with Dr. John Frame and they both co-share a website togeather http://www.frame-poythress.org/

1. Can you share with us some background information on yourself?
I was born in 1946 in Madera, California, into a Christian family, and grew up on a farm. I have one older brother, Kenneth. When I was nine years old I placed my trust in Christ at a church camp, and made an initial public commitment to Christ. Over the years my parents and my brother and I were members of several Bible-believing American Baptist churches in California. My first exposure to Reformed theology was in college, when I read John Calvin's Institutes of the Christian Religion. I majored in mathematics at Caltech, and then did a Ph.D. in mathematics at Harvard University.
My Diane and I have two children, Ransom and Justin, who are presently in college. I am an ordained teaching elder in the Eastern Pennsylvania Presbytery of the Presbyterian Church in America. I do not pastor a congregation, but teach as Professor of New Testament Interpretation at Westminster Theological Seminary in Philadelphia.

Continue reading "An Interview with Vern Poythress By Marco Gonzalez" »
An Interview with John Frame By Marco Gonzalez
John Frame (b. 1939) - Is a Reformed Presbyterian, superb theologian and a theology professor at Reformed Theological Seminary in Orlando (formerly at WTS). At RTS he teaches Apologetics & The History of Philosophy and Christian Thought. The content of his works include in-depth explorations of biblical doctrine while remaining easily accessible for the average reader. Many of his students appreciate his charitable spirit and willingness to take a hard look at both sides of the issue. He is known for treating the opposing view fairly before demolishing it. His arguments against libertarianism are particularly effective. Rev. Frame is a musician, media critic and is committed to the work of ministry and training pastors. Important titles include: Apologetics to the Glory of God; No Other God: A Response to Open Theism; The Doctrine of God & The Doctrine of the Knowledge of God. Frame's passion is in seeing the Lordship of God in every aspect of Christian life and thought. We appreciate his willingness to be interviewed by us.
1.Many people are unaware of your background, could you please give us a short biography of your life?

I was born (1939) and raised in the suburbs of Pittsburgh, PA, came to know Christ personally around age 13 or 14 through the ministry of Beverly Heights UP Church and of some Christian friends. The church's youth and music ministries were equally influential in bringing me to faith. Since then, I have always been involved in the music/worship ministry of the church; that has been a large part of my life. I play piano and organ.
I did my undergrad work at Princeton University (AB in Philosophy), then went to Westminster Seminary in Philadelphia. At Westminster I studied with the "old faculty:" Van Til, Young, Stonehouse, Woolley, Murray—plus some young guys like Kline and Clowney. Then I spent some years at Yale, finishing with an M. Phil. degree. I never finished my dissertation there (my fault, not theirs).

Continue reading "An Interview with John Frame By Marco Gonzalez" »
John Hendryx Interviews John Samson, Pastor of Faith Community Church
Occasionally ReformationTheology.com would like to do interviews of those in the community who will be contributing to the content of the site or others in Christ with whom we have doctrinal solidarity. Below I interview John Samson, soon to be a regular contributor to the blog.


John Samson is the pastor of Faith Community Church an Arminian turned Reformed community of believers in Phoenix, Arizona. John is both big-hearted and brilliant, a first class teacher and writer. We met over the Internet quite some time ago and have developed a warm friendship in Christ. John's presentation of the historic faith, and his application of it in contemporary evangelicalism, is characterized by tender pastoral care and a firm commitment to the truth; qualities, unfortunately, often out of balance in many contemporary pastors. But John is not your usual Calvinist, being involved in a growing movement that many of us are completely unaware of. That is, while fully embracing the TULIP, the Five Solas and divine monergism in regeneration, he also continues to maintain charismatic distinctives, something I will let him explain in the interview below. John is the host and Bible teacher on a 30 minute daily radio broadcast, "the Spirit of Faith," covering central Arizona on KPXQ 1360AM. He also teaches in Churches, Conferences and Bible College settings on a variety of subjects. Originally from England, John was led by the Lord to move from England to start Faith Community Church in Phoenix, Arizona in March 1993. (Update, since this interview, John has taken up the senior pastor role in a brand new church called King's Church in Phoenix)
I asked John for a biographical introduction, and then I asked questions about his ministry, his take on Reformed Theology, the radical changes that took place in his own church, and the state of evangelicalism today.
BIOGRAPHY:
I was born and raised in Chester in England. My father was a Baptist Evangelist and yet I never really grew up in Church. My Dad used to travel extensively to preach, and that meant that my mother and I seldom went with Dad to Church. That was until my Dad became the pastor of a local Church.
Continue reading "John Hendryx Interviews John Samson, Pastor of Faith Community Church" »