Kirsten Powers: A Testimony to Irresistible Grace
God is able to make His grace irresistible, even to those who beforehand were not in any way interested. I encourage you to read the testimony of Kirsten Powers here. - JS
Meet the man behind the website
Pastor Batzig interviews John Hendryx, the man behind both this blog and the larger theological website of www.monergism.com
PB: John, I'm sure our readers would like to know something about the man behind Monergism. Would you mind sharing a brief testimony and tell us how you came to embrace and love Reformed Theology?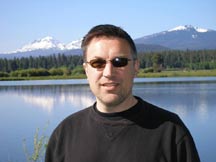 JH: Thank you Pastor Batzig. I am honored that you would take the time out of your busy schedule.
Since I have basically been in a cave without much outside contact for the past 10 months, I have not had much opportunity to interact with people as I usually would. Those months were spent hunkered down developing our most recent project: a best-of–the-web MP3 by Scripture Library. So it is a pleasure to speak with you. But you asked that my testimony be brief, so let's get right to it.
You first asked about the man behind Monergism … Well, "pay no attention to that man behind the curtain!" Much more interesting is the Person he and his website are pointing to. I really want to talk about the LORD, about what He has done, and what He is now doing. My conversion and my life in Christ is a demonstration of the sheer grace of God … how the LORD can take a hopelessly lost and darkened sinner and, without an ounce that sinners' help, translate him from the kingdom of darkness to the Kingdom of light and life.
Interesting you should ask about my testimony and my embrace of Reformed Theology in the same breath, because they are actually one and the same.
I was a 19-year old sophomore at the University of Colorado, Boulder deeply entrenched in New Age Occultism, which was essentially to a mixture of Hinduism, Tantric Buddhism, Occult practices, pseudo-Christianity and solipsism or the worship of the Self. It was partly drug induced and partly arrived at through deep periods of meditation and lots of metaphysical literature … Then one day while reading the Bible I came across Deuteronomy 18 which reads:
"When you come into the land that the Lord your God is giving you, you shall not learn to follow the abominable practices of those nations. There shall not be found among you anyone who burns his son or his daughter as an offering, anyone who practices divination or tells fortunes or interprets omens, or a sorcerer 11 or a charmer or a medium or a necromancer or one who inquires of the dead, 12 for whoever does these things is an abomination to the Lord. And because of these abominations the Lord your God is driving them out before you. 13 You shall be blameless before the Lord your God, 14 for these nations, which you are about to dispossess, listen to fortune-tellers and to diviners. But as for you, the Lord your God has not allowed you to do this."
This passage struck me right between the eyes. It instantly put the fear of the Lord in me because it revealed to me the inconsistency in my understanding of God. The weight of the text immediately drove me to my knees to pray to the Lord. I remember my prayer: "Lord, if everything I believe is wrong I want to know. Please just show me what is truth is. Nothing else matters" Well, it was the Lord who put that prayer into my heart and the Lord who answered that prayer. It led to a series of events (which for brevity sake I will spare you) that led me to read another verse …a verse that the Lord actually used to save me: Romans 9:15-16:
"I will have mercy on whom I have mercy,
and I will have compassion on whom I have compassion."
16 It does not, therefore, depend on human desire or effort, but on God's mercy.
It was with these words that the Lord opened my eyes to the Gospel. The scales fell from my eyes and I recognized for the first time that He is God, and I am not. I despaired of all hope in myself and was given a new vision accompanied by a renewed will to take hold of the grace of God in Christ. The previous false understanding I had of Jesus and his mission were, at once, swept away by the Hand of the Lord and I now, by the grace of God, understood that there was no hope in me or anything else, save in the Lord Jesus Christ alone. … He implanted in me a new heart, a new understanding and a new life which I could not have possibly come up with on my own. So from this reading of the Scripture together with this life-changing experience, you can see why your two questions are actually one. The Lord was gracious by revealing to me, at the moment of my conversion, that Jesus deserved the glory for all of it. It was simple and profound and even though I did not know what Reformed Theology was, (and would not read about it till much later), I was born in Christ knowing, from His own words, that salvation is of the Lord ….all a work of God. It was the most radical paradigm shift possible. My understanding went from "I am God" to "I am not God" … from "I can save myself" to "only Jesus can save me".
Full interview here.
My Journey into Grace
Have you noticed that amongst reformed books and articles, there is very little in the way of testimony? What I mean by that is that unlike other theological camps, stories of conversions are not normally emphasized. Rather, our passion is to simply point people to the word of God and through that means, let the Lord do His work in transforming the hearts and minds of people. We understand that the power is in the Word of God, not our testimony. That is so very true. Yet I think it is sometimes helpful for people to come to know something about how God transformed our understanding of His Word.
I was already well into my second decade in the ministry when I encountered the Doctrines of Grace and felt their powerful impact on my soul. I have written a short article about it here. Part 2 here. It certainly was an unlikely and unexpected journey of discovery. - JS
Interview: Dr. R. C. Sproul and The Holiness of God
Dr. R. C. Sproul's book "The Holiness of God" (written 25 years ago) has had a very profound effect upon me in my understanding of the majesty of God and the gospel of grace. I know I speak for many who could echo the same exact words.
I recently came across this interview of Dr. Sproul and found it fascinating to read of Dr. Sproul's own personal story as he was awakened to God's holiness. It is taken from the November 1990 issue of Tabletalk magazine. - JS
Q. What inspired you to study the holiness of God?
A. In my own theological studies, my favorite theologians – Augustine, Luther, Calvin and Edwards – all seem to have a common thread woven through their works. Each of these theological giants wrote with an exuberant sense of adoration for God. God's majesty would just jump off the page at me. They made a tremendous impression on my own thinking and development. One of the things that seems so obviously absent from contemporary evangelical Christianity was any kind of focus on the majesty of God the Father. So I decided to pursue a study of the topic myself. These men had whet my appetite. I wanted to learn more.
Q. How many years did you study the topic?
A. I haven't stopped studying it. But I started thinking about it seriously in 1958 when I was in college. That experience is described in the opening sentences of my book The Holiness of God; "I was compelled to leave the room. A deep undeniable summons disturbed my sleep; something holy called me."
The first time I organized my thoughts on the topic was in 1970. I put together a series of five lectures for a Young Life leadership meeting at Saranac Lake, New York. The response was overwhelming. At the presentation was Dora Hillman, who was instrumental in building the Ligonier Valley Study Center in Pennsylvania. Also present was Roger Gulick, an assistant minister of Lookout Mountain Presbyterian Church in Chattanooga. He audio taped the series and placed it in the lending library at his church. A year went by- maybe two – and Roger invited me to his church to do the series. While there, I spoke at chapel at Covenant College. The president of Covenant's student body was Mike Cromartie, who later became Chuck Colson's research assistant and introduced Chuck to the series. Chuck was deeply touched by the series and it was through him that the Maclellan Foundation- one of Ligonier's biggest sponsors throughout the years- found out about us. In many ways, Ligonier Ministries began when I gave those first lectures at Saranac Lake New York.
Continue reading "Interview: Dr. R. C. Sproul and The Holiness of God" »
Celebrating Five Years
This week we pass the five year mark for this Reformation Theology blog site. If this website has been a blessing to you, I am sure it would be a great encouragement to John Hendryx (and others on the writing team) if you were to write a line or two to express how the site has been useful to you in your walk with the Lord.
The Wind Blows Where It Wishes
"The wind blows where it wishes, and you hear its sound, but you do not know where it comes from or where it goes. So it is with everyone who is born of the Spirit." John 3:8
At age 14, something amazing happened to me. - JS
Our Ongoing Need of Redemption as Christians
"His divine power has granted to us all things that pertain to life and godliness, through the knowledge of him who called us to his own glory and excellence, by which he has granted to us his precious and very great promises, so that through them you may become partakers of the divine nature, having escaped from the corruption that is in the world because of sinful desire. For this very reason, make every effort to supplement your faith with virtue, and virtue with knowledge, and knowledge with self-control, and self-control with steadfastness, and steadfastness with godliness, and godliness with brotherly affection, and brotherly affection with love. For if these qualities are yours and are increasing, they keep you from being ineffective or unfruitful in the knowledge of our Lord Jesus Christ. For whoever lacks these qualities is so nearsighted that he is blind, having forgotten that he was cleansed from his former sins." (2 Peter 1:3-8)
"Fear, lest, by forgetting what you are by nature, you also forget the need that you have of continual pardon, support, and supplies from the Spirit of grace, and so grow proud of your own abilities, or of what you have received from God, and fall into condemnation ... Fear, and that will make you little in your own eyes, keep you humble, put you upon crying to God for protection, and upon lying at his footstool for mercy; that will also make you have low thoughts of your own parts, your own doings and cause you to prefer your brother before yourself. And so you will walk in humiliation and be continually under the teachings of God, and under His conduct in your way, God will teach the humble. "The meek will He guide in judgment, and the meek will He teach His way." - Psalm 25:9 (John Bunyan - The Fear of God, page 96)

When the Lord opened my heart to the gospel in December of 1985, He set me on a radical new course, having delivered me from a wild life which was characterized by various anti-social behaviors, selfishness, drugs, crime, and the occult. Out of the most unlikely place, as I was reading the Scripture, the Lord revealed to me my lost condition: that I was without hope save in the mercy of Jesus Christ alone. In a moment, the Holy Spirit graciously united me to Christ, adopted me into God's family, turning me from my idols to serve the Living and True God. I reflect back with awe as I consider that during the honeymoon period of my newly granted life in Christ, how the Lord actually poured out on me an extraordinary grace to overcome some of my previous bad habits and gave me a remarkable heart for prayer, especially for the lost. With zeal and great affection my greatest desire was to follow and obey the Lord. He stirred my heart to pray for a couple hours each morning as I arose, knowing that I must call down blessing from God if I was to have any power to live effectively during this age. And the result was much fruitfulness and effective personal and corporate ministry to the glory of God.
On the Birth of Our Daughter
At 10:32 P.M., on Labor Day, September 1st, 2008, God interwove his covenant faithfulness and mercy with the miserable effects of the ancient curse on the woman (see Genesis 3:15-16), and miraculously changed the tortured cries of birthpangs into the joy and triumph of new life. This was both a shadow-reminder of what he had done through Christ Jesus our Lord, some two thousand years ago, when he worked the greatest mercy through the deepest anguish, bringing eternal salvation out of the tortured cries of our Savior, who was made sin for us (2 Corinthians 5:21), who became the curse that our rebellion deserved (Galatians 3:13), and who, through that unspeakable suffering, flooded the wicked world of darkness and despair with the joyful beams of light and life (cf. John 16:20-22); and it was also a sign and promise of what he will complete someday, turning the birthpangs of this cursed world into the eternal joy of redemption, in a new heavens and new earth, where righteousness dwells (Romans 8:18-25; 2 Peter 3:13-14). It is only fitting, as we pause to consider the mighty thing that God has done for us this day, that we take advantage of this opportunity to commemorate the mighty and merciful triumph of our God and Savior, Jesus Christ the Righteous.
A wonderful witness in the midst of great grief
The ABC news interview of Stephen Curtis Chapman and his family after the loss of their lovely young daughter in a driveway car accident...
Jesus, Example or Savior?
Here are two fine quotes from andrew purves' "reconstructing pastoral theology"
"To be clear: union with Christ does not lead to an imitation of Christ, a life spent following Jesus' example in the hope that we will become better people. The Christian life is not to be understood as obedience to either an ethical imperative or a spiritual ideal. Rather, the Christian life is the radical and converting participation in Jesus Christ's own being and life, and thus a sharing in his righteousness, holiness, and mission through the bond of the Holy Spirit."
"Note, too, the emphasis I place on the work of the Holy Spirit. Union with Christ is entirely a work of God. Our human acts, beliefs, and decisions are powerless to effect a relationship with God. John Calvin understood that our deepest self had to become reconfigured and reconstituted or, to use his words, "regenerated" or "vivified," through related to Jesus Christ. … God must reorder us be turning us in a new direction be uniting us to Jesus. So our being and becoming Christian is a divine initiative and not something that can be worked out through heightened religiosity, morality, activity, will, or spirituality. We are conjoined to Christ by the unilateral work of God though the Holy Spirit – to effect what Calvin called a "mystical union.""
For further reading on this, you might be interested in a new essay Nathan and I co-wrote called Deconstructing Uncertainty which critiques the Emergent claims that faithfulness is to be pursued over against certainty
A clearer understanding of Grace (Testimony)
This testimony comes from a lady called Analee:
I will start at the beginning. Before Jeremy and I got married we had a few discussions on what church we would attend. In my heart I new I wanted to stay at my home church, but I was going to submit and go where Jeremy felt God would have us be. I knew this meant that we would being going to CLCC. I loved everyone there, but there were just a few things I did not like about it. I disagreed with their theology and I wished that it had more for the older kids (thinking ahead of when, Lord willing, we had kids). I also just liked going to church with my family.

Continue reading "A clearer understanding of Grace (Testimony)" »
20 Years On - A Testimony Concerning God's Grace
"For the word of the cross is foolishness to those who are perishing, but to us who are being saved it is the power of God." - 1 Corinthians 1:18
I was looking through an old autograph book this week. It contained signatures of all my Bible College (seminary) friends from June 1987. Some of the people who wrote in this little book are now in heaven... men like Rev. James Hunt, the Dean of Students, and an Irish student called Vaughan Gage, who was killed on a missionary trip to Africa under very suspicious circumstances... and one of them is now a Member of Parliament in England... their words are very precious to me.

In one entry a friend of mine, Graeme Adams, now a pastor in Dundee, Scotland drew three crosses on a hill, the central one being the largest one.. and he wrote these simple words: "John.. always remember Calvary. Graeme" He probably doesn't remember doing that.. but now, 20 years on (in 2 months..) he and I are continuing to do just that.. remembering Calvary, all because of the grace of God.
How gracious God is to us... not only for the cross, but for the grace to help us see its worth, and sustain our interest as the years roll by. That ugly cross.. the place of torture, pain and suffering is beautiful in our eyes, for what Christ achieved for us there makes it our only gateway to heaven. Quite something eh? - Pastor John Samson
P.S. Want to be blessed by an outstanding article on the cross?? See J. I. Packer's "The Logic of Penal Substitution" article found here .

Mail Bag October 06
Yesterday we received this email and thought it might be encouraging to regular visitors, giving you a glimpse of what God is doing to shake up the church with His grace. Salvation by grace alone in Christ alone, that we have no hope in the world save in Christ and His mercy is a hard doctrine but we must uphold it high and contend against perversions of it in the church and out of the chuch. The author of the mail gave me permission to post it here.
---------------------------------------
Hello,
I just thought I'd send you a quick Email to inform you of a slight... problem... your website is causing.
Well, you see, it was a few years ago that I stumbled upon monergism.com. At the time I was a free-will theist, intent upon destroying everything with the word "Calvin" in it. I even thought that John Calvin was an anti-christ. (seriously) Anyway... I remember browsing through your site thinking it would be a good place to get counter-arguments to my own (for the purpose of refuting them, obviously). It was within a few weeks of finding Monergism.com, and trying to refute the arguments contained therein, that my eyes were opened to the error of my arminian ways. And now I cannot imagine disagreeing with any one of the five points of Calvinism, no less thinking that John Calvin was an anti-christ...
...so, now for the problem. I'm pretty much addicted to Monergism.com. I have a tab on my web-browser eternally open with the Monergism.com on it. (more often than not I have multiple tabs open...) If I ever have a theological question (which is quite often), my Bible and Monergism.com are my first stop for an answer. I'll sometimes get into debates over calvinism and such, and I am always sure to refer whoever I am debating with to Monergism.com. Or, if the debate is online (which it quite frequently is), I'll have multiple tabs open to each relevant theological topic, and be sure to give the link to whoever I am debating with.
... There is no doubt in my mind that, were someone to ask what web-site I visit and appreciate the most, I would refer them to Monergism.com.
Sincerely,
A Monergism.com Addict.
P.S. I really do want to thank you for your ministry through this web-site. It has been extremely edifying in my Christian walk. Turning me away from many theological errors such as Arminianism and Dispensationalism towards the great truths contained in Calvinistic soteriology and Covenant theology. It has greatly increased my understanding and appreciation of God's Sovereignty and His Word. May God bless you and all who are involved in this wonderful ministry!
The Doctrines of Grace (Testimony)
The following anonymous testimony shows how the doctrines of grace affect our whole outlook on life.
Introduction
My early Christian years were spent in evangelical churches where the ministry of the Word was far from systematic. A variety of speakers brought a variety of sermons on numerous texts, the result of which was occasional blessing but no regular consistent instruction.
During this time a Christian friend introduced me to the Reformed Faith, and as a result of reading John Owen's Death of Death in the Death of Christ, along with other Puritan literature, I was brought to see that the Arminian teaching of these churches was un-Scriptural. The more I compared these Puritan writings with the Word of God, the supreme standard of doctrine and practice, the more I realized by the grace of God just how far removed from the Bible the preaching in such evangelical churches was. Furthermore, I began to realize just how many problems and troubles spring from this fact. And so by the mercy of God I came to embrace and love those doctrines of grace which give God all the glory, and refuse to share that glory between God and man.

An Open Door of Ministry by Pastor John Samson
This week (Tuesday, March 7, 2006) I had a wonderful God given opportunity to speak to a large audience in the Phoenix area. I was sharing with John Hendryx about what happened and he asked me if I would share some of it here on the blog.
For 2 hours each week day evening, the largest Christian radio station in Phoenix, KPXQ 1360AM, has a live call in program hosted by Andrew Tallman. Andrew and I have had good interaction over the last year or so, even though we have many doctrinal differences (I would describe Andrew as an Arminian, though he does not like the term). However, the interaction has always been intelligent (from his side) as well as friendly.
Andrew is away on vacation this week, and asked me to fill in as the host of the 2 hour program Tuesday evening (5 p.m. to 7 p.m.). He gave me the liberty of talking about anything I liked for 2 hours, while taking questions and comments from the listeners who call in. Though I do a 30 minute Bible teaching program each weekday, this live call in element is completely new to me, and more than a little scary.
So what did I talk about?
Well I started off by asking the question, "What is the Church's biggest need?"
Then I asked people to call in whether they agreed or disagreed with me when I said, what the Church needs more than anything else is GOD as He really is, and the GOSPEL as it really is. If one of these is distorted, then so is the other. In that the program lasted 2 hours, I took an hour for each theme: Hour 1 - God as He really is; Hour 2 - The Gospel as it really is.
Continue reading "An Open Door of Ministry by Pastor John Samson" »
My Journey Into Grace by Pastor John Samson
My first 20 years as a Christian were spent as an Arminian. O.K., I've admitted it.
For the most part, I was never really exposed to these doctrines I now consider so precious. Oh, certainly, I met many a Reformed man in my time; in fact, many of them were my instructors and professors at the Bible College I attended in England, but no one ever sat down with me to try to explain the Reformed faith.
Practice doesn't make perfect, it makes permanent. In the game of golf, you can practice your swing and in all reality, if you keep repeating the same mistake (for instance, the way you hold the club), you don't make the swing perfect at all; your poor swing becomes permanent - and only deliberate and intense personal coaching can eliminate the problem.
I have been in full time ministry since leaving Bible College in June of 1987, and was fairly confident that my knowledge of the Word was sound. In the year 2,000 I had been a Christian for 20 years. This only compounded my problem - not a golf swing problem (my golfing problems remain unexposed in that I don't play the game at all) - but my many false assumptions and traditions, which were heightened by this simple fact - I had no idea that I held to faulty doctrine. I had assumed I was correct in my interpretation, and went on my way merrily for many a year. As Dr. James White so ably puts it, "those most enslaved to their traditions are those who don't believe they have any."
Because the traditions I held to were strong, when I first heard the message of Sovereign Grace and election taught, I have to admit that I resisted it.
Continue reading "My Journey Into Grace by Pastor John Samson" »
Amazed by Common Grace by Pastor John Samson
Common Grace. It is a term used in theology to describe the grace God gives to every living person on planet earth. It is called "common," not because it is not worth that much, but because everyone alive gets it.
Grace by definition can never be demanded. God gives grace, not because He has to, but because He decides to. The scripture says that God "makes His sun rise on the evil and the good, and sends rain on the just and on the unjust" (Matthew 5:45).
How gracious this is of God. God doesn't discriminate against the non-Christian in sending His rain, but gives it freely to saint and sinner alike. That should amaze us. It should take our breath away in fact. Yet the concept of common grace doesn't usually do that for us. We're very much accustomed to it, because it is so common, but we must always remember that God is exceedingly gracious in dispensing this kind of grace on people. The point being, He in no way has to. Through the use of a short story, I'd like to give you a glimpse into why common grace should amaze us.

Continue reading "Amazed by Common Grace by Pastor John Samson" »